Knopfler, Frampton Help 'Shadow' John Barry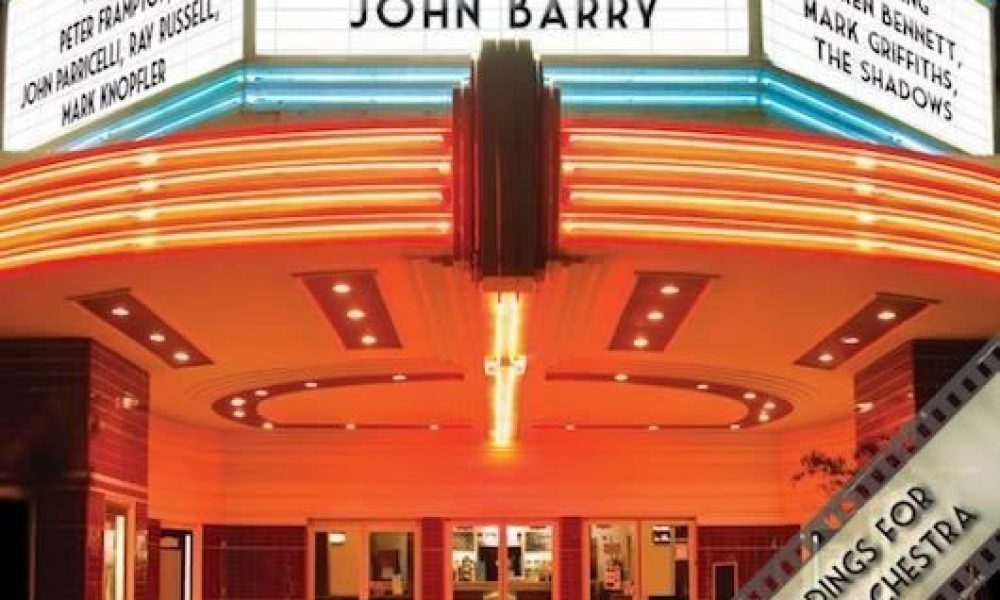 Mark Knopfler and Peter Frampton are among the guests on a new album by Brian Bennett, the longtime drummer with British chart champions the Shadows. Brian's Shadows colleagues Hank Marvin and Bruce Welch and their former bandmate Brian 'Liquorice' Locking also appear on the record.
Shadowing John Barry by the Brian Bennett Orchestra, to be released by Dramatico on 8 April, features impressive new interpretations of some of the best-known film themes by the late and great British composer. The album, produced by Bennett with help in the orchestral arrangements from his son Warren, has had a "soft" release in recent weeks to a very positive response.
Knopfler plays on 'All The Time In The World,' Barry's composition with lyricist Hal David that became a hit for Louis Armstrong, from the soundtrack of the James Bond film On Her Majesty's Secret Service. Frampton appears on a new version of another Bond theme, 'Thunderball,' and Marvin on 'The Appointment.' Fellow top guitarists Ray Russell, John Parricelli and Mark Griffiths are also on the album.
"Like me, when we were younger, John Barry was interested in music for the movies and was taking a postal course from Julliard School of music," explains Bennett. "It was the only way to learn in those days of touring. We talked about our favourite bands and composers and he encouraged me to start a course of arranging from Berklee College of Music in Boston.
"We would see each other from time to time in the studios and on the road. I'm very proud of this album and I'm honoured that the finest musicians who also happen to be my best friends have stepped up and joined in playing John's phenomenal music."
Knopfler, a lifelong Shadows fan, says that 'All The Time In The World' "was one of Barry's personal favourites. It was such a thrill to be asked to contribute to this version by Brian, one of my all-time favourite great drummers and a fine composer and arranger himself.
"To find myself playing a wonderful John Barry composition with Brian Bennett on drums was an unforgettable experience," he goes on. "For guitar aficionados, I dropped my usual style for this recording and used an old Fender Stratocaster with heavy gauge strings, playing it with a pick instead of my fingers and using the tremolo arm on the instrument to create vibrato rather than my neck hand."
Says Frampton: "I started playing guitar listening to the Shadows and John Barry 7, so this was a 'meant to be' project for me. John Barry has written and arranged so much incredible music. Many of my favourite film scores are his, and I can still play every Shadows track, note for note!
"I used a Gibson Les Paul on this track whereas both Hank Marvin of the Shadows and Vic Flick of the John Barry 7 played Fender Strats. I was going for a different sound and I'm more comfortable with a Les Paul. What a great project. Thank you Brian, for inviting me along to enjoy playing this unforgettable music."
Marvin, who lives in Australia, says: "When I was asked to record one of [Barry's] compositions with Brian Bennett, drummer supreme and no mean composer himself, I immediately dropped my Emu steak, turned off the barbie, and picked up my trusty Stratocaster. Of course Brian and I go back a long way and as always it was a pleasure to work together again."
Barry's frequent collaborator, lyricist Don Black, adds: "Brian has done a masterful Job in capturing John's magical musical legacy. John would have loved it."
Listen to Peter Frampton on 'Thunderball' (track 1) and Mark Knopfler on 'All The Time In The World' (track 9) on the Brian Bennett Orchestra's Shadowing John Barry on Spotify
Format:
UK English