Life Is Beautiful 2019, Saturday Recap: Maggie Rogers, Of Monsters And Men, The Black Keys
On day two of Life Is Beautiful 2019, we celebrated Pride, went backstage with Cub Sport and got a surprise appearance from Wayne Newton.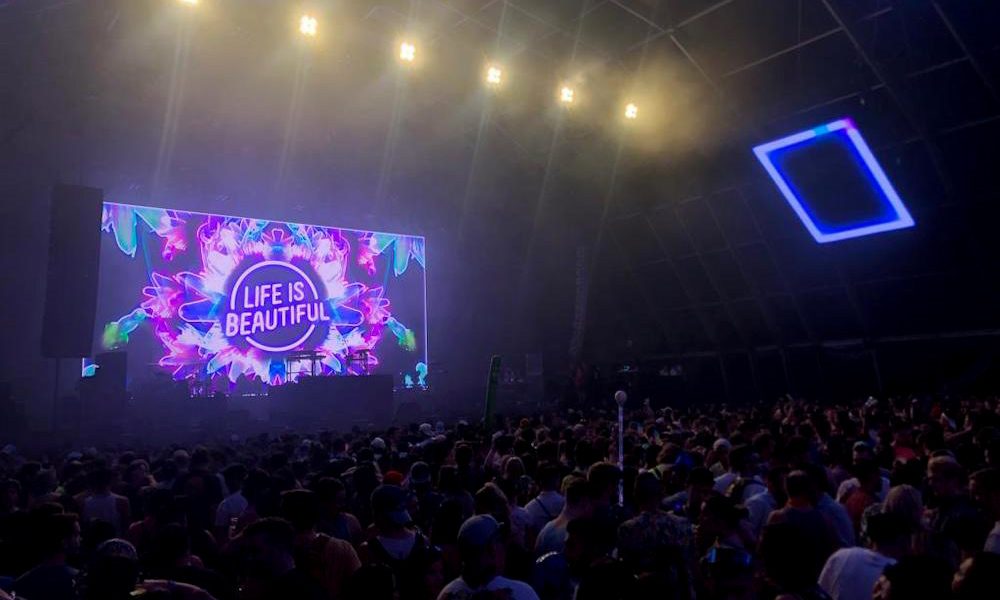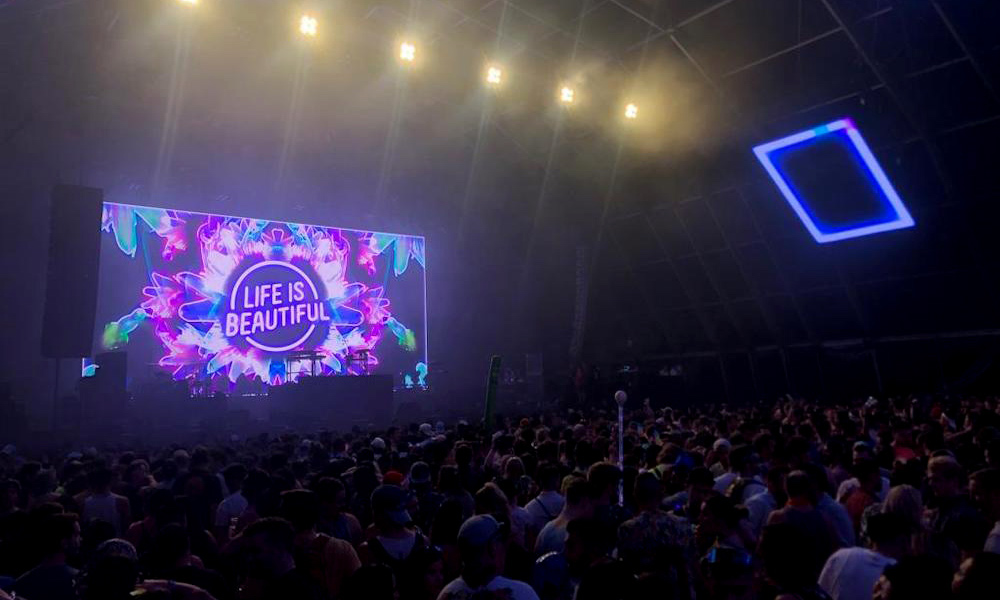 On day two of Life Is Beautiful 2019, we celebrated Pride, went backstage with Cub Sport and got a surprise appearance from Wayne Newton.
"I love playing music festivals in the fall, although do you even have that here?" asked Maggie Rogers, one of the most anticipated headliners on day two of Life Is Beautiful.
If anybody knows how to go full steam all weekend, it's Vegas. Saturday drew even larger crowds as thousands of festivalgoers descended upon downtown Vegas to catch a fresh slate of performers and explore the Life Is Beautiful spectacular sights.
One of the great things about the Life is Beautiful is its messages of inclusiveness and self-love. Everywhere you turn, there are street signs reminding you that yes, indeed, "You Are Fire".
Saturday also gave way to a Pride Parade down Freemont Street, hosted by House Of Yes, the Brooklyn-based underground circus theatre meets queer-disco dance club. As costumed crowds made their way through the festival, they were joined by drag queens, a surprise appearance from the Blue Man Group and even a cardboard cut-out of Freddie Mercury before ending up at the House Of Yes dance and performance space set-up inside the festival.
This celebration of personhood was also reflected in the festival's line-up including queer pop acts like King Princess, MUNA and Cub Sport.
Cub Sport
The sun was starting to go down, but things were just starting to heat up in the Toyota Music Den as Aussie alt.pop group Cub Sport took the stage. The emerging Brisbane outfit are finally catching on in the States and, at their first US festival, the crowd knew every word of their hit 'Chasin' and were sporting Cub Sport shirts as lead singer Tim Nelson bewitched the crowd like a latter-day Michael Hutchence. As Nelson told uDiscover in an exclusive interview, his music evolved after Nelson came out and felt more authentically himself.
Flora Cash
Music Den is an apt moniker for the club-like atmosphere of stage where American-Swedish duo Flora Cash also performed an outstanding set. The intricate harmonies of the delightful duo floated through the desert air as they performed their new single, 'Missing Home'. "You know that feeling where you're out there and know you're doing the right thing but it still seems bittersweet?" asked Shpresa Lleshaj as she explained the origin of the song. "I'm your home!" answered one fan, then Lleshaj proceeded to teach the crowd how to toast in Swedish. "Skoal!" the crowd yelled.
Chelsea Cutler
The 22-year-old singer, songwriter and producer showed off her multi-instrumental prowess, switching from shredding on the guitar to playing keyboard and looping effects during her Life Is Beautiful Set. The pop singer drew an impressive crowd, performing a mix of hits off her two mixtapes including 'Love You More', 'Out Of Focus', 'Cold Showers', and her smash single with Kygo, 'Not Ok'.
Maggie Rogers
Maggie Rogers brought her magic to the Downtown Stage as she wrapped up one of her last festival dates on her 'Heard It In A Past Life' tour. The singer-songwriter continues her victory lap after releasing her critically acclaimed debut Heard It In A Past Life. Performing her hit 'Light On', she summoned a kind of spiritual communion as the crowd sang in unison. Hearing the album cuts like 'Say It' and 'On + Off', it's clear that Rogers a natural live performer.
Of Monsters And Men
Fever Dream is a fitting album title for the feeling after seeing Icelandic folk-pop favourites Of Monsters And Men. As their first new album in four years and return to the festival circuit, they were greatly missed. With a giant all-seeing eye from their album cover glowing behind them, the band kicked off with their new single 'Alligator' before launching into the breakout hits 'Little Talks' and 'Dirty Paws', off their 2012 breakthrough debut My Head Is an Animal. For every "ha!" and "horn blast", the crowd went wild. Props to singer Nanna Bryndís Hilmarsdóttir for embracing the Vegas dress code and wearing full-on disco ball pants.
Dashboard Confessional
Speaking of adolescent feels, beloved emo outfit Dashboard Confessional also got the crowd feeling a little nostalgic. As Chris Carrabba and company continue their 20th anniversary tour, they played a fix of fan favourites like 'Don't Wait' and 'Hands Down' and a fantastic cover of The Cure's 'Just Like Heaven'.
Banks
Saturday felt like a homecoming for synth-pop singer Banks, returning confidently to the stage after her two-year hiatus. Now performing songs from her new album III, Banks sounds better than ever. Her set was a mix of new and old bangers like 'Gimme', 'Propaganda' and 'Beggin For Thread' as she was flanked by dancers for some intricate choreography. One artist's loss is another's gain, after Lil Wayne cancelled his performance last minute, the fans headed over the Banks show and the crowd swelled into the thousands.
The Black Keys
Another artist making their welcomed return was The Black Keys, who after a five-year break, sound like they barely skipped a beat. As they continue their 'Let's Rock' tour (the same title of their new album), they proved that rock acts still can hold down a big headlining slot at music festivals. They opened their set with the blustery blues-rock number 'I Got Mine', before launching into the new track 'Eagle Birds' and quickly followed by their beloved cut 'Gold On The Ceiling'. But the real highlight of the evening was a surprise appearance from "Mr Las Vegas" himself, Wayne Newton, who joined the Keys on their performance of 'Lonely Boy'. "Holy sh__t!" one excited audience member exclaimed.
At this rate maybe Celine Dion will make a surprise appearance on Sunday?
Looking for for? Check out our recap of day one at the Life Is Beautiful Festival.
Format:
UK English