Life Is Beautiful 2019, Friday Recap: Billie Eilish, Walk The Moon, Chance The Rapper
The Life Is Beautiful 2019 Festival returned to downtown Las Vegas, featuring stunning performances by Billie Eilish, Chance The Rapper and more.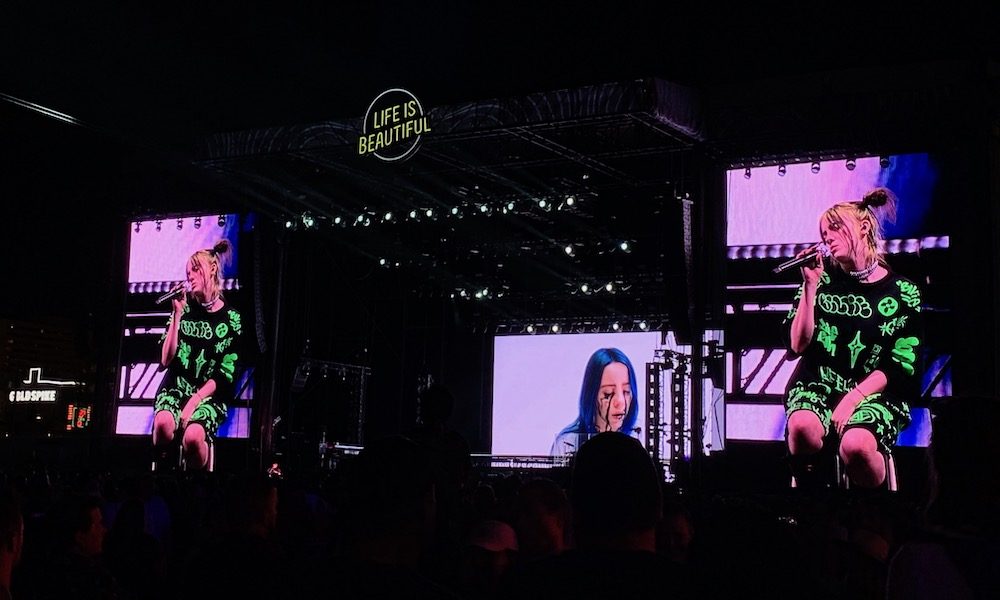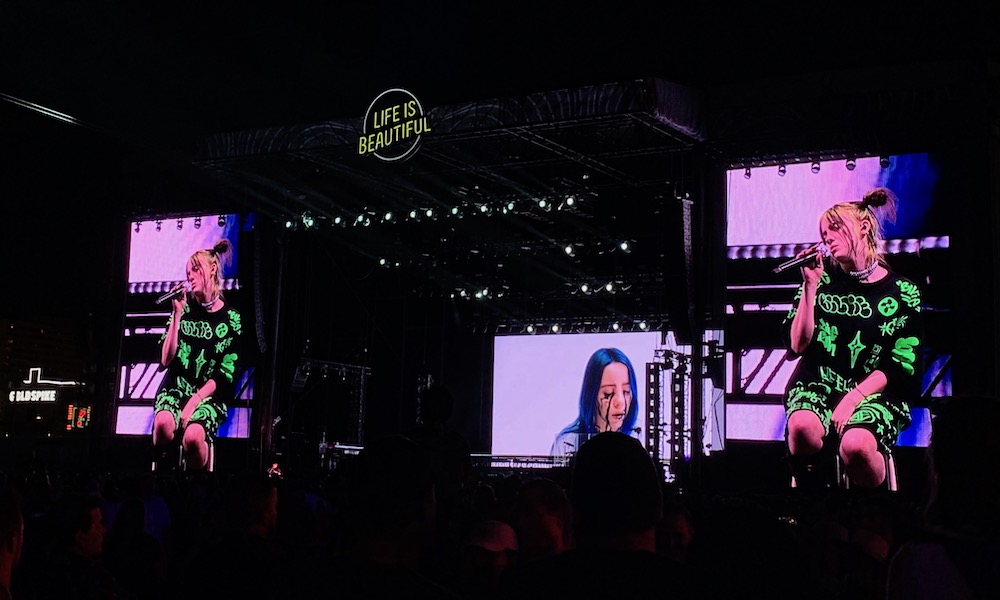 "What even is this life?" You can't blame a festivalgoer for questioning her reality after the annual Life Is Beautiful Festival returns to town with its surreal spectacle. Now in its seventh year, Life is Beautiful returned to downtown Las Vegas, transforming Freemont Street into an immersive oasis of music, culinary delights, comedy and art. Forget the strip, the world of Life Is Beautiful is more dazzlingly than any stage show.
Spanning 18 city blocks, the festival grounds felt like a world of its own. Was that hotel a pop-up art installation or someone's loft apartment? Reality and illusion blurred, but that's par for the course in Las Vegas.
As you enter the festival grounds you're greeted by a flame-breathing giant praying mantis. Is it belching fire to the beat of Imagine Dragon's 'Natural'? Yes. Is it something that would fit right at home at Burning Man? Absolutely. The beauty of Life Is Beautiful is not only its eclectic musical line-up but the way it takes elements of all the great musical festivals and seamlessly blends them together.
With the desert sun beating down on the asphalt, much of the crowd was dressed for Mad Max's apocalyptic conditions but make it fashion. The people-watching is always unparalleled, but nothing can top the stunning murals and artwork installations found throughout the grounds.
After the festival officially opened, thousands streamed through the gates, heading off to the various stages, installations and games that awaited them. With seven stages to choose from, Life is Beautiful offers every kind of live musical experience from sprawling DJ tents to smaller showcases.
For those who can't make it to the festival, you can catch all the shows on the official livestream.
The Teskey Brothers
Hailing from another locale that thrives in extremes, Aussie blues-rockers The Teskey Brothers were the perfect candidates for the Toyota Music Den stage. The slightly confined space made for a more intimate performance and a rapt audience as Josh Teskey's gritty wail entranced them all. Their rough and tumble brand of blue-eyed soul was an all-ages favourite and Nathaniel Sametz's trombone would have blown the roof off, if there was one. Along with playing their classic hit 'Pain And Misery', the brothers and company also tore up one of their new tracks, 'So Caught Up', off their new album Run Home Slow.
Arizona
Arizona are the kind of band that satisfy both rock and electro fans at festivals. With an ear for perfect pop melodies, a love of 80s production and rock band dynamics and you have yourself an irresistible stage show. The trio are on the very cusp of releasing their sophomore album and played a number of hits from their 2017 EP along with some new singles. With guitarist Nate Esquite back on the mend, the trio burned up the stage and reminded everyone why they're one of the hottest acts around.
070 Shake
G.O.O.D. Music signee 070 Shake has now come into her own, commanding the stage and baring her soul on tracks like 'Nice To Have' and working up the crowd with 'Honey', before launching into the ye track 'Ghost Town'.
Walk The Moon
Ohio Alt.rockers Walk The Moon have returned from their hiatus in full force and it seemed their fans had not skipped a beat, as everyone sang along to every last word. For a minute it felt like we time travelled to 2014 when the band launched into their 2014 hit, 'Shut Up and Dance', and the world hadn't imploded yet. No one looked like they were having more fun than Walk The Moon themselves, well except maybe the Cirque du Soleil performers who dangled from the stage above them.
Billie Eilish
As one of the most anticipated headliners of the weekend, the 17-year-old pop phenom Billie Eilish delivered the goods and more. Sporting her signature Daylgo hair and oversized merch, the singer-songwriter opened up her set with the body mover 'bad guy', before encouraging the crowd to "open up the pits" and unleashing the bass drops of 'you should see me in a crown' that could be felt for miles. Her energy was infectious and her performances were incredibly self-possessed, Eilish has clearly worked out the kinks of her festival sets and even a boot on her foot wouldn't stop her from jumping around. The alt.pop icon also made reference to the global climate strikes happening on 20 September, as she encouraged the crowd, "when I say climate, you say strike," before performing 'all the good girls go to hell'.
Floor-fillers aside, much of Eilish's set was characterized by tender and vulnerable moments, lying down on stage for 'When I Was Older' and '"idontwannabeyouanymore' from her 2017 EP. Her brother and collaborator Finneas was also on stage throughout, providing fiery guitar solos before jumping on the keys and back again. The two also performed a heartachingly acoustic version of 'i love you', as a sea of illuminated phones swayed along.
Chance The Rapper
Fresh off releasing his "debut" album Big Day earlier this summer and welcoming his second child, Chance The Rapper looked relieved to be back on stage, opening up the set with the Coloring Book track, 'Blessings'. Backed by a full band and singers, each song was elevated to another level, whether it was the blast of a horn section, backing gospel vocals and even pyrotechnics at certain points. After performing his collab track 'Bad Idea' with YBN Cordae, Chance got real with the crowd, "It's moments like this show that prove we're all connected. Life is very very beautiful indeed".
Life Is Beautiful Festival takes place in Las Vegas 20th – 22nd September. If you're attending, stop by and visit uDiscover Music at 11th Street Records, 1023 Fremont St (next to the East Gate entrance) between 3pm and 8pm. You'll be able to get a selfie with Freddie Mercury, put yourself on the cover of Abbey Road and potentially win lots of giveaways.
Format:
UK English