Little Steven Releases 'RockNRoll Rebel – The Early Work'
The 13-disc set offers a deep dive into the rocker's solo career – including rare live footage, previously-unreleased material, and classic six albums.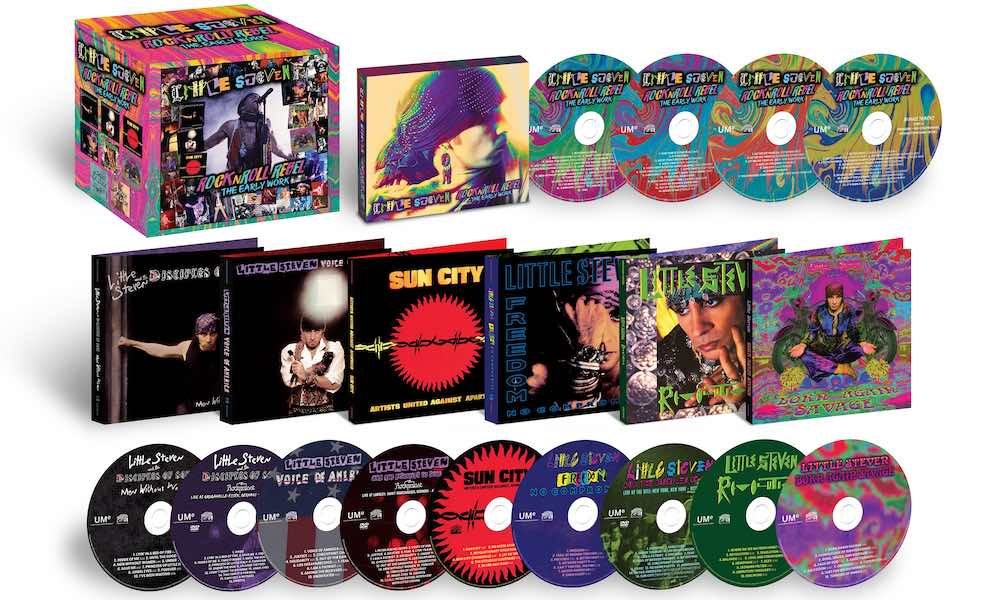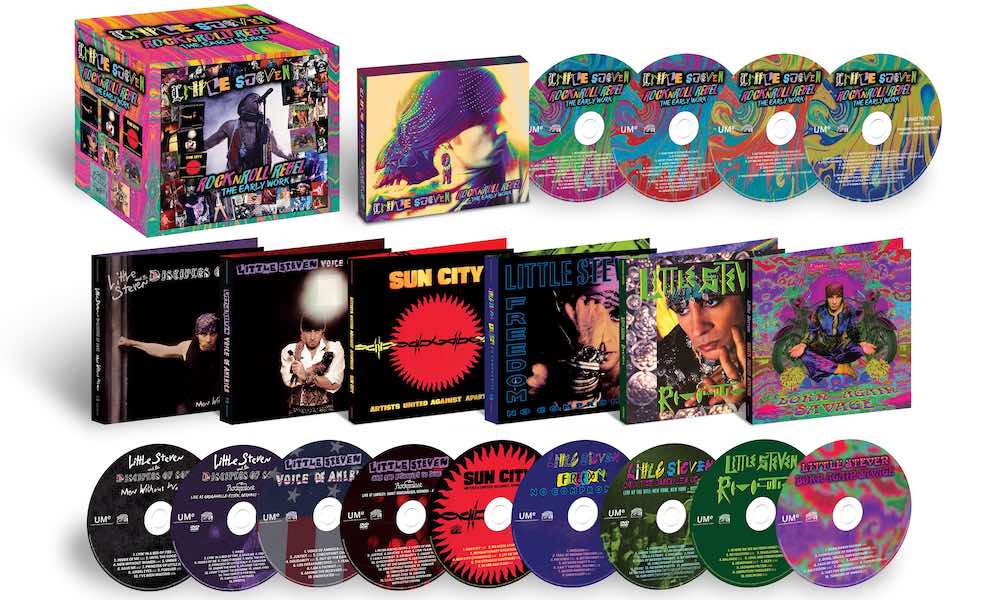 Little Steven (aka Steven Van Zandt) has released an expanded edition of his six-LP box set, RockNRoll Rebel – The Early Work. Available now via Wicked Cool/Ume, the 13-disc anthology not only offers six albums from the Rock And Roll Hall Of Famer's solo catalog – spanning 1982-1999 – but also features a trove of rare and previously-unreleased recordings.
Fans will savor the deep dive that RockNRoll Rebel – The Early Work offers. While the original, limited-edition vinyl box set featured six remastered albums (including Little Steven and the Disciples of Soul's electrifying 1982 debut, Men Without Women, 1983's Voice Of America, 1987's Freedom – No Compromise, 1989's Revolution, 1999's Born Again Savage, as well as the landmark, 1985 protest record, Sun City, from Artists United Against Apartheid – the supergroup of musicians brought together by Van Zandt, record producer Arthur Baker, and journalist Danny Schechter, to fight racial injustice in South Africa), this expanded CD/DVD edition also boasts four discs (51 tracks) of rarities culled from Van Zandt's personal vault. These include previously unreleased demos, B-sides, rehearsals, outtakes, radio spots, non-album singles, classic concert performances, and rare studio gems – all accompanied by new liner notes from Van Zandt.
In addition, Men Without Women, Voice Of America, and Freedom – No Compromise are each accompanied by a DVD featuring a full-length concert film from the same era as the album. "It was a blast revisiting these shows and I'm thrilled they are now being released for all to enjoy," said Van Zandt in a statement. Fans can preview selections from these shows on artist's YouTube channel.
Additionally, all six albums are now back in print as individual CD or CD/DVD editions. Freedom – No Compromise features an 8-panel foldout poster and a "Live At The Ritz 1987" concert DVD, Voice of America is paired with its own foldout poster and "Live at Rockpalast 1984" DVD, and Men Without Women includes a 16-panel fold-out poster and "Live at Rockpalast 1982" DVD.
All artist and publishing royalties from the reissued Sun City album, meanwhile, will be donated to the Rock and Roll Forever Foundation for the TeachRock.org music history curriculum. A staunch advocate for public education, teachers, and music education, Van Zandt founded the TeachRock, as a national initiative to bring popular music history curriculum into schools across the country by using the history and culture of music to engage students in all disciplines.
RockNRoll Rebel – The Early Work is available now and can be bought here. Scroll down to view the tracklist.
RockNRoll Rebel – The Early Work tracklist:
LITTLE STEVEN AND THE DISCIPLES OF SOUL: MEN WITHOUT WOMEN (1982)
Lyin' In A Bed Of Fire
Inside Of Me
Until The Good Is Gone
Men Without Women
Under The Gun
Save Me
Princess Of Little Italy
Angel Eyes
Forever
I've Been Waiting
+
ROCKPALAST: LIVE AT GRUGAHALLE, GERMANY – 1982 (DVD)
Intro (Live At Grugahalle, Germany – 1982)
Lyin' In A Bed Of Fire (Live At Grugahalle, Germany – 1982)
Save Me (Live At Grugahalle, Germany – 1982)
Forever (Live At Grugahalle, Germany – 1982)
Inside Of Me (Live At Grugahalle, Germany – 1982)
Take It Inside (Live At Grugahalle, Germany – 1982)
Until The Good Is Gone (Live At Grugahalle, Germany – 1982)
Princess Of Little Italy (Live At Grugahalle, Germany – 1982)
Caravan (Live At Grugahalle, Germany – 1982)
Under The Gun (Live At Grugahalle, Germany – 1982)
I Played The Fool (Live At Grugahalle, Germany – 1982)
I Don't Want To Go Home (Live At Grugahalle, Germany – 1982)
Angel Eyes (Live At Grugahalle, Germany – 1982)
This Time It's For Real (Live At Grugahalle, Germany – 1982)
Can I Get A Witness (Live At Grugahalle, Germany – 1982)
Closing Credits
LITTLE STEVEN AND THE DISCIPLES OF SOUL: VOICE OF AMERICA (1983)
Voice Of America
Justice
Checkpoint Charlie
Solidarity
Out Of The Darkness
Los Desaparecidos (The Disappeared Ones)
Fear
I Am A Patriot (And The River Opens For The Righteous)
Among The Believers
Undefeated (Everybody Goes Home)
+
ROCKPALAST: LIVE AT LORELEY, GERMANY – 1984 (DVD)
Peter Ruchel Intro (Live At Loreley, Germany – 1984)
Voice Of America (Live At Loreley, Germany – 1984)
Justice (Live At Loreley, Germany – 1984)
Save Me (Live At Loreley, Germany – 1984)
Fear (Live At Loreley, Germany – 1984)
Lyin' In A Bed Of Fire (Live At Loreley, Germany – 1984)
I Am A Patriot (Live At Loreley, Germany – 1984)
Solidarity (Live At Loreley, Germany – 1984)
Under The Gun (Live At Loreley, Germany – 1984)
Checkpoint Charlie (Live At Loreley, Germany – 1984)
Los Desaparecidos (Live At Loreley, Germany – 1984)
Out Of The Darkness (Live At Loreley, Germany – 1984)
Undefeated (Live At Loreley, Germany – 1984)
Men Without Women (Live At Loreley, Germany – 1984)
Forever (Live At Loreley, Germany – 1984)
Princess Of Little Italy (Live At Loreley, Germany – 1984)
Angel Eyes (Live At Loreley, Germany – 1984)
Closing Credits
Peter Ruchel Interview [Concert Film]
LITTLE STEVEN: FREEDOM – NO COMPROMISE (1987)
Freedom
Trail Of Broken Treaties
Pretoria
Bitter Fruit
No More Party's
Can't You Feel The Fire
Native American
Sanctuary
+
LIVE AT THE RITZ, NEW YORK – 1987 (DVD)
Freedom (Live At The Ritz, New York – 1987)
Sanctuary (Live At The Ritz, New York – 1987)
Under The Gun (Live At The Ritz, New York – 1987)
Los Desaparecidos (Live At The Ritz, New York – 1987)
I Am A Patriot (Live At The Ritz, New York – 1987)
Pretoria (Live At The Ritz, New York – 1987)
Fear (Live At The Ritz, New York – 1987)
Trail Of Broken Treaties (Live At The Ritz, New York – 1987)
Bitter Fruit (Live At The Ritz, New York – 1987)
Checkpoint Charlie (Live At The Ritz, New York – 1987)
Vote! (Live At The Ritz, New York – 1987)
No More Party's (Live At The Ritz, New York – 1987)
Undefeated (Live At The Ritz, New York – 1987)
Native American Feat. Bruce Springsteen (Live At The Ritz, New York – 1987)
Sun City Feat. Bruce Springsteen (Live At The Ritz, New York – 1987)
LITTLE STEVEN: REVOLUTION (1989)
Revolution
Where Do We Go From Here
Revolution
Education
Balance
Love and Forgiveness
Newspeak
Sexy
Leonard Peltier
Liberation Theology
Discipline
LITTLE STEVEN VAN ZANDT: BORN AGAIN SAVAGE (1999)
Born Again Savage
Camouflage of Righteousness
Guns, Drugs, And Gasoline
Face of God
Saint Francis
Salvation
Organize
Flesheater
Lust for Enlightenment
Tongues of Angels
ARTISTS UNITED AGAINST APARTHEID: SUN CITY (1985)
Sun City
No More Apartheid
Revolutionary Situation
Sun City (Version II) (Edit)
Let Me See Your I.D.
The Struggle Continues
Silver And Gold
BONUS TRACKS (4CD):
CD1: MEN WITHOUT WOMEN (AND BEFORE) (BONUS TRACKS)
RockNRoll Rebel
Who Told You? (Live At Gulliver's Pub, Red Bank, NJ, June 15, 1973)
That's How It Feels (Live At Stone Pony, Asbury Park, NJ, May 30, 1976)
When You Dance (Rehearsal, 1976 / Mono)
Little Darlin' (Stone Pony Rehearsal, 1977 / Mono)
Ain't No Lady (Stone Pony Rehearsal, 1977 / Mono)
Love On The Wrong Side Of Town (Stone Pony Rehearsal, 1977 / Mono)
Little Girl So Fine (Rehearsal, 1976 / Mono)
Some Things Just Don't Change (Stone Pony Rehearsal, 1977 / Mono)
She Got Me Where She Wants Me (Stone Pony Rehearsal, 1977 / Mono)
Men Without Women (1982 Radio Spot)
Angel Eyes (Britt Row Version / 1982)
Forever (Britt Row Version / 1982)
Until The Good Is Gone (Britt Row Version / 1982)
I've Been Waiting (Early Version / 1982)
Caravan (Britt Row Version / 1982)
Save Me (Live At Peppermint Lounge, New York, NY, July 18, 1982)
Time (Studio Track / 1982)
CD2: VOICE OF AMERICA (BONUS TRACKS)
This Time It's For Real (Live At Marquee Club, London, UK, October 18, 1982)
It's Possible (Studio Track/Mono)
Vote! (That Mutha Out) (12" Single Version)
Vote! Pt. II (1984 Rap Version)
Vote! Pt. III (After World War III) (Rap Version / 12" Single Version)
Vote! Pt. IV (Instrumental / 12" Single Version)
Vote! Pt. V (1984 Rap Version)
Caravan (Live At Marquee Club, London, UK, October 18, 1982)
I Don't Want To Go Home (Live At Marquee Club, London, UK, October 18, 1982)
US Festival Radio Spot 1983
Alive For The First Time (Writing Session, The Birth Of A Song / 1983)
Voice Of America Radio Spot 1984
Out Of The Darkness (12" Single Version)
Inside Of Me (French TV/1983)
CD3: SUN CITY (BONUS TRACKS)
Let Me See Your I.D. (Extended Mix / 12" Single Version)
Let Me See Your I.D. (Extended Street Mix / 12" Single Version)
Let Me See Your I.D. (Beat And Scratch Mix / 12" Single Version)
Not So Far Away (Dub Mix / UK 12" Single Version)
Sun City (Last Remix / UK 12" Single Version)
Soweto Nights
The Struggle Continues (Extra Miles Davis Version)
CD4: FREEDOM – NO COMPROMISE, REVOLUTION (AND LATER) (BONUS TRACKS)
Bitter Fruit (Cana No Mas Dub Mix / UK 12" Single Version)
Bitter Fruit (No Pasaran Mix / UK 12" Single Version)
Bitter Fruit (Platano Quemado Mix With Steel Drums / UK 12" Single Version)
Fruta Amarga (12" Single Version)
No More Party's (For Those About To Party…) Rock Mix / 12" Single Version)
No More Party's (Funky Party Edit / R&B Mix / UK 7" Single Version)
Vote Jesse In (Jesse Jackson Campaign Song)
Revolution (Naked City Mix / UK 12" Single)
Revolution (Naked City Mix Pt. 2 / Maceo's Thang / UK 12" Single)
I Wish It Would Rain (Vin Scelsa Hungerthon, 1995)
Princess Of Little Italy (Vin Scelsa Hungerthon / 1989)
It's Been A Long Time (Solo Acoustic)