Lynyrd Skynyrd's Historic Concert 'Live At Knebworth '76' Set For Multi-Format Release
The release captures the band's historic performance in England on August 21, 1976.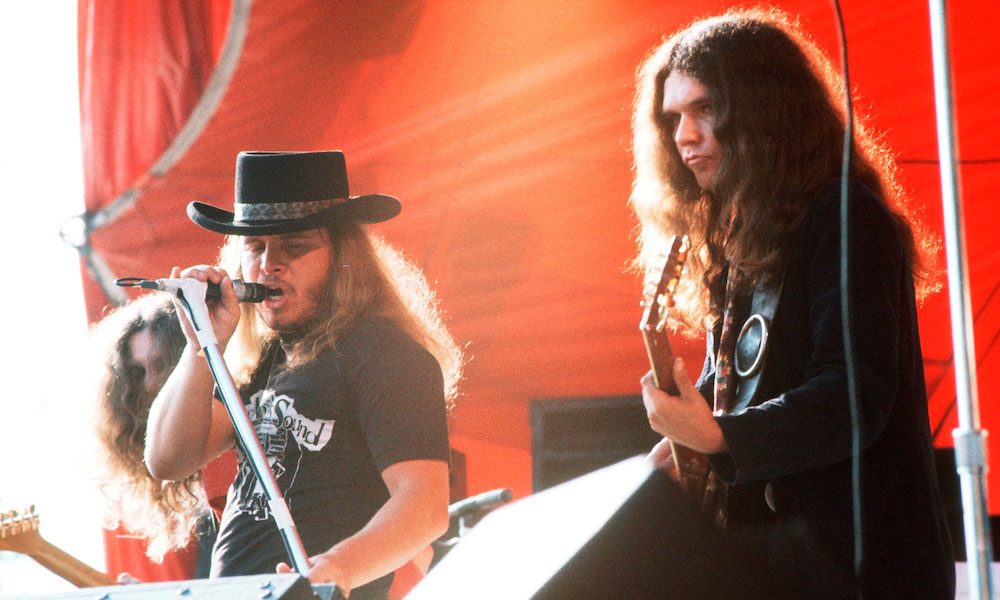 Southern rockers Lynyrd Skynyrd are celebrating their historic 1976 performance with the multi-format release of Lynyrd Skynyrd: Live At Knebworth '76 available on DVD+CD, Blu-ray+CD, limited edition 2LP+DVD, and digital video on April 9.
Originally only available on the 1996 film Freebird..The Movie, this latest installment gives fans the opportunity to enjoy the 1976 performance in its entirety.
The band performed at the day-long festival with the likes of Todd Rundgren's Utopia and The Rolling Stones, playing to a crowd of over 150,000 people, and effectively stealing the show to create a historic moment for Southern Rock.
The film captures the moment when Lynyrd Skynyrd rose to international fame with their performances of stand-out tracks "Sweet Home Alabama," "Gimme Three Steps," and of course, "Free Bird."
With Allen Collins, Gary Rossington, and Steve Gaines on guitar, the Knebworth performance remains one of the best showcases of the band's signature "triple-guitar attack."
'Live At Knebworth '76' also chronicles the band's original legendary line-up featuring Ronnie Van Zant, Gary Rossington, Allen Collins, Steve Gaines, Leon Wilkeson, Artimus Pyle, Billy Powell, and The Honkettes, and honors those who were lost in the tragic 1977 plane crash.
"Skynyrd caused a real buzz backstage," said the late Knebworth Festival organizer Freddy Bannister in a 2017 interview. "We all wondered how anyone could follow them." An hour later, we all began to wonder if anyone would even try."
As a bonus, the Blu-ray set also features the full-length documentary If I Leave Here Tomorrow: A Film About Lynyrd Skynyrd. Originally released in 2018, the film is an in-depth exploration of the band's music and history.
Over 40 years after their inception, Lynyrd Skynyrd continues their legacy as icons of American music. Carrying on after the tragic 1977 plane crash, with sales beyond 30 million worldwide and 60 albums to their name, Lynyrd Skynyrd remains etched as pivotal forebearers of Southern Rock.
Lynyrd Skynyrd: Live At Knebworth '76 is set for release on April 9 can be pre-ordered here. View the full tracklisting below.
Lynyrd Skynyrd: Live At Knebworth '76 Tracklisting
1: Workin' For MCA
2: I Ain't The One
3: Saturday Night Special
4: Searching
5: Whiskey Rock-A-Roller
6: Travelin' Man
7: Gimme Three Steps
8: Call Me The Breeze
9: T For Texas
10: Sweet Home Alabama
11: Free Bird