Mark Knopfler Plays 'Accomplice' To Tommy Emmanuel
Mark Knopfler is among the contributors to the upcoming Accomplice One album by Australian guitarist and singer-songwriter Tommy Emmanuel. The much-respected, ARIA Award-winning and Grammy-nominated musician will have the record released on 19 January 2018 by CGP Sounds/Thirty Tigers, and it boasts a stellar line-up.
Knopfler features on one of his own unreleased compositions, 'You Don't Want To Get You One Of Those,' on an album that will also feature guest appearances by Rodney Crowell, Jason Isbell, Ricky Skaggs, Jerry Douglas, Amanda Shires, David Grisman, Bryan Sutton, Suzy Bogguss, Jorma Kaukonen, Jake Shimabukuro, J.D. Simo, Charlie Cushman, Clive Carroll, Pat Bergeson, Frank Vignola, Vinny Raniolo and Jack Pearson.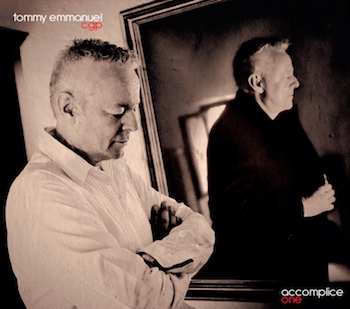 "It's been such an honour to work with some of the greatest artists I know, and some of the most inspiring people in music, today," says Emmanuel about the new, multi-artist project. "I wanted to record an album of duets that could showcase my love of many styles, the challenge of rearranging some classic songs, and share the fun of total improvisation with players who do it on a level that we all marvel at! I also wanted the chance to sing with some of my favourite voices too."
Emmanuel and Knopfler recorded 'You Don't Want To Get You One Of Those' last April, when the Australian guitarist wrote of the session: "The recording adventures continued today with an extraordinary artist…we sang together and played acoustically into some the sweetest microphones I've ever seen…thanks to Mark Knopfler for the fun, guidance, and good sounds!"
As a taster of what's in store, here's Emmanuel performing a solo version of the Knopfler song.
Explore our Mark Knopfler Artist Page.
Format:
UK English