The Who: 'Maximum As & Bs' Box Set, Plus Coloured Townshend Vinyl, Set For Release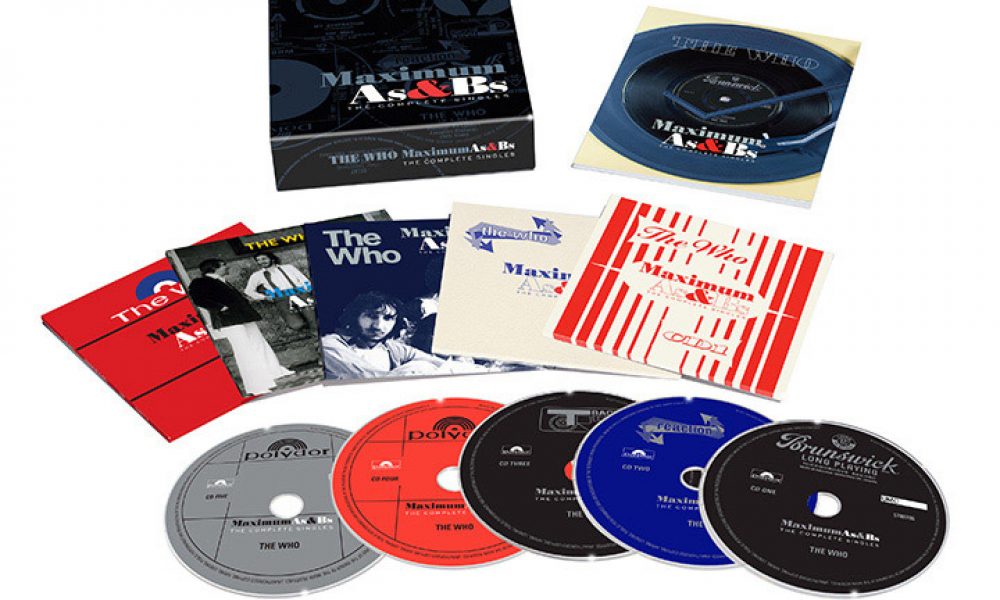 UMC-Polydor are set to issue Maximum As & Bs, a 5CD box set, which collects all A-sides, B-sides and EPs from The Who in one place for the very first time, on 27 October.
Maximum As & Bs features 86 tracks in all from the Brunswick, Reaction, Track and Polydor labels. The tracklist includes classic hits such as 'Pictures Of Lily', 'I Can See For Miles', 'Magic Bus', 'Pinball Wizard', 'Won't Get Fooled Again', 'Substitute', 'I Can't Explain', 'Anyway, Anyhow, Anywhere', 'My Generation', 'Squeeze Box' and many more, along with the band's last recorded track to date, 'Be Lucky'.
In addition, the set includes rarely heard B-sides and EP tracks, along with the group's first single (recorded as The High Numbers), 'Zoot Suit', b/w 'I'm The Face'. In all, the box features five CDs, in separate wallets, housed in a rigid, lift-off-style box along. Also included is a 48-page booklet, with track-by-track annotation by acclaimed The Who writers plus period photos and memorabilia.
Also coming exclusively to vinyl on 27 October are new editions of The Who's first singles anthology Meaty, Beaty, Big & Bouncy and their landmark live LP Live At Leeds. The New York Times declared the latter title – which was originally released in 1970 – to be "quite simply… the best live rock album ever made." Both titles have been cut at Abbey Road Studios in London with half-speed mastering and will be available on heavyweight, 180g vinyl.
Prior to the arrival of these new editions from The Who, UMC-Polydor are releasing remastered editions of Pete Townshend's critically-acclaimed demo and outtake collections, Scoop, Another Scoop and Scoop 3. Reissued for the first time in a decade and a half, these albums give a unique insight into Townshend's creative process and feature early versions of future classics by The Who such as 'Eminence Front', 'The Real Me', 'Long Live Rock' and 'Magic Bus'.
As with the aforementioned titles from The Who, these Pete Townshend albums have been newly remastered at half speed, and will also be pressed on different coloured wax. Scoop will be available on pink, Another Scoop on yellow, and Scoop 3 on light blue vinyl.
The Who's Maximum As & Bs collection is due for release on 27 October and can be ordered here.
Format:
UK English