Watch New Animated Video For Miles Davis Track 'Boplicity'
Inspired by Miles Davis' own drawings, a new animated video for 'Boplicity' brings the classic 'Birth Of The Cool' track to life.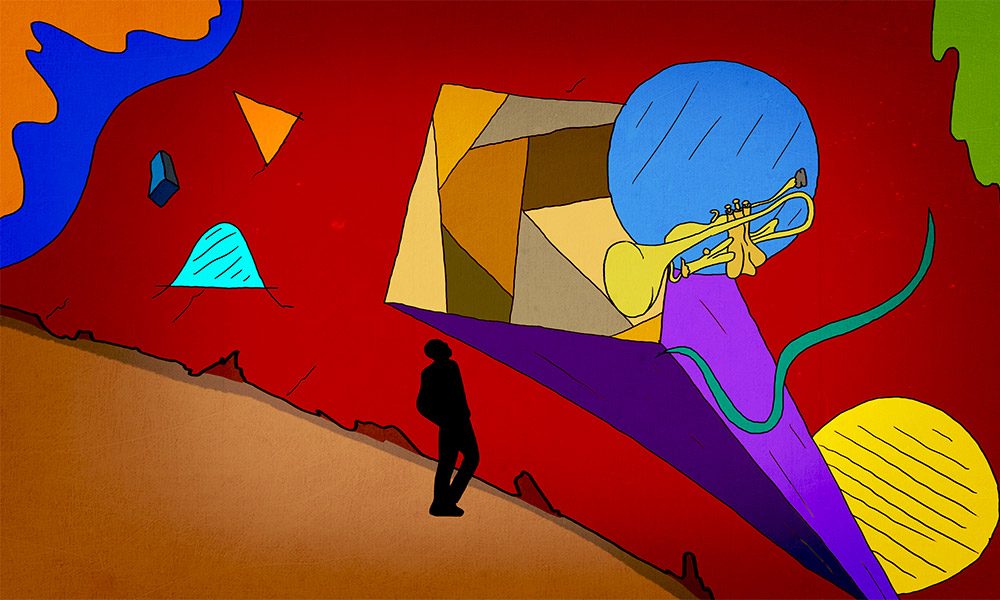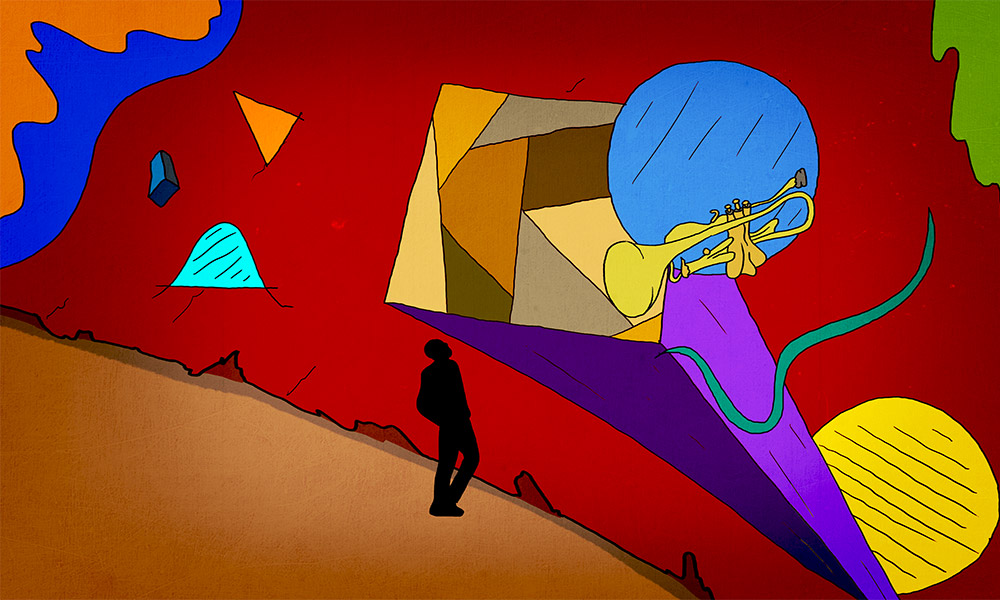 As part of the 70th-anniversary celebrations of Miles Davis' iconic album Birth Of The Cool, Capitol/UMe has commissioned an animated video to accompany 'Boplicity', one of its essential tracks. Produced by Dreambear, the short film is the work of Barcelona-based British animator/director Tom Jarrett.
"I came up with images based on his drawings"
Jarrett's film took inspiration from Miles Davis the painter, as well as Miles Davis the musician. "Universal gave me a whole bunch of Miles' sketches to work with," he explains. "Then, I came up with some concept images based on his drawings. I really wanted to bring the sketches alive, and from there we did what we did based on what we heard."
The video, which is almost psychedelic in its vivid use of colour, is a metaphor for Miles' evolution as a musician. "At first he's in this desert-like world, and he's taking in his surroundings and all the complexity in the sky," explains Jarrett. "Then he's thrown on a Fantasia-type journey, and it develops into who he is. Throughout his journey, he's surrounded by his peers who made him who he is. Dizzy Gillespie's in the video, and there's a bird that represents Charlie Parker. That, to me, is him growing up over the years and, eventually, he becomes this cool dude."
Initially, Miles is a nondescript figure: just a silhouette. Jarrett was wary of resorting to resort to cliché or parody in his depiction of the trumpeter. "I didn't want to animate him as a character that's recognisably him," he says. "So my main idea was to use a blank, mysterious character who's in a kind of a Salvador Dalí-inspired world. I got a feeling for that from Miles' sketches. Only at the very end, during the last seconds, is the figure recognisable as Miles."
Interestingly, the video begins with a short section devoted to simple splats of colour, in time to 'Boplicity''s cool, textured groove. "The first 15 seconds I based on one of the earliest animations from [innovative Canadian animator] Norman McLaren, made in 1940," says Jarrett. "It was the very first animation to jazz music, where he scratched on film. It was basically dots jumping around on the screen to the music. So I started with that and from there just went on a crazy journey, developing and going through different styles and moving into something more contemporary. I was still trying to give it a classic Fantasia-style Disney animation because I thought that period represented jazz music well."
"Miles' music is perfect for visuals"
Jarrett discovered that Miles Davis' music lends itself to moving images. "I think it's perfect for visuals," he says. "For an animator like me, there's probably nothing better to work to. Visually, there are so many ways you can go with it because of his improvisational style and the music's complexity."
The animation process is a slow, painstaking one that goes through several complex stages – including scriptwriting, using storyboards to establish a narrative, and then frame-by-frame camera shots – before the unveiling of the finished product. "It can take two days just to do a couple of seconds," reveals the filmmaker, "especially when there are complex sequences. It took six weeks from beginning to end."
Making the 'Boplicity' video has heightened Tom Jarrett's appreciation of Miles Davis, whose music he first became acquainted when he was a student. "The more I listened to 'Boplicity', the more complex I found it to be," he states. "It's the first time I've worked on a music video where I'm not sick of the song. I like it now even more than I did at the beginning, which is quite interesting, and says a lot about the song and Miles' music."
Jarrett's 'Boplicity' video has won the approval of Erin Davis and Vince Wilburn, from Miles Davis' estate. "It's beautiful," Wilburn told uDiscover Music, with Davis adding: "I love it. I'm very happy with everything that Universal has done with Birth Of The Cool."
The Complete Birth Of The Cool reissue can be bought here.
Format:
UK English