'Motown Unreleased 1966' Gathers Classics, Rare Tracks From The Vault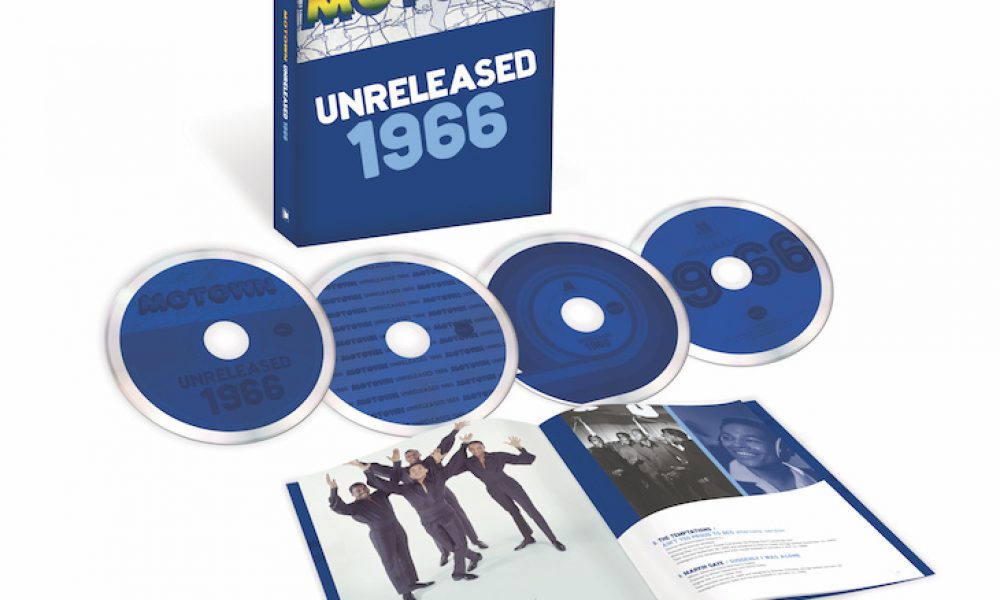 The latest in an ongoing series wherein legendary Detroit label Motown revisits their back catalogue through alternate versions of their hits and lesser known tracks, Motown Unreleased 1966 gathers up 80 songs that have never previously been released on CD.
Now released exclusively through the US uDiscover Music store as a four-disc collection with an additional booklet, Motown Unreleased 1966 was previously available through digital platforms during 2016, but is now receiving its official physical release – in a limited pressing of just 1,000 copies.
Motown Unreleased 1966's four discs reveal a trove of treasures. Included are alternate versions of classic tracks such as Smokey Robinson & The Miracles' 'Flower Girl', The Temptations' 'Ain't Too Proud To Beg' and The Isley Brothers' 'Got To Have You Back', in addition to numerous rare recordings from artists such as The Supremes, Marvin Gaye, Billy Eckstine, Brenda Holloway, Barbara McNair and The Four Tops. The fourth disc also features a collection of remarkable gospel tracks including The Miracles' 'Nearer The Cross' and Kim Weston's solo reading of 'Just A Closer Walk With Thee.'
Previous titles in the digital Motown Unreleased series have included Motown Unreleased 1962: Girls, Motown Unreleased 1962: Gospel,  Motown Unreleased 1963, Motown Unreleased 1964 and two Motown Unreleased volumes covering 1965. Motown Unreleased 1966, however, is the first of the series to be granted a physical release.
Scroll down to read the full tracklisting of the 4CD edition of Motown Unreleased 1966 and order it exclusively from the uDiscover Music store, here.
Disc 1:
The Miracles: 'The Soulful Shack' (Alternate Version)
The Temptations: 'Ain't Too Proud To Beg' (Alternate Version)
Marvin Gaye: 'Suddenly I Was Alone'
Billy Eckstine: 'The Shadow Of Your Smile'
The Mynah Birds: 'I Got You (In My Soul):
The Mynah Birds: '''ll Wait Forever '
Jr. Walker And The All Stars: 'Road Burner (Son Of Road Runner)'
Billy Eckstine: 'For Once In My Life '
Marvin Gaye & Kim Weston: 'That'll Be The Day'
Earl Van Dyke: 'Don't Mess With Bill'
The Miracles: 'Flower Girl' (Alternate Version)
Brenda Holloway: 'Can't You Hear Me Knocking'
Brenda Holloway: 'Whenever You Need Me'
Marvin Gaye & Kim Weston: 'Just Too Much To Hope For'
Earl Van Dyke: 'Stand By Me' (Live At The 20 Grand, Detroit/1966)
The Four Tops: 'A Taste Of Honey'
The Four Tops: 'Wives And Lovers' (Take 1)
The Four Tops: 'Wives And Lovers' (Take 3)
The Four Tops: 'Wives And Lovers' (Take 4)
Disc 2:
Brenda Holloway: 'The Lonely Heart And Lonely Eyes Of Lonely Me'
Marvin Gaye & Kim Weston: 'Give A Little Love'
Brenda Holloway: 'What Good Am I Without You'
Jr Walker And The All Stars: 'Pucker Up Buttercup' (Alternate Version)
Earl Van Dyke: 'Monkey Talk'
Barbara McNair: 'A World Without You'
Brenda Holloway: 'I Still Get Butterflies'
Gladys Knight & The Pips: 'In My Heart I Know It's Right'
Gladys Knight & The Pips: 'I'm Losing You'
Gladys Knight & The Spinners: 'All These Things'
The Four Tops: 'Hello, Young Lovers'
The Four Tops: 'I Wish You Love'
Barbara McNair: 'Put On A Happy Face'
Barbara McNair: 'The Second Time Around'
Barbara McNair: 'Smile'
Barbara McNair: 'Day In – Day Out'
Gladys Knight & The Pips: 'Nothing But A Fool'
Gladys Knight & The Pips: 'You're Gone (But Always In My Heart)'
Chris Clark: 'Never Stop Loving Me'
Gladys Knight & The Pips: 'Don't Compare Me With Her'
Barbara McNair: 'You've Got Possibilities'
Chris Clark: 'Never Trust A Man'
Disc 3:
The Marvelettes: 'Sweet Talkin' Guy'
Brenda Holloway: 'I Feel Your Love Growin' On Me'
Brenda Holloway: 'Without Love You Lose A Good Feelin'
Brenda Holloway: 'You Got A Little Of Everything'
Brenda Holloway: 'Baby I've Got It'
Brenda Holloway: 'Keep Me'
The Miracles: 'I Just Don't Know What To Do With Myself' (Alternate Version)
Spinners: 'Can't Let You Go'
Little Lisa: 'Keep Away'
Spinners: 'Tea House In China Town' (Alternate Version)
Marvin Gaye: 'I Found Something' (Alternate Version)
The Isley Brothers: 'Save Me From This Misery'
Chris Clark: 'I Still Love You'
The Isley Brothers: 'Got To Have You Back' (Alternate Version)
Gladys Knight & The Pips: 'I Can't Take You Back'
The Temptations: 'Then'
Brenda Holloway: 'I'm Giving Up'
Brenda Holloway: 'Spellbound'
Spinners: 'For All We Know (Alternate Version)'
Disc 4:
Brenda Holloway: 'Can't Hold The Feeling Back'
Billy Eckstine: 'The Impossible Dream'
Marvin Gaye: 'Dear Miss Lonely Hearts'
The Underdogs: 'Need Your Lovin' (Want You Back)'
The Underdogs: 'One Of These Days'
The Four Tops: 'On A Clear Day (You Can See Forever)'
The Supremes: 'More (Theme From Mondo Cane)'
The Supremes: 'Somewhere'
The Supremes: 'Michelle'
Debbie Dean: 'I'm So Helpless (When I'm With You)'
Marvin Gaye: 'Swing Low, Sweet Chariot'
Kim Weston: 'Just A Closer Walk With Thee'
Kim Weston: 'Never Grow Old'
Kim Weston: 'How Great Thou Art'
Gladys Knight & The Pips: 'Just A Closer Walk With Thee'
The Supremes: 'Were You There'
The Supremes: 'What Do You Choose'
Marvin Gaye: 'Steal Away'
The Miracles: 'Near The Cross'
Martha & The Vandellas: 'Just A Closer Walk With Thee'
Format:
UK English