New Box Set For Beloved Faces, Small Faces Co-Founder Ronnie Lane
The collection is a much-deserved tribute to the co-writer of such classic British songs as 'Itchycoo Park,' 'All Or Nothing,' 'Ooh La La,' 'How Come' and 'The Poacher.'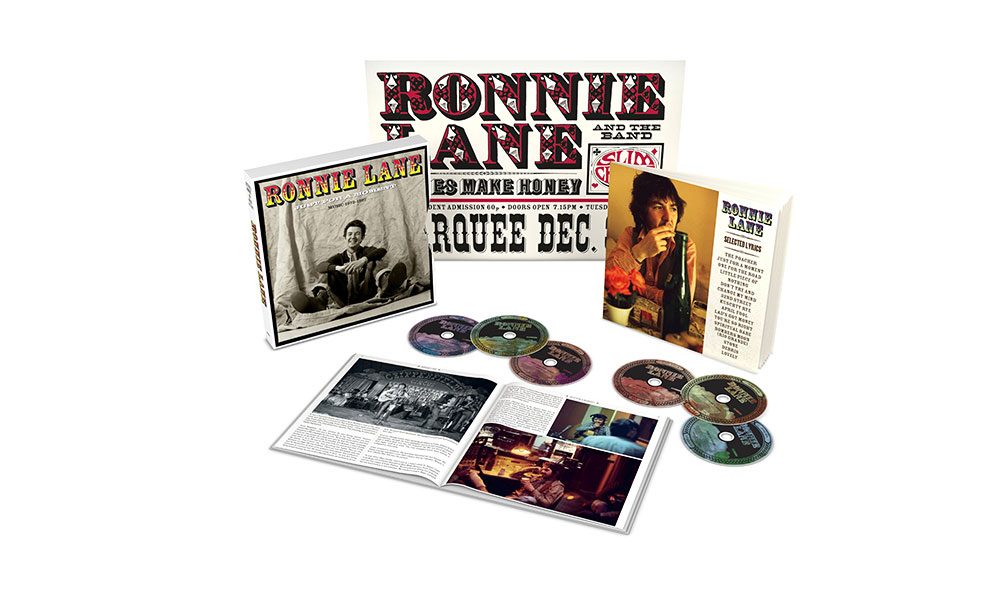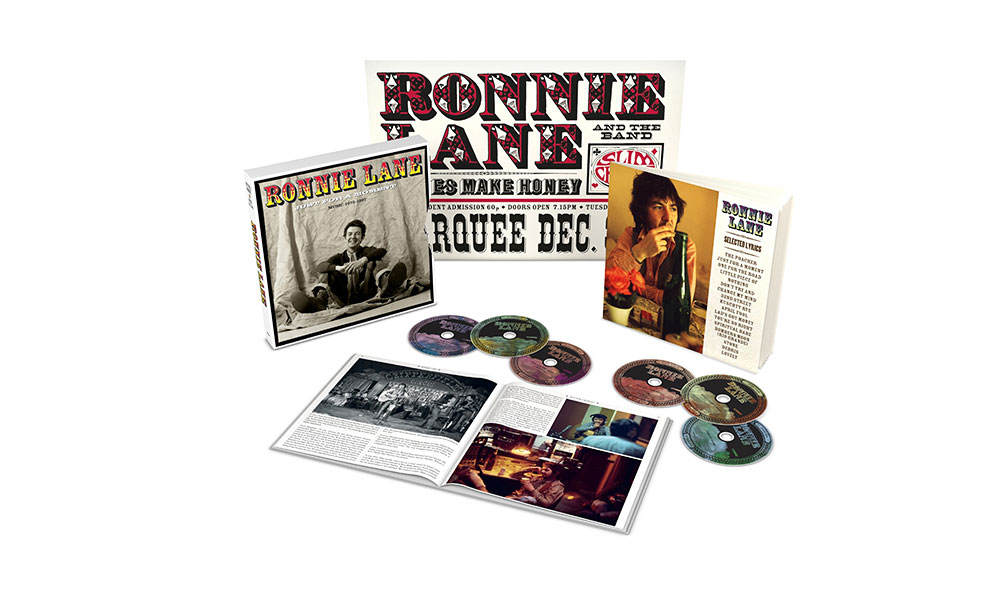 The first-ever comprehensive anthology of the work of beloved former Faces and Small Faces songwriter-bassist Ronnie Lane, Just For A Moment 1973-1997, will be released as a 6-CD box set and in best-of editions by UMC on 17 May.
The collection is a much-deserved tribute to the post-Faces career of the co-writer of such classic British songs as 'Itchycoo Park,' 'All Or Nothing,' 'Ooh La La' and his own hits with his later band Slim Chance, 'How Come' and 'The Poacher.' Lane passed away at the age of just 51 in 1997, after suffering from multiple sclerosis for more than 20 years.
Affectionately and widely known as 'Plonk,' Ronnie became one half of the songwriting force behind the Small Faces' definitive and soulful 1960s British rock sound with Steve Marriott. He then became a founding member of the highly successful powerhouse that grew out of them, the Faces. Then, increasingly at odds with the demands of the music business, he retreated to a ramshackle country farm, Fishpool, in Wales and formed Slim Chance.
The group toured in a carnival-type extravaganza called the Passing Show, and Lane also built his own recording facility, the Lane Mobile Studio. He collaborated with any friends in his musical circle, including Ronnie Wood, Gallagher & Lyle, Pete Townshend and Eric Clapton, who wrote 'Wonderful Tonight' around the fire at Fishpool.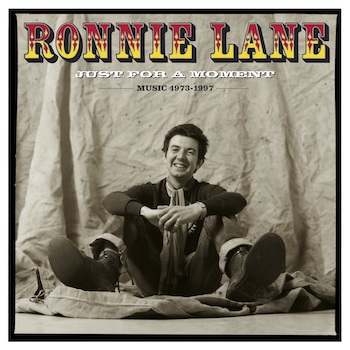 Townshend, with whom Lane created the memorable 1977 joint album Rough Mix, says of the new retrospective:  "For me the music here brings a joyful tear. How wonderful to get a sense of the entire arc of Ronnie's work, rough and smooth, lost and found."
Just For A Moment 1973-1997 includes Lane's four solo albums (Anymore For Anymore plus its non-LP singles, Ronnie Lane's Slim Chance, One For The Road and See Me). It also features tracks from the Mahoney's Last Stand soundtrack album with Ron Wood and from Rough Mix. The final disc of the set focuses on Ronnie's later years in the US, when he lived in Austin, Texas, with live highlights and previously unreleased studio tracks.
Many other rare and unreleased recordings are included, such as covers of 'The Wanderer' and 'The Joint Is Jumpin'', alongside unheard Lane compositions plus live recordings, tracks for the BBC and highlights from a concert at Rockpalast. Just For A Moment is curated by Ronnie's longtime musical confidant Charlie Hart of Slim Chance, who continue to tour in their modern-day line-up, with a new album, New Cross Road, out on the Fishpool label. The band's tour dates and further information are at their website.
The box set is available as a 6-CD edition with a hardback book and outer slipcase, a book of Lane's lyrics and an A2 fold out poster. 1CD and 2LP best-of versions will also be released. The collection contains comprehensive sleeve notes split into three distinct parts, written by Paolo Hewitt, Kris Needs and Kent Benjamin. Townshend contributes the foreword.
"Here, in these songs, collected with such love and care, he is found again."  says Townshend of his old friend. "Probably at the height of his rebellious and chaotic powers, where music had to be immediate and uplifting, or else heart-breaking — but always real."
Just For A Moment 1973-1997 is released on 17 May. Scroll down for the full tracklisting and pre-order it here.
Explore our Ronnie Lane Artist Page.
Just For A Moment 1973-1997 6-CD edition, CD1:
1. Careless Love
2. Don't You Cry For Me
3. Bye and Bye (Gonna See The King)
4. Silk Stockings
5. The Poacher
6. Roll On Babe
7. Tell Everyone
8. Amelia Earhart's Last Flight
9. Anymore For Anymore
10. Only A Bird In A Gilded Cage
11. Chicken Wired
12. How Come (Single)
13. Done This One Before (Single B-Side)
14. From The Late to the Early
15. Just For A Moment
16. How Come (Alternate Studio Take)
17. Ooh La La (BBC John Peel Session 11/12/1973)
18. Debris (BBC In Concert 23/04/1974)
19. Flags and Banners (Live at the Thames Hotel 11/12/1973)
20. Last Orders (Live At The Thames Hotel 11/12/1973)
21. I'll Fly Away
CD2
1. Little Piece Of Nothing
2. Stone
3. A Bottle of Brandy
4. Street Gang
5. Anniversary
6. I'm Gonna Sit Right Down And Write Myself A Letter
7. I'm Just A Country Boy
8. Ain't No Lady
9. Blue Monday
10. Give Me A Penny
11. You Never Can Tell
12. Tin and Tambourine
13. Single Saddle
14. Brother Can You Spare A Dime? (Island Single)
15. What Went Down (That Night With You) (Island Single)
16. Lovely (Single B Side)
17. Roll on Babe (BBC Live In Concert 13/12/1974)
18. Sweet Virginia (BBC John Peel Session 19/11/1974)
19. Walk on By (BBC Live In Concert 12/02/1976)
20. You're so Rude (Live Victoria Palace 16/03/1975)
21. From The Late To The Early (Lost) / How Come (Live Victoria Palace 16/03/1975)
22. What Went Down (That Night With You) (Island Single Outtake)
CD3
1. Don't Try 'n' Change My Mind
2. 32nd Street
3. Snake
4. Burnin' Summer
5. One for the Road
6. Steppin' an' Reelin' (The Wedding)
7. Harvest Home
8. Nobody's Listening
9. G'Morning
10. April Fool
11. Annie
12. Nowhere to Run
13. Silly Little Man
14. Catmelody
15. Last Orders (Well Well Hello, Slow Version)
16. Lonely
17. Under My Nose
18. Feeling Like A Lion
19. Going West
CD4
1. One Step
2. Good Ol' Boys Boogie
3. Lad's Got Money
4. She's Leaving
5. Barcelona
6. Kuschty Rye
7. Don't Tell Me Now
8. You're So Right
9. Only You
10. Winning With Women
11. Way Up Yonder
12. Three Cool Cats See Me (Outtake)
13. The Wanderer (The r 'n' b Sessions)
14. Rocket '69 (The r 'n' b Sessions)
15. The Joint Is Jumpin' (The r 'n' b Sessions)
16. Annie Had A Baby (The r 'n' b Sessions)
17. Pisshead Blues (Fishpool Sessions)
18. Barcelona (Demo)
19. Three Cool Cats (Demo)
CD5
1. Rats Tales (Catmelody) (Live At Rockpalast 03/03/1980)
2. Flags and Banners (Live At Rockpalast 03/03/1980)
3. Annie Had A Baby (Live At Rockpalast 03/03/1980)
4. How Come (Live At Rockpalast 03/03/1980)
5. You're So Rude (Live At Rockpalast 03/03/1980)
6. Lad's Got Money (Live At Rockpalast 03/03/1980)
7. Kuschty Rye (Live At Rockpalast 03/03/1980)
8. Man Smart, Women Smarter (Live At Rockpalast 03/03/1980)
9. Debris (Ronnie Lane's Big Dipper) (Live Capital Radio 29/05/1981)
10. Around The World (Grow Too Old) (Fishpool Sessions 1977)
11. Last Night (Fishpool Sessions 1977)
12. All Or Nothing (BBC John Peel 15/01/1976)
13. Bombers Moon (The Merton Sessions Early '81)
14. Last Tango In Nato (The Merton Sessions Early '81)
15. Silly Little Man (Fishpool Sessions)
16. She's Leaving (I Can Hear Her Singing) (Demo)
17. Lovely (Outtake)
18. Rats Tales (Catmelody) (Fishpool Sessions)
CD6
1. Ooh La La (Live In Texas 1988)
2. Rio Grande (Bombers Moon) (Live In Texas)
3. Nowhere To Run (Live KLBJ 12/89)
4. Annie (Live KLBJ 14/02/89)
5. Buddy Can You Apare A Dime? (KLBJ 22/12/87)
6. You're So Rude (Live at KUT 1988)
7. Dirty Rice (Featuring the Tremors with Bobby Keys) (The Back Room Austin May 12 1987)
8. Winning With Women (KUT 1988)
9. Ooh La la (Live In Texas 1987)
10. Don't Try 'n' Change My Mind (Live In Japan)
11. Glad And Sorry (Live In Japan)
12. Just For A Moment (Live In Japan)
13. Spiritual Babe (Demo, Houston)
14. King of the Lazy World (1992 Studio Session)
15. Peaches (January 1989 Arlyn Studio Sessions
16. Sally Anne (January 1989 Arlyn Studio Sessions)
17. Spiritual Babe (January 1989 Arlyn Studio Sessions)
18. Hearts of Oak (January 1989 Arlyn Studio Sessions)
19. Strongbear's Daughter (January 1989 Arlyn Studio Sessions)
1CD edition:
1. Just For A Moment
2. The Poacher
3. Anymore For Anymore
4. How Come
5. Tell Everyone
6. Roll On Babe
7. Little Piece of Nothing
8. Anniversary
9. Brother Can You Spare A Dime
10. Don't Try 'n' Change My Mind
11. One For The Road
12. Annie
13. April Fool
14. Kuschty Rye
15. Barcelona
16. One Step
17. Spiritual Babe (Demo Version)
18. Strongbear's Daughter
2LP edition:
Side A
1. The Poacher
2. Anymore For Anymore
3. How Come
4. Tell Everyone
5. Roll On Babe
Side B
1. Little Piece Of Nothing
2. Anniversary
3. Brother Can You Spare A Dime
4. Don't Try 'N' Change My Mind
5. One For The Road
Side C
1. Annie
2. April Fool
3. Kuschty Rye
4. Barcelona
Side D
1. One Step
2. Spiritual Babe (Demo Version)
3. Strongbears Daughter
4. Just For A Moment
Format:
UK English