New LP Celebrates The Newport Folk Fest's Ties To The Civil Rights Movement
'A Change Is Gonna Come' features performances by Jon Batiste, Mavis Staples, Maggie Rogers, and more.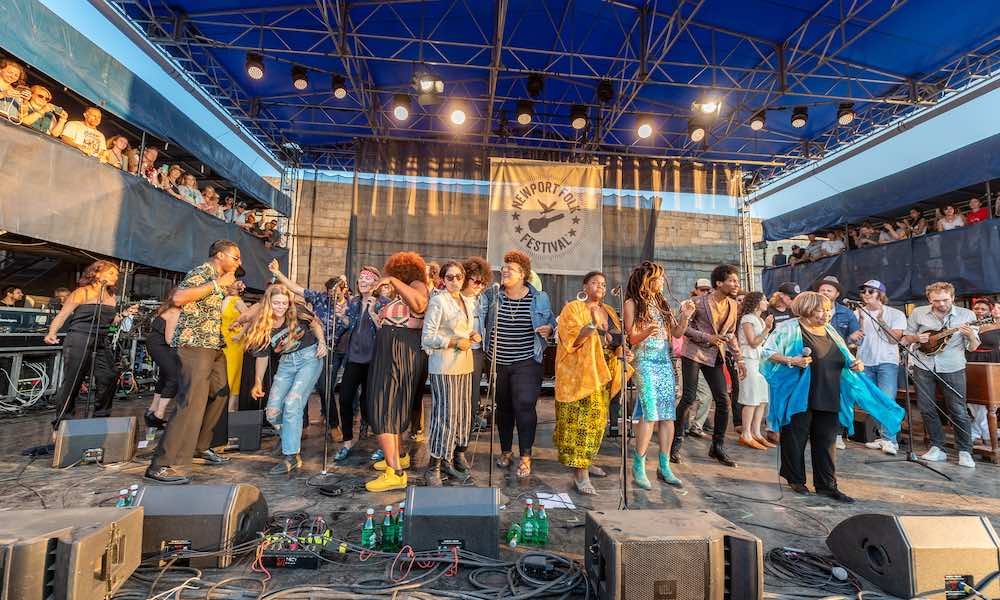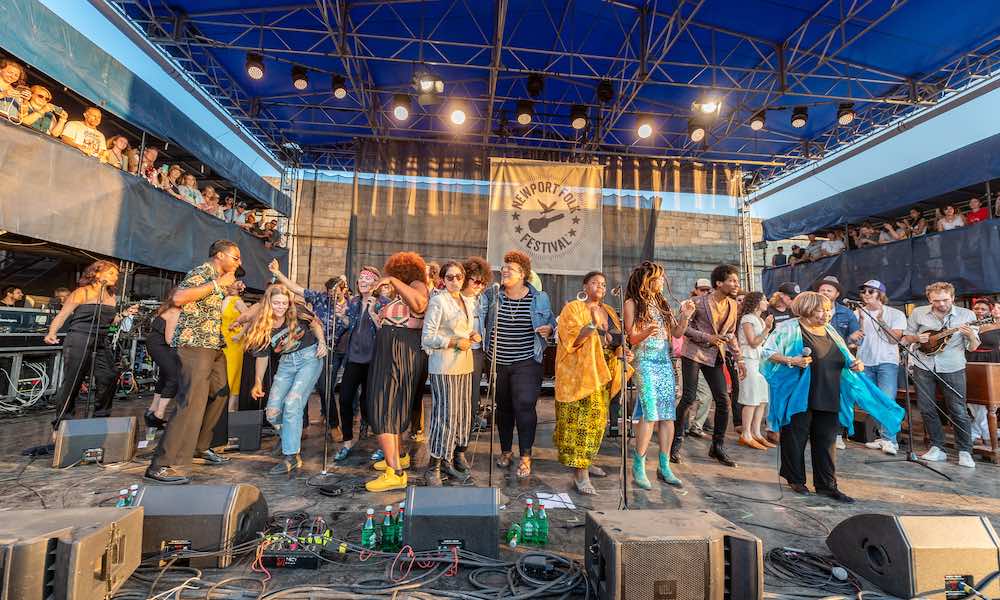 In 2018, musician and bandleader Jon Batiste collaborated with the Newport Folk Festival's organizers to produce an all-star celebration of the festival's storied history with the civil rights movement. Batiste, who serves as the musical director of The Late Show with Stephen Colbert, and is no stranger to activism, brought together a cross-generational selection of artists, including Mavis Staples, Valerie June, Maggie Rogers, and the Preservation Hall Jazz Band. Now, the nearly hour-and-a-half-long set is available as a limited-edition album, entitled A Change Is Gonna Come.
Sold as an individually-numbered, 2LP set, A Change Is Gonna Come also features performances by Leon Bridges, Gary Clark Jr, Brandi Carlile, Rachael Price, Chris Thile, and Bermuda Triangle – all backed by The Dap-Kings. Pre-orders will receive an immediate free digital download of the recording, while proceeds will support the Newport Festivals Foundation's ongoing initiatives to support musicians in need and music programs across the country.
The album includes such highlights as Batiste and the Dap-Kings covering Woody Guthrie's "This Land is Your Land," Mavis Staples performing the Staple Singers' poignant "Freedom Highway," and a rendition of "The Times They Are A-Changin'" by Carlile, Rogers, and Batiste.
In a statement issued today, Newport Festivals Executive Producer Jay Sweet spoke about how this stirring performance came about. "In the Spring of 2018, I was in the famed Studio A of Electric Lady Studios watching Jon Batiste and The Dap-Kings blow the minds of those fortunate to attend one of our first live Newport Festivals Fundraisers," recalled Sweet. "Immediately afterward, sitting with Jon in the control room digesting what we all had just experienced, we both knew this needed to be witnessed by more than just a handful of lucky souls. And so the idea was born to close the 2018 Newport Folk Festival with a set we called 'A Change Is Going to Come,' a celebration of the festival's storied history with the civil rights movement."
Sweet also recalled the emotions he felt, watching the finale as it played out on stage. "When Jon broke into his captivating version of the 'Star-Spangled Banner,' it became evident we were part of something historic. It was as much a celebration of the past as it was a starting point for the future – a reminder that so often in history, movements begin with music."
He added, "It's a small miracle that the audio we captured manages to convey some of the energy of that afternoon – it doesn't happen often. I hope that after listening to this record you're filled with the same feeling that I and everyone else at Fort Adams experienced."
One of the country's oldest music festivals, the Newport Folk Festival has long been associated with the Civil Rights Movement and often hosted artists who helped spread messages of unity, peace, and equality. Perhaps – most famously – during the 1963 edition, Joan Baez, The Freedom Singers, and members of the Student Nonviolent Coordinating Committee led attendees on a march through the city of Newport, RI, where they voiced their support for the forthcoming March on Washington. The festival culminated with a powerful performance of "We Shall Overcome" by Baez, Bob Dylan, The Freedom Singers, Theo Bikel, Pete Seeger, and Peter, Paul and Mary.
Listen to We Shall Overcome – The Most Powerful Protest Songs on Spotify.