Nicki Minaj's 'Beam Me Up Scotty' Mixtape Is Now Streaming
The new version of 'Scotty' includes two updated Minaj songs and three previously unreleased tracks.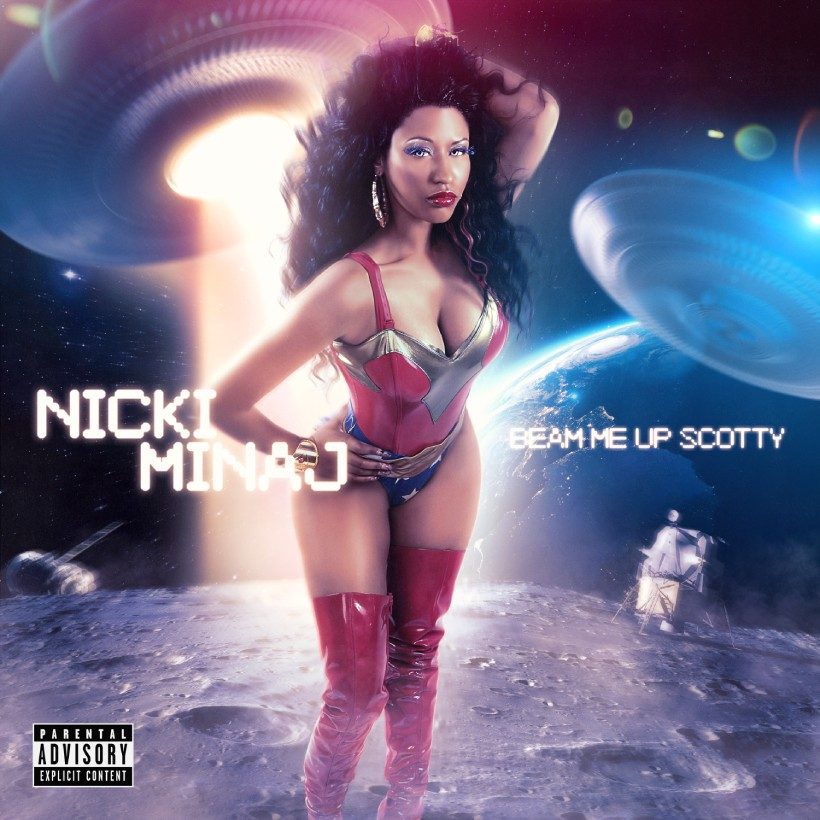 After teasing fans all week about something new coming out of Barbieworld, Nicki Minaj has unveiled that her seminal third mixtape, Beam Me Up Scotty, is finally available on all digital streaming platforms.
Her breakthrough project introduced Minaj to the world, highlighting her effortless blend of brilliant bars and iconic choruses. The project was the stuff of legend upon its release.
The mixtape was initially recorded after Lil Wayne noticed her now-legendary appearance on The Come Up DVD series. The project, originally released in April of 2009 by DJ Holiday and the Trapaholics, now includes 23 tracks and features guest verses from Lil Wayne, Busta Rhymes, Gucci Mane, Drake, and more while reworking popular tracks from Soulja Boy Tellem ("Donk"), DJ Khaled & T-Pain ("Go Hard"), and V.I.C. ("Get Silly").
Nicki Minaj - Fractions (Audio)
The critically-acclaimed mixtape is cannon amongst the Barbz and produced the hit "I Get Crazy" featuring Lil Wayne, which charted at #20 and No.37 on Billboard's Hot Rap Songs and Hot R&B/Hip-Hop Songs. The re-release arrives with standalone tracks "Boss Ass Bitch (Remix)" and "Chi-Raq (Feat. G Herbo)," plus three previously unannounced brand new tracks: "Seeing Green (with Drake & Lil Wayne)," "Fractions," and "Crocodile Teeth (Remix Feat. Skillibeng)."
The thrilling re-release comes during a celebratory time for Nicki, whose "Anaconda" joined the billion views club on YouTube back in April. Always one to break new ground, the honor qualified Minaj as the first solo female rapper to join the elite club.
Buy or stream Nicki Minaj's Beam Me Up Scotty.
Beam Me Up Scotty Tracklist
1. Seeing Green (with Drake & Lil Wayne)
2. Fractions
3. Crocodile Teeth (Remix) (with Skillibeng)
4. Chi-Raq (with G Herbo)
5. Boss Ass Bitch (Remix) (with PTAF)
6. Intro
7. Itty Bitty Piggy
8. I Get Crazy (feat. Lil Wayne)
9. Kill Da DJ
10. Nicki Minaj Speaks
11. Slumber Party (feat. Gucci Mane)
12. Shopaholic (feat. Gucci Mane, Bobby V, & F1Jo)
13. Gotta Go Hard (feat. Lil Wayne)
14. Nicki Minaj Speaks #2
15. Best I Ever Had (Remix)
16. Keys Under Palm Trees
17. Silly
18. Easy (feat. Gucci Mane & Rocko)
19. Nicki Minaj Speaks #3
20. Envy
21. Can Anybody Hear Me?
22. Still I Rise
23. Beam Me Up Scotty