Nicko McBrain, Ian Paice, Phil Collins Donate To '12 Drummers Drumming' Auction
Others contributing include Chad Smith and Mike Joyce, with funds raised going to Teenage Cancer Trust.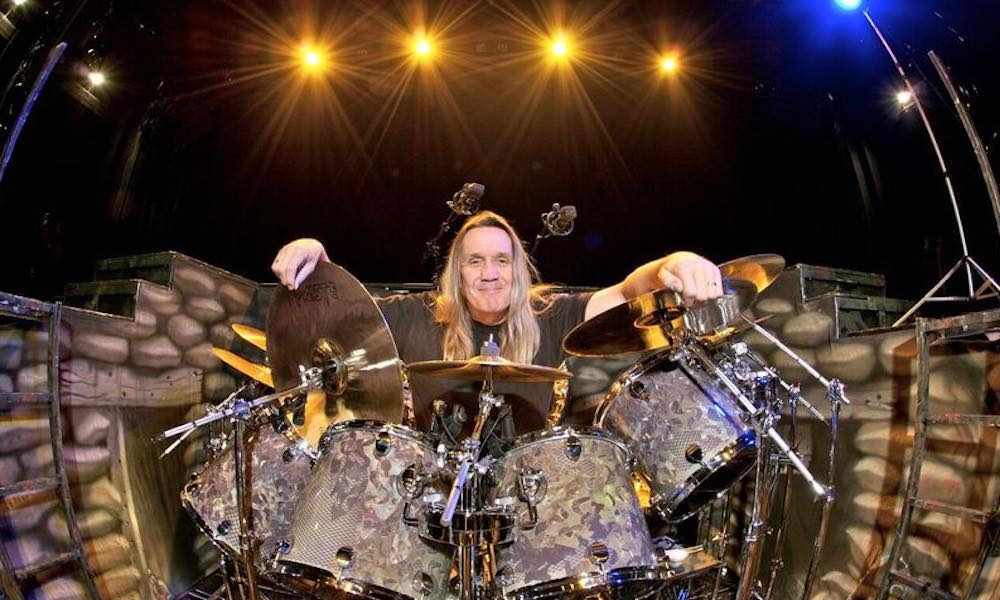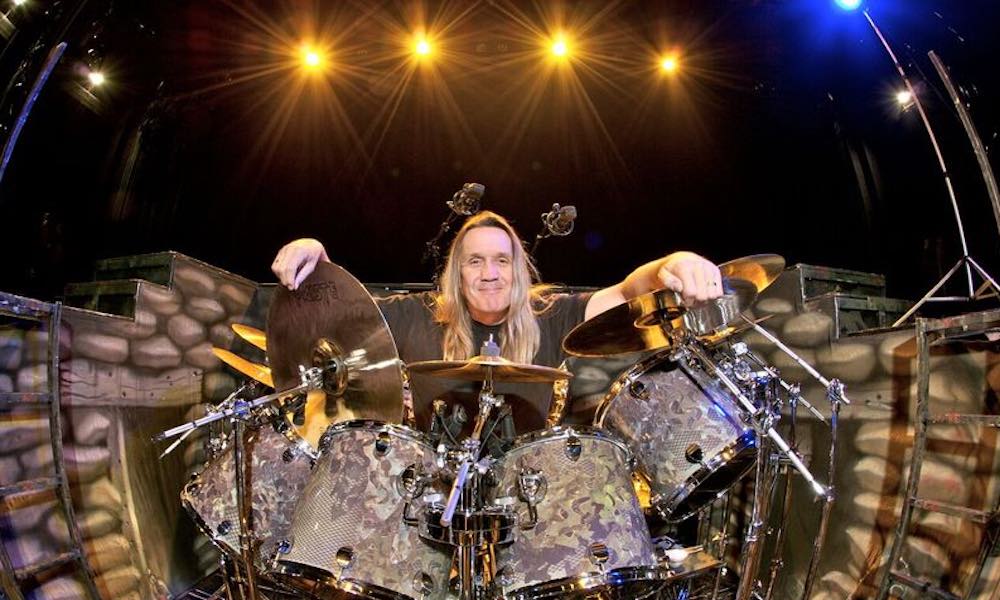 A dozen of the world's top drummers have donated items from their kits to the online auction 12 Drummers Drumming. Now live and hosted at www.charitystars.org, the auction is raising money for Teenage Cancer Trust.
Phil Collins, Ian Paice of Deep Purple, Chad Smith of Red Hot Chili Peppers and former Smiths drummer Mike Joyce are among those contributing items, and the jewel in the crown is the entire drum kit played by Iron Maiden's Nicko McBrain on the group's 2006 A Matter of Life and Death world tour.
"This drum set has done the world tour, the whole lot," says McBrain, "so please dig deep in your pockets to bid for the item.  Money raised will support young people diagnosed with cancer so they don't have to face it alone, particularly at this festive time of year." The auction is live until 12 December, and the leading bid for McBrain's kit at this writing stands at £11,000 ($14,120).
Collins, Paice and the widely travelled and revered Steve Gadd have all donated signed drum heads to the auction, and Smiths fans can also bid for Joyce's framed and signed drum head (inscribed with "let's beat this together!") and drumsticks, as well as framed and signed original Smiths postcards from 1985. 
Mat Nicholls of Bring Me The Horizon has donated the SJC custom kit he used on the band's That's The Spirit tours of North America from 2015-17. Other items have been entered by Joe Donovan of Blossoms, Glen Power of the Script, Cherisse Osei from Simple Minds' band,Eric Hernandez from Bruno Mars' band and Gavin Harrison of Porcupine Tree and King Crimson.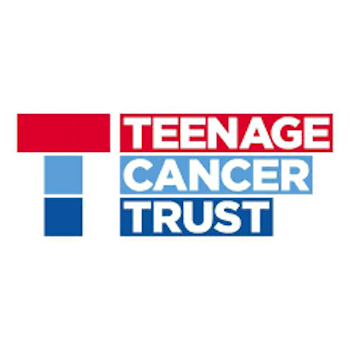 Money raised will go towards TCT's vital work providing life-changing nursing care and support for young people aged 13-24 who are diagnosed with cancer, for which the average in the UK is seven per day. It will buy access to the charity's leading specialist nurses and age-appropriate hospital spaces with big television screens, use of a play station and games, a jukebox and musical instruments.
Last year's equivalent auction included donations from Dave Grohl, Nick Mason and Kasabian's Ian Matthews and raised £20,000 for Teenage Cancer Trust. "Teenage Cancer Trust is so privileged to have the support of these world class drummers and can't thank them enough for donating such brilliant pieces for auction," says Jane Ashton, head of music and entertainment at Teenage Cancer Trust said.
"A huge thank you to the team at Remo too as we couldn't have pulled this together without them. To see the drumming community coming together to do their bit in support of young people with cancer is very special. Every penny raised will go towards providing life changing care to young people who are having to deal with being diagnosed with cancer." You can donate directly to TCT here.
Follow our Iron Maiden Artist Page. 
Format:
UK English