Queen + Adam Lambert's 'Live Around The World' Digital DVD Edition Is Out Now
The audio edition of 'Live Around The World' entered the UK Official Albums Chart at No. 1 in its initial week of release last November.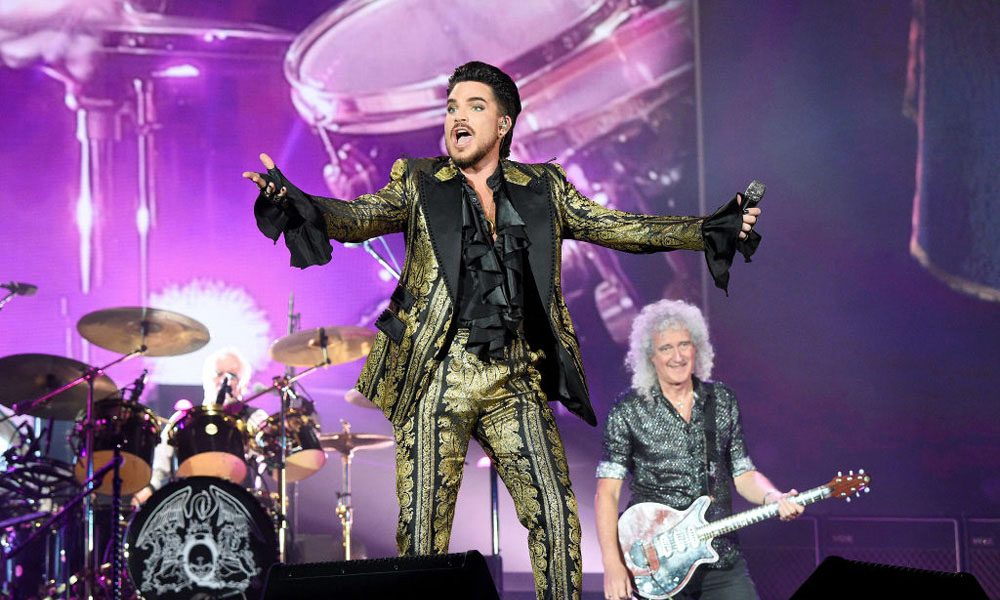 The DVD edition of Queen + Adam Lambert's widely-acclaimed No.1 album Live Around The World is available for stand-alone digital release now. It is available to download for purchase and rent from iTunes, Amazon and Google Play.
At the same time the band make available at YouTube their performance of "Love Kills" taken from their electrifying 40 minute set they played at the iHeart Radio Theatre, Los Angeles, June 16, 2014 which served as a preview to their debut North America tour which saw the band play 21 shows across the US and Canada including such high profile venues as New York's Madison Square Gardens and Los Angeles The Forum. It was the precursor to what was to become the Queen + Adam Lambert live phenomenon across the world.
The physical DVD of Live Around The World was initially released on 2 October, along with the CD, Blu-ray and vinyl editions of the album. It presents a compilation of concert highlights captured the world over, chosen personally by Brian May, Roger Taylor and Adam Lambert from over 200 shows they have performed with several featured here becoming available for the very first time. These cover concerts from Rock in Rio, Lisbon, to the UK's Isle of Wight Festival, Summer Sonic, Japan, and selected UK and North America tour dates, with the sheer joy and drama of their live show captured in such unforgettable performances as "Fat Bottomed Girls" performed in Dallas with the Dallas Cowboys Cheerleaders and "Who Wants To Live Forever" from their 2016 Isle of Wight Festival headline appearance.
In keeping with its physical counterpart, the digital edition of the Live Around The World DVD also includes the band's entire 22-minute Sydney Fire Fight Australia appearance in which they performed Queen's original history-making 1985 Live Aid set in full: "Bohemian Rhapsody", "Radio Ga Ga", "Hammer To Fall", "Crazy Little Thing Called Love", "We Will Rock You" and "We Are The Champions". While even Freddie Mercury's iconic "Ay-Ohs" feature. The performance has been singled out by many music critics as the best live performance of 2020. In addition there's also performance footage featuring a Roger Taylor 'Drum Battle' with drummer son, Rufus Taylor, and Brian May's 'Last Horizon' guitar solo.
Live Around The World entered the UK Official Albums Chart at No. 1 in its initial week of release, also topping the charts elsewhere in the world. Queen's first album with Adam Lambert, it became Queen's tenth chart-topping album in the UK, and first since Made In Heaven, in November 1995.
The new record's success brings Queen level with Eminem, Michael Jackson, Rod Stewart, and U2 on ten UK No.1 albums each. They jump ahead of ABBA and Bob Dylan who each have nine. The band's first bestseller in the UK was A Night At The Opera, in December 1975. Before their last triumph in 1995 with Made In Heaven, they also topped the charts with A Day At The Races (1976), The Game (1980), their record-breaking first Greatest Hits collection of 1981, A Kind Of Magic (1986), The Miracle (1989), and Innuendo and Greatest Hits II (both 1991).
Since their first appearance together in 2009 when Brian May and Roger Taylor appeared as guests on the finale of the eighth season of American Idol on which Adam Lambert was a contestant, the combination of Queen + Adam Lambert has gone from strength to strength. Together, they have become one of the world's biggest live touring bands, with their early 2020 tour of Oceania selling out to record-setting audiences including a single show at Sydney's ANZ stadium drawing a crowd of over 60,000. To date the band has played to a worldwide audience approaching 4 million. Itching to return to live shows, the band's postponed 2020 European tour is expected to resume once conditions allow.
The digital DVD edition of Live Around The World is out now and can be bought here.