Watch 'Radio Ga Ga': Episode 26 In Queen's The Greatest Series
This week's episode examines the background to the band's Roger Taylor-penned classic.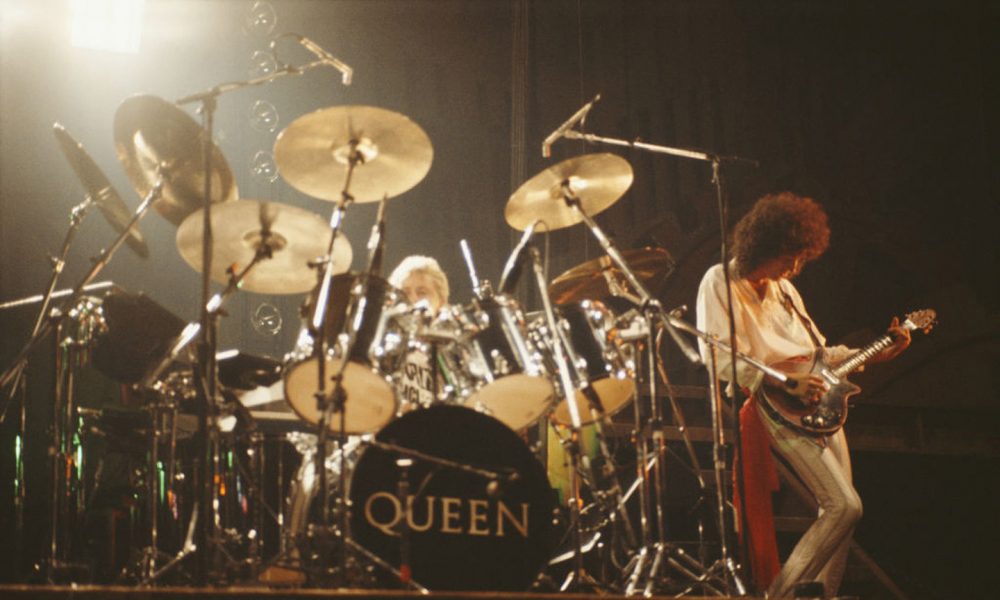 Queen have shared 'Radio Ga Ga': the latest episode in their on-going archival video series, 'The Greatest'. You can watch the episode in full below.
Queen 1984 : Radio Ga Ga (Episode 26)
Inspired by hearing his infant son utter the words "radio ka-ka" to a bad song on the radio, Roger Taylor's song "Radio Ga Ga" would go on to provide Queen with one of its biggest hits, reaching No.1. in 19 countries. The song's success would cement Taylor's place as one of the band's primary hit songwriters.
Featured on Queen's 1984 album, The Works, "Radio Ga Ga" was a perfect example of how the song writing responsibilities within the band had evolved over the first 13 years…
John Deacon: "In the early days, it was Brian and Freddie who really used to write most of the material, but over the last five years, Roger and I have started to contribute more."
Freddie Mercury: "I think the time has come where we actually, in song writing, we're actually completely even. Roger will come up with something like "Radio Ga Ga", and it's perfect."
Roger Taylor: "On a Sunday afternoon, my son Felix came in and he's very young, and he just sort of went 'ah, Radio Ka Ka', 'cos he's half French. And so I just thought, 'that's quite nice'. You know. I sort of put the backing track together and then presented it to Freddie who really loved it."
The song raced up the British charts, and became a worldwide hit, unsurprisingly attracting a huge amount of radio play. However, ironically given the songs subject matter, it was the video, directed once again by the brilliant David Mallet that caught the imagination of the MTV generation while at the same time receiving some unexpected backlash.
Roger Taylor: "We had a killer video, which we put a lot of work into. And the whole thing just felt good and it felt of its time and it felt a bit different. Felt modern, and it was very fresh."
Inevitably, some members of the British press wanted a reason to dismiss it, and accused Queen of incorporating Fascist imagery – a notion that Roger found more amusing than annoying… "
Roger Taylor: "That was so absurd, I mean it was actually meant to be about the film, you know it was meant to sort of mirror Fritz Lang's Metropolis, and the oppressed workers and etcetera. And the Nazi thing's laughable really. People will always find an agenda if they need one. It's a piece of entertainment, you know, simple as that."
If the success of the video and single wasn't enough, "Radio Ga Ga" had an even bigger impact when it came to the Queen live shows.
Brian May: "One of David Mallet's great contributions, of course, is when the chorus comes you get a hand clap. It was repeated electronically, on the record, and so it sounds like a double handclap. And Mallet kind of seized upon it and made it a double handclap done by the audience, and it became something so…. Well I think it became one of the first great proofs of the power of television. The first time we played this, to a non-Queen audience at Live Aid, everybody knew what to do at that point, which is astonishing really, so it has to be the power of the video."
Watch every episode of 'The Greatest' on Queen's official YouTube channel.