Ramblin' Man Fair 2019, Saturday Recap: Black Stone Cherry, Allman Betts Band, Cheap Trick
On day two of Ramblin' Man Fair 2019, we went backstage with headliners Black Stone Cherry and recorded an exclusive session with Allman Betts Band.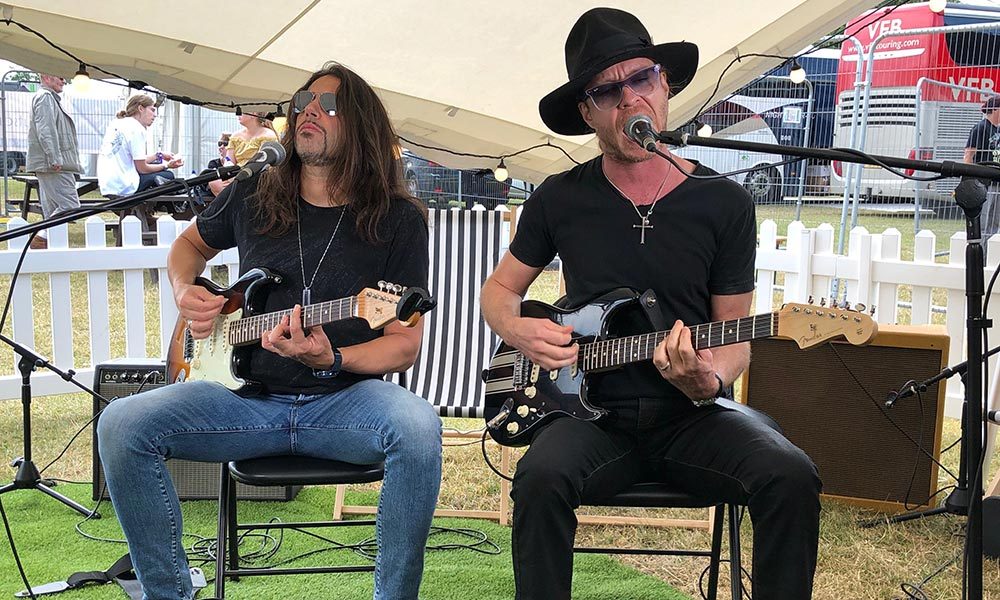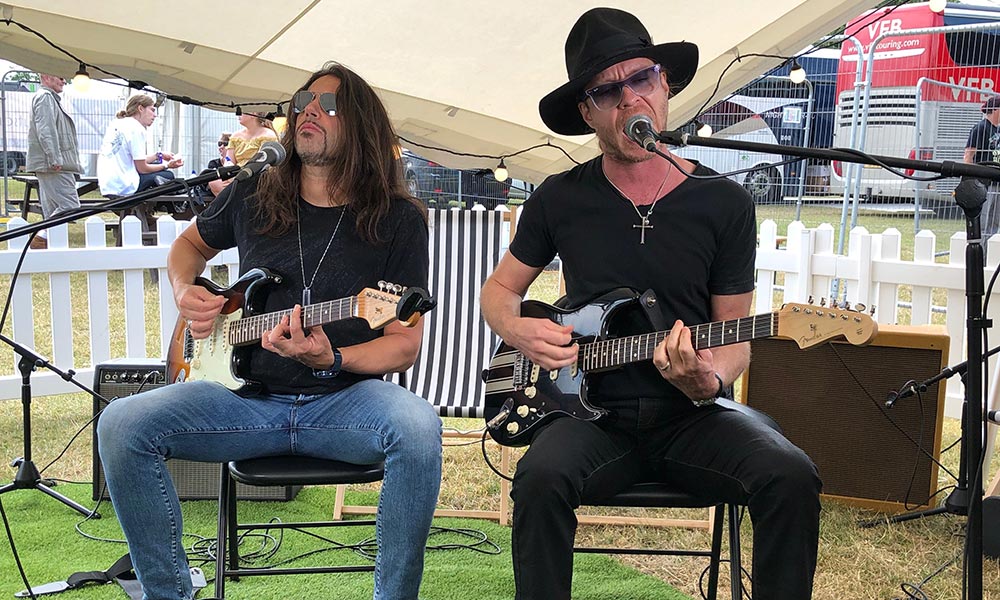 As the first full day of Ramblin' Man 2019, Saturday's line-up pulled out all the stops with a disparate array of acts across the blues, country, prog and all-out rawk spectrum. Not that many of the artists were easily pigeonholed. In an exclusive interview with uDiscover Music (which will be aired on our YouTube channel in the coming days), Main Stage headliners Black Stone Cherry revealed – perhaps surprisingly – that their seamless mix of Southern rock and heavy metal also drew inspiration from The Beatles' vocal harmonies, while a stand-out early-evening performance from Allman Betts Band, on the Outlaw Country stage, saw them throw in a cover of Prince's 'Purple Rain', tapping into the often-overlooked country essence of the song. It was the perfect distillation of all the things that make Ramblin' Man such an event: top-class musicianship, a disregard for the restrictive notion of boundaries, and, above all, immersion in quality music, whatever genre you choose to slot it in.
The hunter-gatherer spirit
With the sun having chased the storms away, and the Outlaw Country and Prog In The Park stages open alongside the Main Stage on day two, Saturday also offered more cause to take inspiration from the festival's name and explore the site a little.
For those who can't wield an axe like the rock titans performing on the weekend, Flying Iron gave punters the opportunity to actually throw one. Yes, that's right – actually throw an axe. Officially, it's safety first, but, in reality, chucking these things several feet into a wooden target was a fun-first activity. By far the most addictive sideshow on site (the bumper cars gave it a run for its money; however, the true petrol-heads in the crowd dreamed of being able to give the on-site Harleys a spin), once you got the knack of it, it wasn't hard to imagine yourself surviving in the woods after the apocalypse hits.
There was plenty on site to inspire a post-apocalypse hunter-gather: whether it's the pigs' heads hanging from DJ BBQ's stall (where you might catch him playing air, er, spade to Guns N' Roses), the offer of ostrich burgers elsewhere, the leather footwear at Golden Boot or the eight-pinter jug made of bison horn, ideas for how to put your well-honed axe skill to use were everywhere.
The array of stalls and activities are, however, bonus additions to an event that is, first and foremost, all about the music. With so many great acts to see, it's impossible to take it all in, but our highlights of Ramblin' Man day two include…
Ugly Kid Joe (Main Stage)
It's probably fair to say that no other act on the bill made so much noise while seeming so laid-the-f__k-back. As frontman Whitfield Crane told uDiscover later in the day, his younger self made it his mission in life to overturn the apple cart at every opportunity. Now, however, he seems comfortable in his role as an elder statesman of early 90s rock, riding the band's low-slung riffs with ease and giving this year's Ramblin' Man Fair its Wayne's World moment (every festival needs one) courtesy of 'Everything About You'.
Pain Of Salvation (Prog In The Park Stage)
The problem with coming on stage late when you're a committed prog band is that your songs are likely to last longer than the average track, which can seriously cut into your setlist. That didn't phase Pain Of Salvation, who, opening with two cuts from their latest album, Passing Light Of Day ('Full Throttle Tribe' and 'Reasons'), proved they could stuff more time signatures into one exploratory song than most bands manage in an entire career. They're reaching for the heavens, but their music is grounded in everything that makes these Swedish five-piece cult favourites.
Jimmy Barnes (Main Stage)
Pain Of Salvation's quieter moments battled against the sound of Jimmy Barnes floating over from the Main Stage, and the intrigue soon proved too hard to resist. Since stepping out as a solo artist in 1984, the former Cold Chisel frontman carved out a career that's made him one of the biggest names in Australian rock – not that he didn't have the good sense to throw in one of his former band's sure-fire crowd-pleasers, 'Flame Trees', among a setlist that also included his own signature song, 'Working Class Man'. With a no-nonsense set, Barnes knows what he's about and knows how to deliver it – with an added level of professionalism you don't tend to get at 4pm at Ramblin' Man.
Kenny Wayne Shepherd (uDiscover session and Outlaw Country Stage)
Speaking of professionalism, Kenny Wayne Shepherd proved himself one of the hardest working men of the weekend – and one of the happiest at it – when he agreed to sit with uDiscover Music for an explosive two-song backstage session, before headlining the Outlaw Country stage. Unleashing first 'I Want You', from his current album, The Traveler, and then a version of 'I Live The Life I Love', a Muddy Waters classic, fronted by longtime KWS singer Noah Hunt, Shepherd could fairly claim to be living the dream. Taking his full band to the Outlaw Country stage later that night, he wailed through a two-hour set that bridged tradition and modernity in the blues-rock world, proving exactly why he's the heir to Stevie Ray Vaughan's crown.
Allman Betts Band (uDiscover session and Outlaw Country Stage)
Deep in the woods, on the outskirts of Ramblin' land, uDiscover caught up with Devin Allman and Duane Betts from Allman Betts Band. Coming off the back of a main set that featured covers of John Lee Hooker's 'Dimples' (with Black Stone Cherry's Ben Wells guesting on guitar) and Prince's 'Purple Rain', and which closed with the country-soul of their own 'Long Gone', the duo delivered perfectly intimate acoustic takes of 'Down To The River' and 'Shinin''. Given that Ramblin' Man Fair took its name from a song penned by Duane's father, Dickey, and immortalised by The Allman Brothers Band on their 1973 album, Brothers And Sisters, their invitation to the event was a long time coming. On the evidence of their performances, however, they should be mandatory guests of honour every year.
Cheap Trick (Main Stage)
Also coming with a strong sense of history – albeit of a different type – and nothing to prove, Cheap Trick's power-pop-rock set was the perfect mood-lifter for sundown. "We're the oldest band here," Rick Nielsen bellowed to uDiscover before hitting the stage, and the band revelled in their chance to prove they still had what it took. Though Nielsen's "wacky" rock-star act hasn't aged well, seeming older than the septuagenarian guitarist himself, the likes of 'Southern Girls' and 'Elo Kiddies' found him attacking his guitar with all the vigour of a man 50 years his junior, and, at times, the years just seemed to disappear.
Black Stone Cherry
Cheap Trick's debut album was released, by Rick Nielsen's estimation, "before 95 per cent" of the audience were born. But if most of them had come to see the Illinois rockers more out of curiosity than devotion, Black Stone Cherry drew a crowd that were either fully-dedicated Cherry Heads, or soon-to-be converts. With 18 years in the game, the group had the unenviable task of trying to distil what they do into one perfect headlining setlist – and subsequently delivered with a performance that was nothing short of Total. F__king. Commitment. Throwing everything from their debut album's 'Maybe Someday' to the title track of their latest outing, Family Tree, at the crowd, the group unleashed a juggernaut set that should make them arena sell-outs the world over – for just as long as those venues can contain them. From musicianship to showmanship, we're calling it before Ramblin' Man 2019 is even over: this was the performance of the weekend.
Looking for more? Discover the highlights of Ramblin' Man's Friday performances.
Format:
UK English