Rolling Stones Resume 'No Filter' In St. Louis, Dedicate Tour To Charlie Watts
After a tribute video, Mick Jagger joined Keith Richards at stage front to pay further respects to their dear friend.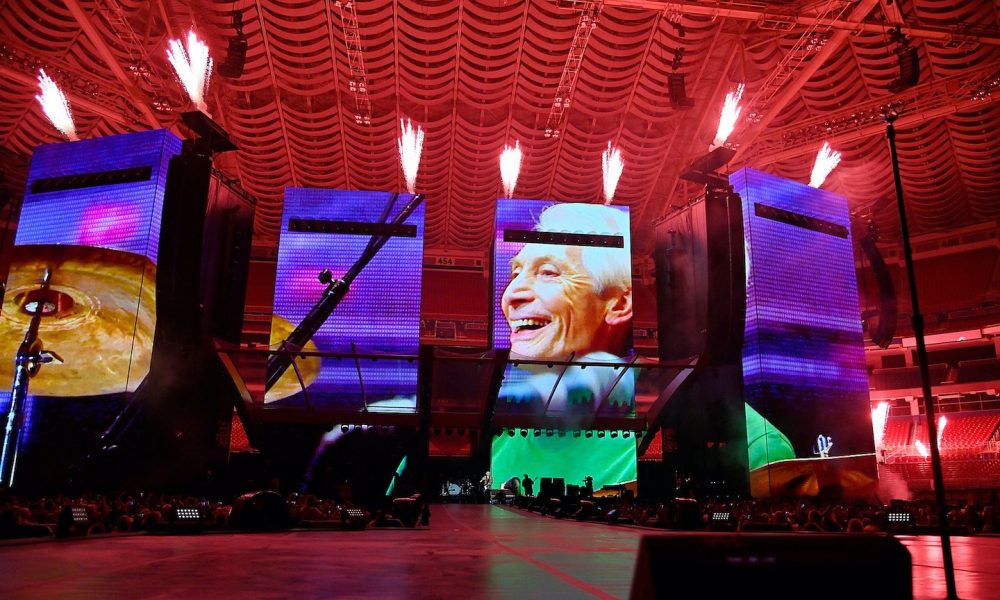 The Rolling Stones and their fans shared a huge outpouring of love for departed drummer Charlie Watts last night (26), as the band's No Filter tour resumed at the Dome at America's Center in St. Louis.
The Sunday night show, with longtime friend Steve Jordan at the drum stool, followed the private concert that the Stones played on September 20 at the Gillette Stadium in Foxborough, Massachusetts. Watts never missed a show in his entire 58-year history with the band, and after they opened in St. Louis with a tribute video montage to him followed by "Street Fighting Man" and "It's Only Rock 'n' Roll (But I Like It)," Mick Jagger joined Keith Richards at stage front to pay further respects to their dear friend.
"I just want to say that it's quite emotional seeing those images of Charlie up on the screen," said Mick.  "This is our first tour that we've ever done without him. The reaction from you guys, everything you've said and we've heard from you, has been really touching. And I want to thank you very much for all your appreciation. We all miss Charlie so much, on the stage and off the stage, and we'd love to dedicate this tour to Charlie. Here's to you, Charlie!"
A set of greatest hits was punctuated by some different inclusions, such as the first appearance on the entire No Filter itinerary of "19th Nervous Breakdown" and of "Living In A Ghost Town," their 2020 single completed and released during lockdown. "Wild Horses" was included by request, and "Honky Tonk Women" was followed by Jagger's band introductions, leading as ever into Richards' feature spot. He played "Happy," his trademark from 1972's Exile On Main St., and the Steel Wheels gem "Slipping Away."
"Midnight Ramber" lived up to the epic, 12-minute nature of its live incarnation of recent years, and after the main set concluded with "Jumpin' Jack Flash," a two-song encore featured "Gimme Shelter," with Merry Clayton's souful vocals from the original echoed by Sasha Allen. "(I Can't Get No) Satisfaction" brought the show to its conclusion. "Thanks St. Louis for a great night!", tweeted Jagger.
Pre-order Tattoo You (40th Anniversary Edition), which is released on October 22.