Sister Rosetta Tharpe's Trailblazing Decca, Verve Records Catalogue Enters The Digital Age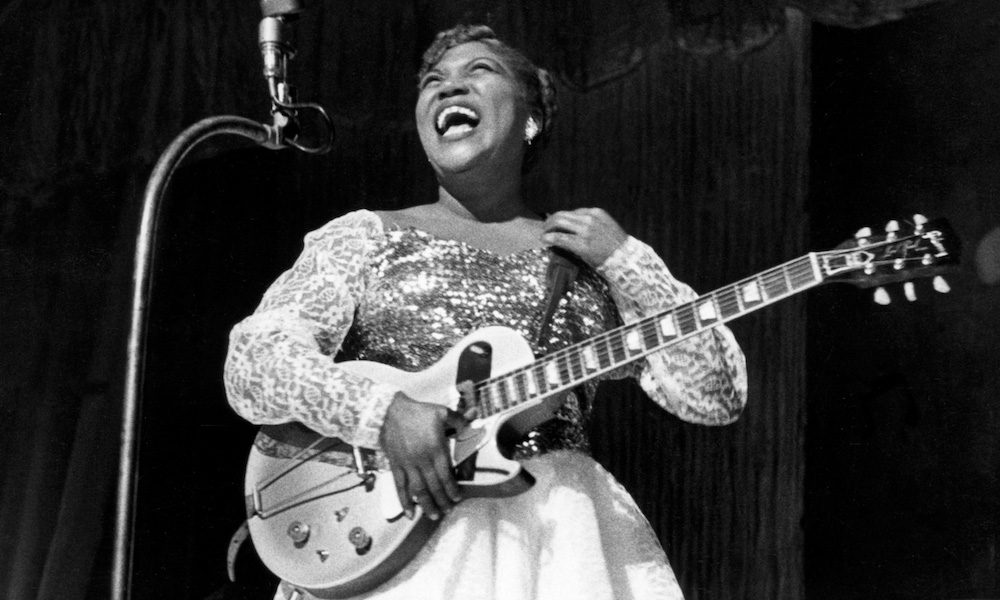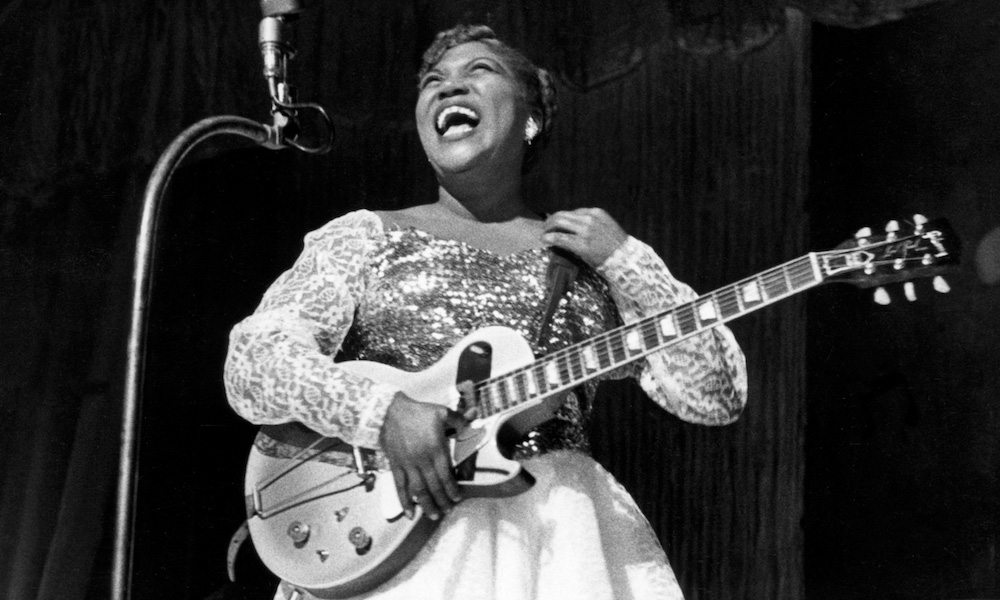 In celebration of her imminent induction into the Rock & Roll Hall Of Fame, Verve/UMe are bringing Sister Rosetta Tharpe's vaunted catalogue into the digital age, making more than 200 songs available for download and streaming – most for the first time ever.
The initiative, which includes seven long out-of-print albums and all 130 singles she recorded for Decca between 1938 and 1956, began on March 30 with the release of three albums: 1951's gospel hymns LP Blessed Assurance, originally on a Decca 10-inch LP and now expanded with three rare bonus tracks; an expanded edition of her acclaimed 1958 Decca collection, Gospel Train, with two rare bonus tracks; and her spirited 1960 self-titled album Sister Rosetta Tharpe, originally issued on MGM Records.
Over these next two weeks leading up to her induction on April 14, four additional essential Tharpe recordings and her Decca singles, divided into five volumes, will be released. The albums include expanded editions of her pioneering 1956 album Gospel Train (not to be confused with the 1958 Decca album of the same name), expanded with five bonus tracks including the non-LP single 'When The Saints Go Marching In' and two previously unreleased performances, and her riveting 1959 live concert LP The Gospel Truth, bolstered by two unreleased tracks and two non-LP singles from the era, as well as the similarly named 1962 The Gospel Truth: All New! Her Greatest Gospel Hits, featuring brand new recordings of many of her best-known songs, and 1961's Sister On Tour; the latter two were recorded for Verve. All albums, except the original Gospel Train (1956), are making their digital debut.
Following years of performing in churches across the country, first with her mother as traveling, singing missionaries when young Rosetta was a six-year-old guitar prodigy billed as a "singing and guitar playing miracle," and later on her own as the star attraction, Tharpe's recording career began in 1938 when she signed to Decca at age 23. Throughout the next two decades, the singer, songwriter and electrifying guitarist was incredibly prolific, touring incessantly and releasing a steady stream of 78s and 45s consisting of some of her most immensely popular and influential songs.
While some of these songs have ended up on various CDs over the years, both official and unofficial, the majority of them have never been released digitally. The Complete Decca Singles Volumes 1-5 collects all of Tharpe's singles together for the first time and presents them in chronological order by release date with the corresponding B-side. An incredible 90% of these songs will be available digitally for the first time while only 13 of them overlap with the album releases.
 Vol. 1, featuring tracks from 1938-1941, includes Tharpe's earliest recordings including 'The Lonesome Road' and Thomas Dorsey's 'Rock Me,' which established her as an overnight sensation and one of the first commercially successful gospel recording artists. Rolling Stone describes the song as a "transformed spiritual…recorded with her soaring held notes and sexy growls back in 1938 – when the latter-day King of Rock & Roll, Elvis Presley, was still a toddler." Other songs include the well-known 'This Train' and 'That's All' and several featuring Tharpe performing with big band leader Lucky Millinder and his Orchestra on such secular songs as 'Shout, Sister, Shout.'
 Vol. 2, with tracks from 1942-1946, includes her 1945 hit collaboration with boogie-woogie pianist Sam Price, 'Strange Things Happening Every Day,' the first gospel record to cross over and become a hit, peaking at #2 on Billboard's "race chart," now known as R&B. The song has been cited as an important precursor to rock and roll. Other sides include the jazzy 'Two Little Fishes And Five Loaves of Bread,' 'Jonah' and the evangelical early blues of 'Singing In My Soul,' all with the Sam Price Trio.
Vol. 3, covering 1947-1949, collects a number of bluesy spirituals made with Tharpe's contemporary Marie Knight and the Sam Price Trio such as 'Up Above My Head I Hear Music In The Air,' 'Didn't It Rain' and 'My Journey To The Sky.' Tharpe is joined by her mother Katie Bell Nubin on the gospel rave up 'Ninety-Nine And A Half Won't Do.' Vol. 4, featuring her Decca singles from 1949-1953 and Vol. 5, from 1954-1956, includes more collaboration with Marie Knight and The Sam Price Trio as well as vocal group The Anita Kerr Singers, quartet The Southwinds and country singer Red Foley, showcasing her eclectic career.
Sister Rosetta Tharpe .. 1964 .. Didn't it Rain .. Blues and Gospel train
In his own Rock & Roll Hall of Fame induction speech, Johnny Cash called Tharpe one of his earliest heroes. Elvis Presley named her one of his favorite singers and guitar players, and Eric Clapton, Jeff Beck and Keith Richards all cited seeing her European tour with Muddy Waters in 1963 as a profound moment in their lives. Her long overdue induction to the Rock & Roll Hall of Fame will put her side by side in the Early Influences wing with fellow luminaries Billie Holiday, Robert Johnson, Hank Williams, Bessie Smith and Howlin' Wolf. The 33rd Annual Rock and Roll Hall of Fame Induction Ceremony takes place April 14 at Public Auditorium in Cleveland, Ohio.
Born March 20, 1915 in Cotton Plant, Arkansas, Tharpe defied expectations from an early age as a guitar prodigy. At six years old, her mother left her father to be a traveling evangelist and together they joined the exodus of poor black southerners heading north. They settled in Chicago where young Rosetta encountered the music that migrants had brought with them – blues from the Mississippi delta and jazz from New Orleans. She began performing gospel music as Little Rosetta Nubin with her mother at churches as part of a traveling Baptist roadshow. By the time she was in her 20s, she was a seasoned performer whose distinctive voice and unconventional style, filled with her signature feverish electric guitar playing, attracted many fans.
"She was there before Elvis, Little Richard and Johnny Cash swiveled their hips and strummed their guitars," NPR proclaimed in their feature of Tharpe. "It was Tharpe, the godmother of rock 'n' roll, who turned this burgeoning musical style into an international sensation… Through her unforgettable voice and gospel swing crossover style, Tharpe influenced a generation of musicians including Aretha Franklin, Chuck Berry and countless others."
Without Sister Rosetta Tharpe, rock and roll would not be the same. As the Rock & Roll Hall of Fame said, "She is the founding mother who gave rock's founding fathers the idea," declaring, "No one deserves more to be in the Rock & Roll Hall of Fame."
Sister Rosetta Tharpe's Decca and Verve albums, Blessed Assurance, Gospel Train and Sister Rosetta Tharpe, will be released digitally during April 2018.
Format:
UK English