Wes Anderson Unveils Music Video For Jarvis Cocker's 'Aline' From 'The French Dispatch'
Limited Super Deluxe Set from ABKCO contains the vinyl album, a double-sided poster and a limited edition 45 of 'Aline' b/w 'Paroles, Paroles.'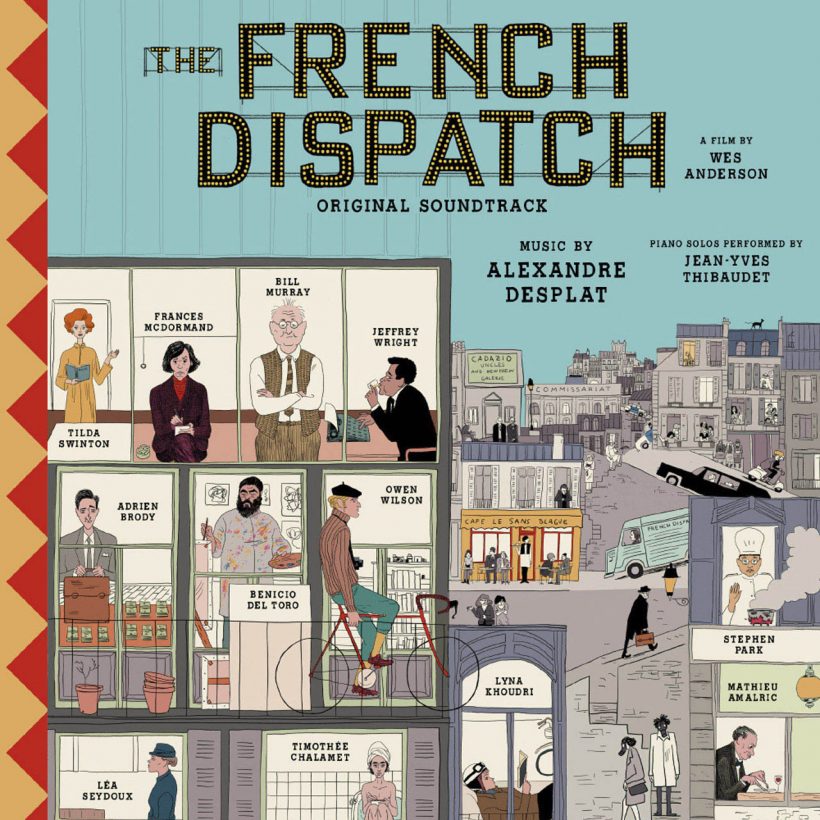 Wes Anderson has directed a thrilling animated visual for "Aline," a song sung by Pulp frontman Jarvis Cocker for Anderson's forthcoming French Dispatch.
Originally written and performed by French singer-songwriter Christophe, the song appears on Chansons d'Ennui Tip Top, Cocker's musical counterpart to the film.
THE FRENCH DISPATCH | "Aline" Music Video | Directed by Wes Anderson | Searchlight Pictures
Following multiple pandemic delays, The French Dispatch premiered to rave reviews at Cannes over the summer. It's out on October 22, along with Chansons d'Ennui Tip Top and the film score by Alexandre Desplat.
With an original score by Academy Award-winning composer Alexandre Desplat, the film's original soundtrack will be released on CD and all digital platforms. The 2xLP vinyl edition will follow in early 2022.
The French Dispatch revolves around a fictitious expatriate magazine that tells three stories published in this legendary journal. It celebrates writers and the thrill of great storytelling. Music plays a key and distinct role in each of the "chapters" of the film. Renowned pianist Jean-Yves Thibaudet is featured in the film's score and contributes a series of stunning solos on the recordings.
Expanding on the universe of The French Dispatch, Wes Anderson and Jarvis Cocker decided to collaborate on an entire album of French material from the same period entitled Chansons d'Ennui Tip-Top – containing songs associated with artists like Françoise Hardy, Serge Gainsbourg, Brigitte Bardot and Jacques Dutronc. This unique companion album has musical backing provided by JARVIS… plus Laetitia Sadier (Stereolab) featured on the duet "Paroles, Paroles."
The pre-order of Limited Super Deluxe Set from ABKCO contains the vinyl album, a double-sided poster and a limited edition 45 of "Aline" b/w "Paroles, Paroles." The first to pre-order will receive their poster autographed by Jarvis Cocker.
Jarvis Cocker's Chansons d'Ennui Tip-Top is a tribute to French pop music and a musical extension of The French Dispatch that includes rendering of songs made known by a gallery of great French pop stars, including Dutronc ("Les Gens Sont Fous, Les Temps Sont Flous"), Francois Hardy ("Mon Ami La Rose"), Serge Gainsbourg ("Requiem Pour Un Con") Brigitte Bardot ("Contact") as well as songs by Dalida & Alain Delon, Marie LaFôret, Nino Ferrer & Radiah, Brigitte Fontaine & Areski Belkacem, Claude Channes and Max Berlin.