Listen To Westside Boogie's New Album 'More Black Superheroes'
The album features Shelley FKA Dram, Soulja Boy Tell 'Em, and more.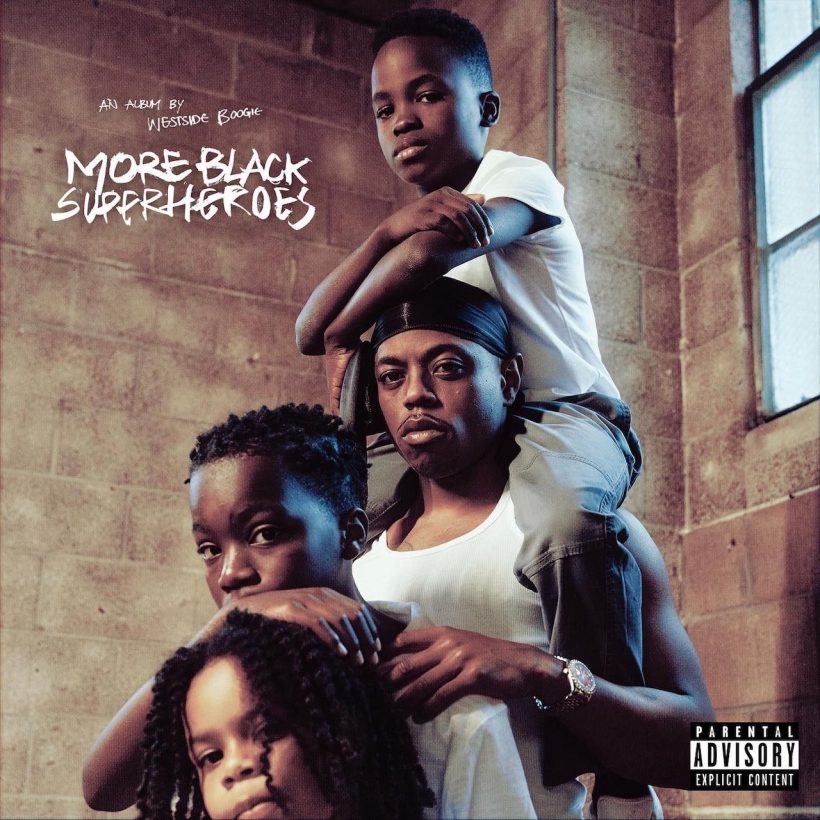 Compton rapper Westside Boogie has released More Black Superheroes, a reflective new album laced with dexterous rhyming, supple melodies, and soul-baring introspection.
Deliberate yet free-wheeling, tense but occasionally playful, the new set reaffirms Boogie's knack for rendering humanity in all of its complexity, exploring varied soundscapes, and vocal approaches in the process of doing so.
Westside Boogie - CAN'T EVEN LIE (with Soulja Boy Tell 'Em) [Official Audio]
Raw and unfailingly sincere, More Black Superheroes is about the cathartic power Black men can draw from their own feelings—ones the world had long told them to suppress. To explore that message, Boogie flexes his considerable storytelling gifts as he sorts through the weight of community ties ("Stuck"), romantic uncertainty ("Nonchalant" featuring Mamii), and more. His transparent writing, limber flows, and half-sung melodies evoke his own inner conflicts.
Teaming up with Shelley FKA Dram for "Aight," Boogie unloads block details that evoke the chilling mundanity of neighborhood tragedy. Meanwhile, on "Stuck," Boogie bounces across a forlorn beat as he strikes the heart of his own inner turmoil: "You know I done been through hell, huh?/I'm goin' through it, I can't hide it, you could tell, huh?" Speaking on More Black Superheroes, Boogie argues that feelings aren't something to escape from.
"This album is about embracing our powers," Boogie wrote in an Instagram post sharing the LP's cover. "This album is for you because you survived all your trials, for the Black fathers that go out in the world and feel like they have to hide all our true feelings because it seems weak to express how you're hurt but [know] that's one of your biggest strengths. For the people that feel boxed by the world and have to hide [their] many sides, I love you, let's heal together."
Blessed with self-awareness and the writerly instincts of a born storyteller, Boogie has made a career of exploring his feelings. He first broke out with his debut mixtape, Thirst 48, in 2014. After garnering critical acclaim throughout the mid-2010s, Boogie consummated his rise by signing to Shady Records/Interscope in 2018, and in 2019, he crystallized his come up by releasing the critically acclaimed album, Everything's for Sale. Now, with the arrival of More Black Superheroes, he's set to continue increasing his own considerable superpowers.