Andrea Bocelli in 20 Songs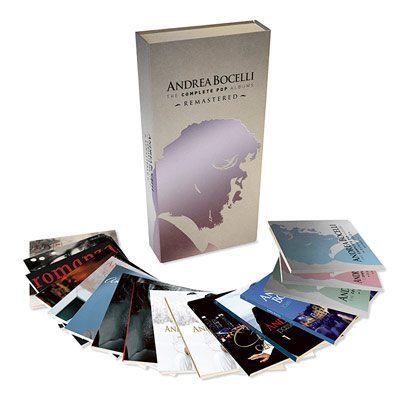 To mark today's release of The Complete Pop Albums CD boxset, we look at the incredible career of one of the world's most adored singers, Andrea Bocelli.
Before he found gainful employment as a global superstar, Andrea Bocelli nearly became a lawyer. He worked as a public defender in Pisa by day, and at night played the piano and sang in local bars.
It was here that he was discovered by rock star Zucchero, who recruited Bocelli to make a demo of his song Miserere to send to Luciano Pavarotti, to persuade the super-tenor to sing it with Zucchero. Pav was so impressed that he urged Zucchero to record it with Bocelli instead, though in the end he sang it himself. But Pavarotti's endorsement opened doors for Bocelli, who soon inked a pact with Milan-based Sugar Records.
Miserere appeared on his debut album, Il Mare Calmo Della Sera, and also his 1997 album Romanza, the disc that heralded the explosion of Bocellimania. Sung live with John Miles, it captures something of the emotional frenzy Bocelli is able to ignite in his audiences.
The Romanza album bristled with hits and remains the all-time bestselling disc by an Italian artist. One of many reasons for this was the inclusion of Bocelli's über-smash recording of Time To Say Goodbye with the soprano Sarah Brightman, which eventually clattered up sales of 12 million copies. Nobody could argue that Romanza didn't give them their money's worth, because in addition it brought Bocelli's haunting reading of Lucio Dalla's Caruso, inspired by the legendary Neapolitan tenor Enrico Caruso. But that wasn't all, since Romanza also featured another megaballad, Vivere, where Bocelli was joined by the song's writer, Gerardina Trovato, in a display of lung-bursting pyrotechnics.
In fact it's possible to trace Bocelli's career through his many duets, which encompass every conceivable musical style and all kinds of performers. Another of his international blockbusters was his duet with Céline Dion on The Prayer (from 1999's Sogno), where their two voices added together seemed to total at least five (the song proved so unstoppable that Dion and Bocelli each recorded a solo version of it, while Dion had a hit with it again when she recorded it with Josh Groban in 2008).
Meanwhile Bocelli kept on finding new artists to team up with. The Amore album (2006) featured such binary delights as Somos Novios (alias That's Impossible), co-starring Christina Aguilera, and a duet with actress and American Idol star Katherine McPhee on the old Elvis Presley hit Can't Help Falling In Love. On Les Feuilles Mortes (originally a French hit in the 1940s, but also covered in the 1950s by Nat King Cole and Frank Sinatra as Autumn Leaves), Bocelli was joined by Veronica Berti. In 2013 the Andrea & Veronica double act were at it again on Something Stupid, from the Love In Portofino album.
Bocelli's search for new musical territory to conquer sometimes leads him into some fascinating genre-crossing experiments. For the flamenco-flavoured track Sin Tu Amor (from Andrea, 2004) he teamed up with Mario Reyes, the so-called "Gipsy Man", and Bocelli's yearning tenor made a strikingly effective blend with Reyes's raw, muscular delivery. In the hymn-like anthem Liberta, Bocelli sounded as if he was leading a crowd of millions, waving a banner for freedom.   He rang some different changes on a latin theme in O Mare E Tu (from Sogno), this time testing himself in powerful vocal exchanges with the Portuguese singer Dulce Pontes.
For his Passione album from 2013, he explored many shades of classic pop with some exotic singing partners. Nelly Furtado stepped up for a deliciously slinky take on Jobim's Corcovado, and Bocelli paired off with Jennifer Lopez for a joyfully mariachi-flavoured Quizas, Quizas, Quizas (best known in the Anglosphere in Doris Day's version, Perhaps Perhaps Perhaps). As if mere living legends weren't enough, Bocelli dared to merge himself electronically with the late great Edith Piaf for a smartly updated take on her trademark 1940s hit, La Vie En Rose.
But the Bocelli magic can often best savoured when the tenor stands alone at the microphone, reaching into his inner emotional reserves. On his Yuletide album My Christmas (2009), Cantique De Noel makes a fine showcase for his ability to roll out long, lyrical vocal phrases, and he finds a surprising amount of depth even in the old warhorse, White Christmas.
The quietest songs can sometimes be the most effective, none more so than Si Volto (from 2001's Cieli Di Toscana), where he ponders sorrowfully over his split from his first wife Enrica with little more than a solo violin and acoustic guitar for support. On the same album, but at the opposite end of the scale, there was Melodramma, a colossal widescreen production in which Bocelli sounded as if he were being torn apart by mighty passions. Then he neatly changed the emotional temperature again in Mascagni, a stirring homage to the composer of Cavalleria Rusticana, who, like Bocelli, was a native of Tuscany. He is indeed a man for all musical seasons.
Andrea Bocelli's 13 pop albums have been newly remastered for 2015 and are now available to download as well as in a deluxe 13 CD boxset.
Listen to the 'Andrea Bocelli in 20 Songs' playlist in the player below or open in Spotify here
Visit uDiscover's dedicated Andrea Bocelli artist page here
Format:
UK English