William 'Swee Pea' Strayhorn was 23 years old when his life changed forever. It was in December 1938 that he submitted his composition, 'Something to Live for' to Duke Ellington and so impressed was the bandleader, who was himself no mean composer, that three months later he recorded the song on 21 March 1939 with Jean Eldridge supplying the vocals.
Born in Dayton, Ohio on 19 November 1915, Strayhorn grew up in Hillsborough, North Carolina and Pittsburgh and as a youth he received extensive musical training in classical music. His earliest jazz mentors were the pianists Art Tatum and Teddy Wilson, both of whom like Strayhorn loved classical music. Following that first session, four more Strayhorn compositions were cut by the Ellington orchestra in 1939. Following a brief stint as pianist in Mercer Ellington's Orchestra, Billy returned to Duke's outfit as second pianist and arranger and stayed for the next three decades.
"Billy Strayhorn was my right arm, my left arm, all the eyes in the back of my head, my brain waves in his head, and his in mine." – Duke Ellington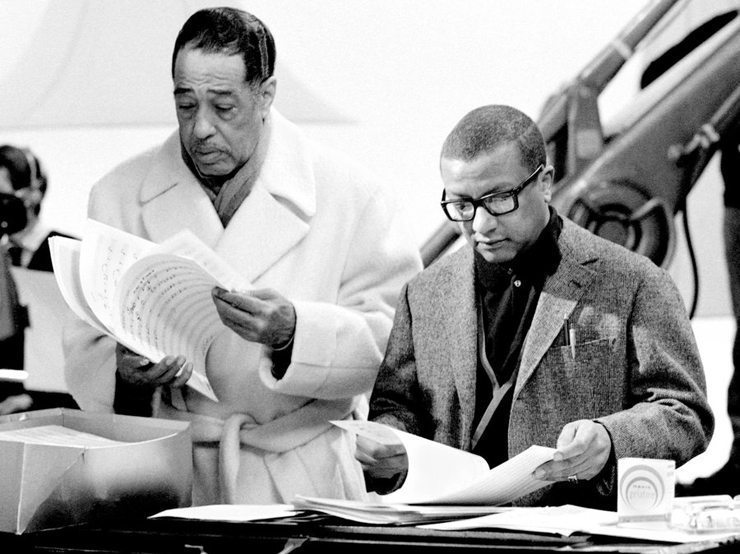 Ellington used Strayhorn to complete some of his musical ideas as well as giving him the freedom to write his own compositions. Duke Ellington is often credited with much of Strayhorn's work, but not that Duke tried to seek the credit, saying "Strayhorn does a lot of the work but I get to take the bows!" In the studio as well as in concert Strayhorn would frequently be the pianist.
Strayhorn composed the Ellington's 1940's theme tune, 'Take the 'A' Train', and his other compositions include, 'Lotus Blossom' and 'Chelsea Bridge', while Ellington is given the credit for writing 'Satin Doll' and 'Sugar Hill Penthouse' that Strayhorn in fact wrote. Among his most famous compositions is the beautiful, 'Lush Life', first recorded by Nat King Cole and memorably recorded by John Coltrane and Johnny Hartman.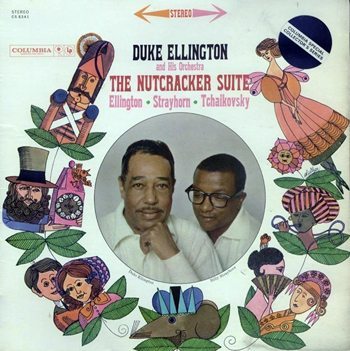 Strayhorn's gifts as an arranger enhanced many of Duke's compositions and Ellington gave Billy credit for larger works such as The Perfume Suite and The Far East Suite. In 1960 the two collaborated on The Nutcracker Suite featuring jazz interpretations music by Tchaikovsky; the LP is notable for the inclusion of Strayhorn's name and picture along with Ellington's.
Strayhorn, who was gay, met his first partner, the musician Aaron Bridgers, and the two lived together until Bridgers moved to Paris in 1947. He was also at the forefront of the civil rights movement and a friend of Dr. Martin Luther King, Jr., for whom he arranged and conducted 'King Fit the Battle of Alabama' for the Ellington Orchestra in 1963 for the historical revue and album, My People, which was dedicated to King.
Strayhorn worked with many of Duke's sidemen including Johnny Hodges, the Ellingtonians in 1950, Louie Bellson, Ben Webster and Clark Terry. He was also a major influence on the career of Lena Horne, using his classical background to improve Horne's singing technique. In the early 1950s, Strayhorn left Ellington for a few years to pursue a solo career, releasing a few solo albums and revues for the Copasetics, a New York show-business society.
Strayhorn was diagnosed with esophageal cancer in 1964, which lead to his death on 31 May 1967. While in the hospital, he wrote his final composition for Ellington. 'Blood Count' that was used on Ellington's memorial album for Strayhorn, …And His Mother Called Him Bill, recorded several months after Strayhorn's death. The last track of the album is a spontaneous solo version of 'Lotus Blossom' played on the piano by Ellington, while the band packed up after the formal end of the session.
In a spoken word passage in his Second Sacred Concert, Ellington lists Strayhorn's 'four major moral freedoms': "freedom from hate, unconditionally; freedom from self-pity (even through all the pain and bad news); freedom from fear of possibly doing something that might possibly help another more than it might himself and freedom from the kind of pride that might make a man think that he was better than his brother or his neighbor."
A fine epitaph to accompany a treasury of fantastic music.
Format:
UK English