The Best Dierks Bentley Songs: Country Gems
Casual listeners will know his greatest strength is his versatility. True fans know just how far that versatility extends.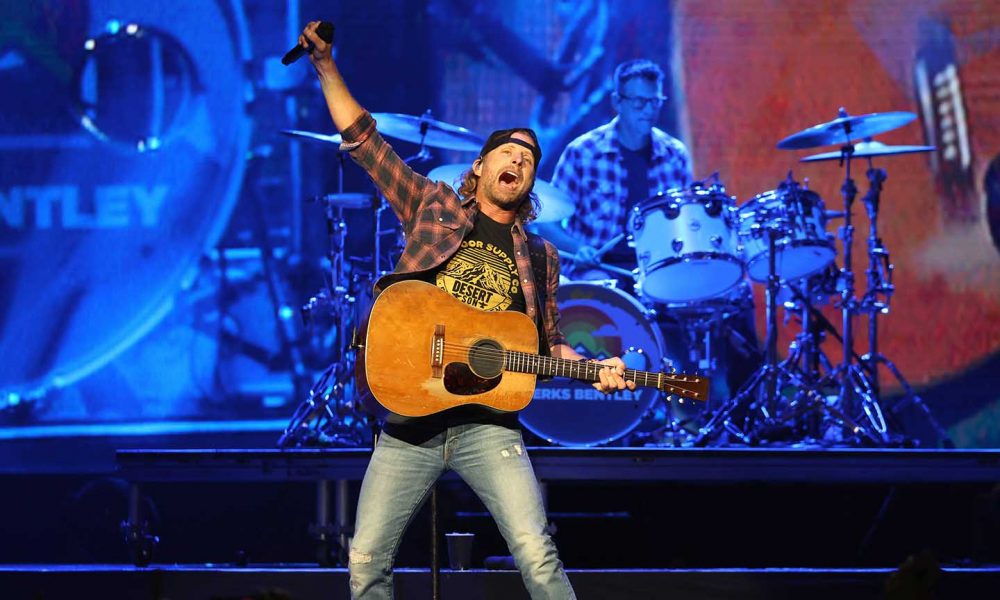 Casual listeners will know Dierks Bentley's greatest strength is his versatility, given that he's topped the charts with moody ballads and raucous party-starters alike. But his true fans know just how far that versatility extends. Buried in almost every one of his albums, there are bluegrass cuts with iconic names like Del McCoury attached to them; search the liner notes a bit further, and you'll see that he was early friends with now-familiar names like Chris Stapleton and Kacey Musgraves, both of whom have sang back-up vocals for him.
Listen to the best songs by Dierks Bentley now.
Indeed, Bentley's music goes far beyond his ubiquitous radio singles – as if those weren't addictive enough on their own. Dig in deeper with some of our favorites below.
20. "Feel That Fire," Feel That Fire (2009)
The subject is what makes this song sound new: there's a refreshing focus on what the song's heroine wants, as opposed to what Dierks Bentley, our narrator, would prefer. He paints a picture of his idiosyncratic muse within the song's bright, uptempo musical setting, creating an ideal country-pop earworm.
Dierks Bentley - Feel That Fire (Official Music Video)
19. "Roses And A Time Machine," Black (2016)
It's not hard to imagine Dierks Bentley on Craigslist shopping for Deloreans, or practicing meditation, as he does in this heartbreak song about all the things that you do when you can't be with the person you want to be with. It's got a little funk to it, a nice edge that keeps it decidedly away from the maudlin and in the realm of the realistic.
18. "Every Mile A Memory," Long Trip Alone (2006)
This plaintive, semi-power ballad secured Dierks Bentley his first GRAMMY nomination as well as his fourth No. 1 on Billboard's Hot Country Songs chart. It's got Texas skies and Spanish moss and country roads, but there's some real pathos in its country song bingo, drawing listeners in and keeping them hooked.
17. "Gone" (2020)
Despite the fact that it was released as a one-off in the heart of the pandemic, the raucous single has definite stadium-filling potential. Maybe that sound, of happier times (and gatherings of any form), helped it connect with fans across genres – it reached No. 26 on Billboard's Hot 100, becoming Dierks Bentley's biggest crossover hit since his debut.
16. "Burning Man," The Mountain (2018)
A country song about the famously offbeat festival? Why not? The key here is the inclusion of the Brothers Osborne, who add a little bit of jam band flair to Bentley's more familiar country sounds. It's catchy and unexpected, with an uptempo groove that sounds perfect for some sunny festival stage.
15. "Domestic, Light And Cold," Modern Day Drifter (2005)
Country music is about telling it like it is, and what's more honest than saying what you'd really prefer is an icy Budweiser (or something like it) in the age of ever-increasing beer snobbery? This honky-tonkin' tune might have a few more than three chords, but it definitely tells the truth in charming, plain-spoken fashion.
14. "Beautiful World," Feel The Fire (2009)
If Dierks Bentley and Patty Griffin seem like unlikely duet partners, it's a pairing that becomes entirely natural once you hear it. This song was co-written by Bentley with brothers Brett and Jim Beavers, who were by this point in his career his go-to collaborators, and spotlights the lovely tension between Griffin's silvery soprano and Bentley's rich baritone in service of an uplifting, if familiar, message. It also earned Bentley his seventh GRAMMY nomination.
13. "How I'm Doin'," Dierks Bentley (2003)
Jim Beavers had mostly been working behind the scenes in Nashville before he co-wrote this song with Dierks Bentley – nine No. 1 country songs later, he's a director-at-large at the Country Music Association and one of the town's most sought-after songwriters. This single combines a healthy dose of honky tonk with a little acoustic flair for a fun yet totally country sound – it reached No. 4 on Billboard's Hot Country Songs chart.
12. "Bourbon In Kentucky," Riser (2014)
Listen closely for an early career Kacey Musgraves on back-up vocals on this one, a wrenching break-up song. It didn't catch on at radio, a testament to its unorthodox sound – there's much more fuzzed-out rock to this one than bluegrass banjo, and it works well to further express its angst.
11. "You're Dead To Me," Up On The Ridge (2010)
Bentley takes on the high lonesome sound of bluegrass himself on this one, to excellent effect. The sound is rich and pure, and the song sounds fittingly of another era – not even the staunchest purist could find something to scoff at in his performance.
10. "Good Things Happen," Modern Day Drifter (2005)
Alison Krauss singing backup on a sweet love song set in a gentle, acoustic arrangement? Not much more needs to be said about this album cut, except that it would probably surprise most people only familiar with Bentley's radio hits. There's a real depth of feeling to this one, that speaks to its author, Jamie Hartford, and his A-list musical community of Johnny Cash, John Prine, and Billy Joe Shaver. Bentley was cementing his status as a radio force to be reckoned with on this platinum album, his second – yet within the tracklist, this and his second collaboration with bluegrass legend Del McCoury, "Good Man Like Me," speak to his interests off of Music Row.
9. "Bartenders, etc." Dierks Bentley (2003)
This two-step-ready tribute to all corners of the barroom shows a different side of Dierks – one steeped the kind of honky-tonk tradition that's gone even further out of fashion since he first recorded it in 2001 on his independently released album Don't Leave Me in Love. Presumably one of Bentley's earliest compositions, given that he wrote it solo rather than in the collaborative fashion favored for bigger stars, the song finds some fresh wit and humor in its well-trodden subject matter.
8. "Somewhere On A Beach," Black (2016)
Something of a sequel to "Drunk On A Plane" – another vacation break-up song – "Somewhere On A Beach" still has its own identity, with Bentley using a laconic delivery for his I'm-better-off anthem that makes it that much easier to sing along to. There's an attitude to this one that makes it stick out on the radio and stick in listeners' heads no matter where they hear it.
7. "Travelin' Light," The Mountain (2018)
For the most recent of his forays into bluegrass, Bentley recruited Brandi Carlile to be his harmonic foil – and the resulting duet is among the loveliest in Bentley's catalog. His easy style matches perfectly with Carlile's effortless melodies, and the song's message – of progress and forward motion is a well-taken one.
6. "What Was I Thinkin'," Dierks Bentley (2003)
Hard to guess the last time a Nashville country artist came out of the gate with a debut single that featured the dobro (!), but it's certain that few have done it as successfully as Dierks Bentley. The raucous tribute to ill-advised good-timing, which Bentley co-wrote, topped the country charts and went platinum twice over – plus, it's still Bentley's highest charting single on Billboard's Hot 100, having reached No. 22. Danceable and just dangerous enough to give Bentley a little edgy allure (and get legions of fans in their own "little white tank tops") while staying firmly in the country radio wheelhouse, "What Was I Thinkin'" shows Nashville's music machine working at its boot-stomping best.
5. "5-1-5-0," Home (2012)
A nice twist on "you're driving me crazy," 5150 is the code for an involuntary psychiatric hold in California – an allusion drawn from Van Halen's album of the same name. It's got the energy (and riffs – "I got a first class seat up on Ozzy's train") of a rock song, but with a bluegrass-y banjo undercurrent and an undeniable earworm of a hook. No surprise, then, that it became Bentley's tenth No. 1 on the country charts and reached No. 33 on Billboard's Hot 100.
Dierks Bentley - 5-1-5-0 (Official Music Video)
4. "Bottle To The Bottom," Up On The Ridge (2010)
If we take anything away from this record, let it be this: More Kris Kristofferson songs deserve the full bluegrass treatment. An impressive cast of Nashville session players and bluegrass stalwarts set the stage for Bentley's rendez-vous with the country icon, whose vintage voice offers a gritty contrast to Bentley's polished take on the characteristically perfect Kristofferson lyrics.
3. "Say You Do," Riser (2014)
Riser marked a shift for Bentley, showcasing his collaborations with different songwriters over fresh-sounding arrangements. "Say You Do," co-written by now-Nashville royalty Shane McAnally along with Trevor Rosen and Matthew Ramsey – better known these days as Old Dominion – was the perfect pivot from the assembly line drinking song. Romantic and mellow without being predictable, the song is an ideal showcase of Bentley at his most sultry.
2. "Bad Angel," Up On The Ridge (2010)
This track is something of an early-2010s country posse cut: Miranda Lambert and Jamey Johnson join Bentley for the down-and-dirty jam, which earned a GRAMMY nomination for Best Country Collaboration. Bentley actually had two nominations in the category from his all-star bluegrass "side project"-turned-main project, Up On The Ridge; this one was co-written by Guy Clark collaborator Verlon Thompson and Suzi Ragsdale, who crafted a convincing, bluesy country song perfectly suited to the rootsy harmonies the trio worked up.
1. "Drunk On A Plane," Riser (2014)
The biggest hit of Bentley's career so far, "Drunk On A Plane" hints at the gulf-and-western of Jimmy Buffett and Kenny Chesney. But, in this case, he's drinking en route to his one-man beach honeymoon as a rebuke to the woman who left him at the altar – a bona fide story song, all too rare on country radio in Bentley's era. It's fun and funny, the perfect example of a song that doesn't take itself too seriously.
Dierks Bentley - Drunk On A Plane (Official Music Video)