Jimmy Buffett
Jimmy Buffett is a unique pop singer-songwriter with a catalogue of songs that include 'Margaritaville' and 'Cheeseburger in Paradise'.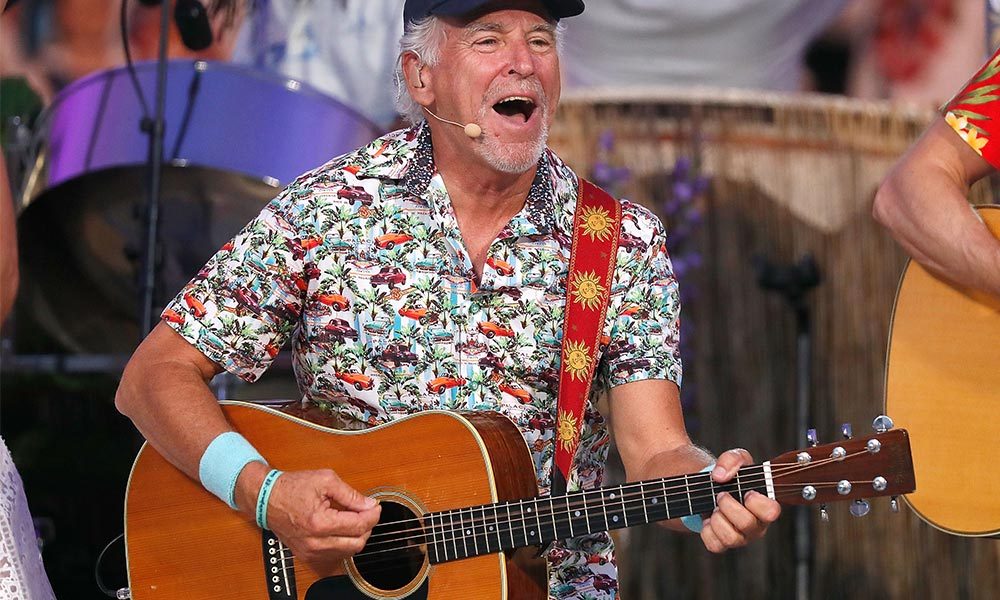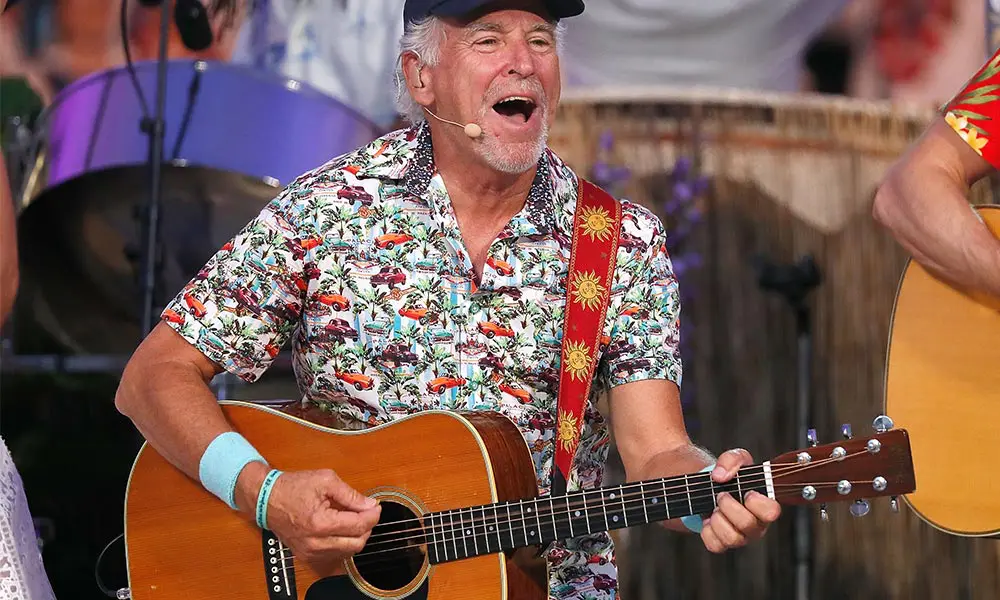 Jimmy Buffett has created a world of his own. His best-known hits, "Margaritaville" (1977), "Cheeseburger In Paradise" (1978) and "It's Five O'Clock Somewhere" (a 2003 duet with Alan Jackson) celebrate an "island lifestyle" of never-ending cocktails, clambakes and carousing by the coast. Buffett has somehow insulated this essentially transient, beach-bum worldview from the passage of time and the encroaching demands of middle-age. Now well into his sixties, he has maintained the freshness and popularity of a musical formula which he invented on his major-label album debut, A White Sport Coat And A Pink Crustacean, all the way back in 1973.
Since then, in a remarkably consistent career, Buffett has achieved US platinum status for sales of albums including Changes In Latitudes, Changes In Attitudes (1977), Son Of A Son Of A Sailor (1978), Fruitcakes (1994), Banana Wind (1996) and Licence to Chill (2004). And he has toured every year from 1976 to the present with his Coral Reefer Band, performing in beach shorts and bare feet to a legion of fans known as "Parrotheads" who have continued loyally to follow him, sometimes over successive generations in the same family.
James William Buffett was born on December 25, 1946, in Pascagoula, Mississippi. He grew up in Mobile, Alabama and graduated with a degree in History from the University of Southern Mississippi. After working as a correspondent for Billboard magazine in Nashville, he started his musical career as an acoustic singer-songwriter with a couple of independently released albums, recorded at the start of the 1970s, that gave little indication of the unique musical persona for which he later became known.
In 1971 Buffett went on a busking expedition to Key West in Florida, a place that later became his home and which exerted a telling influence on his musical outlook. The tropical climate and relaxed, hedonistic lifestyle of the area inspired Buffett to start writing songs that eventually begat his own personal genre known as "Gulf & western", denoting a combination of country (music) and Gulf Coast (lyric and narrative) influences. The first examples of this distinctive hybrid appeared – along with the first incarnation of the Coral Reefer Band – on Buffett's album A White Sport Coat And A Pink Crustacean, released in 1973. The best-known song from the album, and one of the most notorious, was "Why Don't We Get Drunk (And Screw)", a plain-talking, albeit throwaway ditty which celebrated a lifestyle notable for its casual indulgence and heroic lack of political correctness.
The theme was expanded on "God's Own Drunk", a song written by Lord Richard Buckley, which featured on Buffett's next album, Living And Dying in 3/4 Time, released in 1974. The album also housed "Come Monday", Buffett's first hit single which reached US No.30 and featured in his setlist for many years thereafter as one of "The Big 8" – the eight songs which Buffett has nearly always played at his many live shows over the course of his long career. Buffett also enjoyed his first significant success in the album chart later the same year when A1A reached US No.25. The album cemented the Key West geographical connection, Route A1A being the road that runs through many of the beachfront towns in Florida State. It was notable for the song "A Pirate Looks At Forty", a rumination on a misspent life which became another of The Big 8.
While Buffett made no apparent advances artistically or commercially with his 1976 album Havana Daydream, he had nevertheless refined his unique formula to something close to perfection by the time he came to release Changes In Latitudes, Changes In Attitudes in 1977. This was the collection which earned him his mass-market breakthrough and remains the best-selling studio album of his career. It housed "Margaritaville", the biggest of The Big 8, and the track which more than any other defined Buffet's philosophy and enduring appeal. Named after the tequila-based margarita cocktail, the song describes in exquisite detail the mixed feelings of whiling your life away in an alcoholic haze of sun-soaked downtime. While scrupulously non-judgmental, Buffett's lyric subtly suggests that it might pay to be careful about what you wish as the singer finds himself "Wasted away again in Margaritaville/Searching for my lost shaker of salt".
More than just a song, Margaritaville became a destination of popular legend, located "in the tropics somewhere between the Port of Indecision and Southeast of Disorder," according to the official website. "Palm trees provide the camouflage, ocean breezes bring the seaplanes and sailboats, tourists and travellers. Passports are not required. Island music rules… There are lots of lies and loads of stories… Where is Margaritaville? It's in your mind."
"Margaritaville" also gave birth to an industry. In 1985, Buffett opened the first Margaritaville themed restaurant in Key West, the singer's adopted hometown, where he has long enjoyed (unofficial) dignitary status. Today the Margaritaville chain stretches from New Orleans to Nashville with overseas franchises as far afield as Mexico, Australia, the Caribbean and other locations where the climate is suitably welcoming.
There have since been Margaritaville hotels, Margaritaville casinos and Margaritaville retail outlets selling a vast range of clothing, fashion, jewellery, home entertainment and other merchandise. And, of course, the Margaritaville record label. Buffett may have embraced the slacker lifestyle in his songs, but he did not sit around when it came to capitalising on his business opportunities.
Nor was he slow to follow up on the success of Changes in Latitudes… with his next album Son Of A Son Of A Sailor, which peaked at US No.10 in 1978. This album introduced the world to "Cheeseburger In Paradise", a song which would later give its name to a culinary delight on the menu of the Margaritaville restaurants and then a "casual dining restaurant chain" which started up in the US in 2002.
Buffett ended the 1970s with Volcano (1979) a US No. 14 hit which generated another two of the Big 8: "Fins" and the title track. Maintaining an incredible work rate by any standards, never mind those of such an apparently workshy performer, Buffett released a new album every year during the 1980s (bar 1987). Coconut Telegraph (1981) gave its name to a newsletter mailed out to a worldwide subscriber list of Buffett fans, the so-called "Parrotheads", which has remained one of the most dedicated fan bases in the history of pop. Buffett's first compilation album, Songs You Know By Heart, released in 1985, has sold seven million copies in the US.
Having secured his position as a highly successful songwriter, musician and entrepreneur, Buffett added a literary strand to his career – and immediately became a best-selling author too. His first collection of short stories, Tales From Margaritaville: Fictional Facts And Factual Fictions, published in 1989, lodged in the New York Times best-seller lists for seven months. He followed this with a similarly successful full-length novel Where Is Joe Merchant? (1992) and a personal memoir, A Pirate Looks At Fifty (1998), which topped the New York Times list and sold half-a-million copies in hardback.
At the same time, he continued to hit the musical heights with a string of platinum and gold albums including Fruitcakes (1994), Barometer Soup (1995), Banana Wind (1996), Don't Stop The Carnival (1998) and Beach House On The Moon (1999).
Still, he wasn't done. Indeed, Buffett saved some of his most successful work for the new millennium. His million-selling single with Alan Jackson "It's Five O'Clock Somewhere", a knockabout endorsement of lunchtime boozing, released in 2003, was a classic statement of core Buffett values (albeit written by Jim Brown and Don Rollins). The success of the song paved the way for License To Chill (2004), an album released on RCA Nashville and comprised primarily of collaborations with various country artists, including Alan Jackson ("Boats To Build"), Martina McBride ("Trip Around The Sun") and George Strait, Clint Black, Kenny Chesney and others on a version of Hank Williams's "Hey Good Lookin'". According to Allmusic.com "These guests not only give Buffet a straight man for his jokes but also help focus his musical direction since it all feeds into the album's sun-kissed contemporary country direction." License To Chill became Buffett's first and only US No.1 album (so far), while a follow-up album of (mainly) cover songs, Take The Weather With You (2006), also on RCA Nashville, topped the country chart and reached US No.4.
Ambition has never been one of Buffett's stated themes. Quite the reverse. On his 2013 album Songs From St. Somewhere, he remained as relaxed and philosophical as ever, a position expressed with a typically poignant flourish in a song written by Mark Knopfler: "There's nothing that I want to do/No place I'm trying to reach/Only time is now more precious to/The oldest surfer on the beach."
But you still wouldn't bet against Buffett getting to the top again – of any tree he sets out to climb.
Format:
UK English