'Changes in Latitudes, Changes in Attitudes': Jimmy Buffett's Classic
It's the album that turned Jimmy Buffett from underrated country outlaw to tropical pop star. It's also epically misunderstood.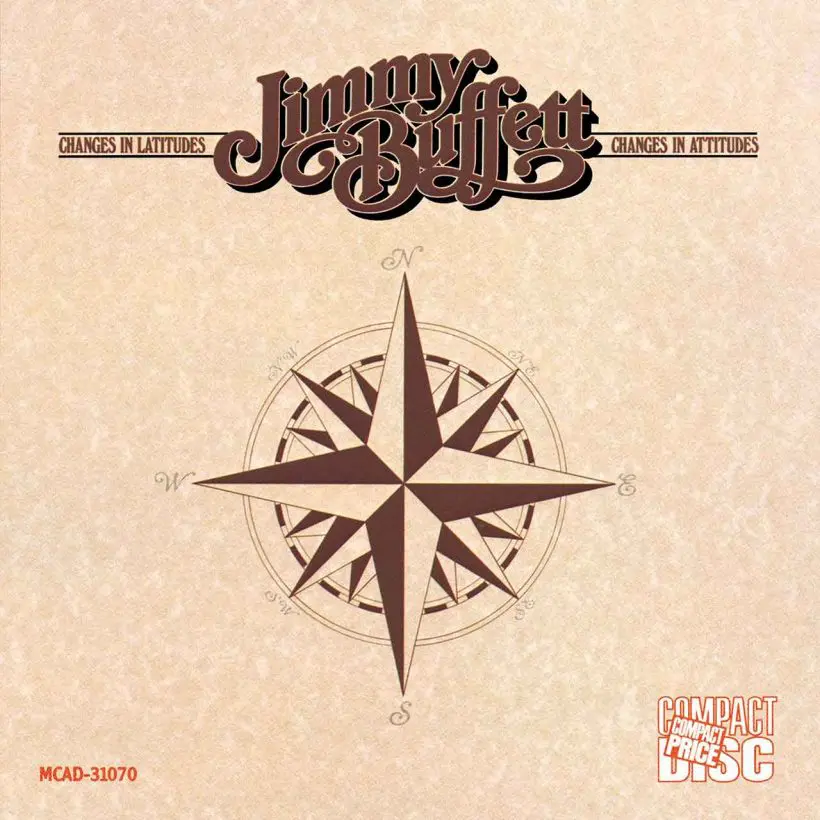 Changes in Latitudes, Changes in Attitudes is the album that turned Jimmy Buffett from chronically underrated country outlaw to tropical pop star, establishing the template that would eventually make the Southern singer/songwriter into a multi-million-dollar cottage industry. It's also epically misunderstood.
For decades now, Buffett has been the lifestyle guru, poet laureate, and celebrity cheerleader for a vast national network of obsessive fans known as Parrotheads. They turn out in droves to Buffett's summer tours to live the dream of an island escape, if only for a while, as part of a self-sustaining subculture known for partying as loud, long, and hard as the most raucous rock 'n' roll crowd.
Listen to Jimmy Buffett's Changes in Latitudes, Changes in Attitudes now.
In the years since "Margaritaville" started the whole thing rolling, Buffett has penned plenty of songs that seem tailor-made for hoisting a tropical cocktail high, shaking your shorts-clad butt to the Caribbean-infused groove, and howling loud enough to scare the parrot off of your shoulder. But the man who began his career trying desperately to be Mobile, Alabama's answer to Gordon Lightfoot has never forsaken his penchant for reflective balladry either. And that's the dominant mode on 1977's Changes in Latitudes, Changes in Attitudes, the album that made Buffett an icon.
Between 1970 and 1976, Buffett released seven records (including the soundtrack album to little-known Western film Rancho Deluxe). Other than the 1974 single "Come Monday" slipping into the lower rungs of the Top 40, the wider world remained largely unaware of Buffett's easygoing blend of folk, country, and rock. But along the way, he adopted Key West as his spiritual home and refined a Gulf coast version of his sound, matching his frequently tropical topics with island-breeze music to match.
That process bore fruit on Changes in Latitudes, most famously with "Margaritaville." But even though the album has become the Old Testament of Parrothead culture, it's actually about as far from an upbeat, good-time batch of tunes as you can get. Changes is the soundtrack for laying back and letting the sun wash over your booze-soaked body while you chuckle wryly about your life's missteps, but not too loudly lest you incur the wrath of the hangover gods.
There are only two uptempo tunes. "Tampico Trauma" is a bluesy, blowsy account of stirring up enough trouble South of the border to get tossed out of Mexico. "Landfall" is a rocking ode to the appeal of sailing away from it all. The latter seems like it should be at the core of Parrothead lore, but it's not a Buffett concert staple. Only the album's title track and, of course, "Margaritaville" are among Buffett's most frequently performed songs.
Moving at the lazy, hazy pace that typifies the album, "Changes in Latitudes, Changes in Attitudes" is Buffett's worldview in a nutshell. It comes from a sort of hedonist's Zen space, where the good times and bad times even out if you drink enough and don't take any of it too seriously. The chorus's tag line, "If we couldn't laugh we would all go insane," isn't just a statement of bemusement, it's a life philosophy.
Changes In Latitudes, Changes In Attitudes
"Margaritaville" itself simply feels like a day in the life of the guy from the title track. It's easy to forget that it's sung from the perspective of a damaged dude with a hole in his soul who's found a way to numb the pain, especially when the production leans hard into the Caribbean vibe. Upbeat musicality mitigating depression and dissolution is the alchemy at the heart of the album, and of Buffett's best work in general.
It's there in "Wonder Why We Ever Go Home," an introspective ballad about aging and isolation, and "In the Shelter," a deceptively pretty tune about a hard-luck woman driven to the edge, and in "Miss You Badly," about being on the road too long without your loved one. The latter is nevertheless loaded with humor, especially the verse so specific it had to have come from experience:
We're stayin' in a Holiday Inn full of surgeons
I guess they meet there once a year
They exchange physician's stories
And get drunk on Tuborg beer
Then they're off to catch a stripper
With their eyes glued to her "g"
But I don't think that I would ever let 'em cut on me
The album's trio of cover tunes reveals just as much about what makes Buffett tick. Steve Goodman's "Banana Republics" is about American expatriates chasing peace of mind in the tropics and being doomed to fail. Jesse Winchester's evanescent "Biloxi" is a bittersweet poetic portrait of a young boy's relationship to the sea that seems like the logical backstory of the man singing the rest of the songs here. Even Jonathan Baham's "Lovely Cruise," which presents as a tender appreciation of a golden experience, is really about bringing things to a close and bidding farewell.
Robert Christgau once ventured in The Village Voice, "Perhaps it is because [Buffett's] utopian sunland is Florida (rooted in the South) rather than California (headed toward the Orient) that his songs are so adult, skeptical, and closely observed." Maybe the legions of hard-partying Parrotheads aren't misreading Changes at all – maybe they've always just been pushing past whatever's thrown their way with only a boozy grin and a sun-baked tune to see them through, just like the man whose name is on the album cover.
Looking for more? Read about Jimmy Buffett's beginnings as an outlaw country artist.