Top Disney Villain Songs: The Greatest Anthems from Evil Characters
It goes without saying that Disney has had some of the greatest villains to ever grace the screen. Here are their most memorable songs.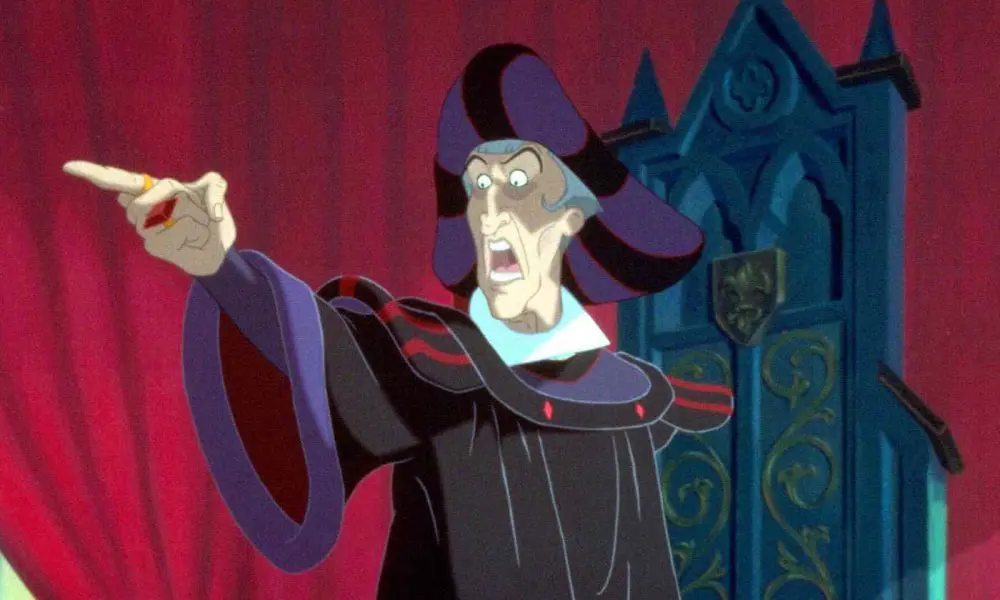 It goes without saying that Disney has had some of the greatest villains in movie history. With every villain in a Disney film, there's also usually an incredible song that defines them. What follows is our pick of the ten best.
Listen to the Disney Villains playlist now.
Hi-Diddle-Dee-Dee (An Actor's Life for Me), Pinocchio (1940)
The first "villain" song in a Disney film, "Hi-Diddle-Dee-Dee" is sung by Honest John, a manipulative fox who sees the puppet hero of Pinocchio as easy prey. Honest John and his accomplice, a dim-witted cat named Gideon, catch sight of Pinocchio as the wooden boy is on his way to school. John quickly concocts a plan to sell Pinocchio to Stromboli, a local puppeteer and showman, and the pair befriend the naïve puppet. "Hi-Diddle-Dee-Dee" (by composer Leigh Harline and lyricists Ned Washington and Oliver Wallace) is a jaunty tune that John uses to lead Pinocchio astray with empty promises of an easy life and riches galore.
Hi-Diddle-Dee-Dee (An Actor's Life for Me)
Cruella De Vil, One Hundred And One Dalmatians (1961)
An oddity in this list, as the song is about the villain in question rather than sung by her, but we couldn't have left out one of Disney's most wicked villains. In the film, "Cruella De Vil" is sung by Roger Radcliffe – songwriter, owner of the dalmatian Pongo, and husband to Anita – who writes the song about his wife's eccentric former schoolmate. The fashion-obsessed De Vil has designs on a fur coat that uses the skin of 99 dalmatian puppies, and Pongo and Perdita's (Anita's dalmatian) litter will come in very handy. The slinky, jazz number (written by composer George Bruns and lyricist Mel Leven) is a perfect introduction to the character and was later recorded by artists including The Replacements, Selena Gomez and Dr. John.
Trust In Me (The Python's Song), The Jungle Book (1967)
Danger lurks around every corner for Mowgli, the small boy (or "man cub") and hero of The Jungle Book, not least when Kaa – a ravenous Indian python – is around. Kaa's first attempt to devour Mowgli ends in humiliation for the snake. When Kaa returns, he leaves little to chance, hypnotizing Mowgli while singing this Disney classic, written by Robert and Richard Sherman and based on "The Land Of Sand," an unused song they had written for Mary Poppins. Sterling Holloway sings the sinewy "Trust In Me" softly, with a slight lisp, adding a comic element to the song. The villainous gem has attracted some unlikely fans: Siouxsie and The Banshees covered the song for their 1987 album, Through The Looking Glass, while it was quoted in "Road To Ruin" from The Libertines' self-titled second album.
Poor Unfortunate Souls, The Little Mermaid (1989)
The Little Mermaid's protagonist, Ariel, is so obsessed with the human world that she is willing to do business with the biggest Disney villain under the sea, Ursula the sea witch. In "Poor Unfortunate Souls" (written by lyricist Howard Ashman and composer Alan Menken), Ursula pretends to have Ariel's best interests at heart, convincing the mermaid that she lives to help "poor unfortunate souls" achieve their heart's desire, despite her own checkered past. During the bawdy, Burlesque-on-Broadway number (sung with relish by Pat Carroll), Ursula offers Ariel a potion that will turn her into a human for three days. But it comes with a price, Ariel must win the heart of Prince Eric – the human she has fallen for from afar – within that time, or she will become Ursula's slave.
The Little Mermaid | Poor Unfortunate Souls | Disney Sing-Along
Oogie Boogie's Song, The Nightmare Before Christmas (1993)
When Jack Skellington, the Pumpkin King of Halloween Town discovers a whole other holiday-themed world named Christmas Town he becomes obsessed with the idea of bringing Christmas traditions to his world. He arranges for the ruler of Christmas Town, Santa Claus – whom he calls Sandy Claws – to be kidnapped and brought to Halloween Town to assist him. Unfortunately, the trio he trusts with the job – Lock, Stock, and Barrel – deliver Santa to Jack's biggest rival, Oogie Boogie the bogeyman. "Oogie Boogie's Song" (written by Danny Elfman and voiced by Ken Page) gives a sleazy cabaret sound to the moment when Santa is delivered… and we discover just what the villain might be capable of.
Hear Danny Elfman discuss this song and more on Disney's For Scores podcast series.
Be Prepared, The Lion King (1994)
The Lion King begins with the birth of Simba, the lion cub destined to one day succeed his father Mufasa and rule over Pride Rock. But Mufasa's bitter younger brother Scar has other ideas. The creeping menace of "Be Prepared" (written by composer Elton John and lyricist Tim Rice) finds Scar explaining to his dim-witted hyena troops his evil plan – to kill Mufasa and Simba and put "the coup of the century" in action. Jeremy Irons performs the song with the arch spite that it requires as it builds to a terrifying crescendo that makes the audience fear for the heroes.
The Lion King: Be Prepared | Sing-A-Long | Disney
Hellfire, The Hunchback Of Notre Dame (1996)
One of the most unsettling of all Disney songs, "Hellfire" goes heavy on the darkness – lust, revenge, damnation, sin… it's all here. It's sung by Judge Claude Frollo (voiced by Tony Jay), the Parisian justice minister and religious zealot tasked with taking care of Quasimodo, the hero of The Hunchback Of Notre Dame. The dramatic song (by composer Alan Menken and lyricist Stephen Schwartz) finds Frollo wrestling with his feelings for Esmeralda (which are rather less pure than Quasimodo's), blaming the innocent woman for his sinful thoughts and claiming that he'll make her choose between being his mistress or coming to harm.
Mother Knows Best, Tangled (2010)
"Mother Knows Best" depicts a different type of villainy – the kind of psychological manipulation commonly known as gaslighting. In Disney's fairy tale, Mother Gothel is a wicked old woman who has retained her youthful looks for centuries thanks to the magical properties of the Sundrop Flower, which Gothel kept to herself despite the greater good it could do. But Gothel was careless, and the flower's powers were passed on to Rapunzel, the newborn daughter of the King and Queen of the kingdom. When she realized her mistake, Gothel kidnapped Rapunzel and locked her in a tower. Inevitably, the princess grows up and is desperate to see the outside world. "Mother Knows Best" is a wicked (and rather jaunty) song in which Gothel lays out the terrifying things that lurk outside of the castle ("Ruffians, thugs, poison ivy, quicksand, cannibals and snakes, the plague!"), offers guilt trips ("Go ahead and leave me, I deserve it, let me die alone here"), and undermines the princess's already-shattered self-confidence by listing her faults. Gothel may be a nasty piece of work, but "Mother Knows Best" is an undeniably catchy tune.
Shiny, Moana (2016)
"Shiny" arrives at a pivotal point in Moana, with the film's heroine's quest to save her people resting on whether she can help the ancient warrior Maui retrieve his lost fish hook. The only problem? For centuries, the hook has been in possession of Tamatoa, a giant crab with a vocal resemblance to David Bowie. The latter detail is thanks to Jermaine Clement, the former Flight Of The Conchords star who voices Tamatoa and performs the song, written by Lin-Manuel Miranda and Mark Mancina. To distract the vain crab while Maui looks for the hook, Moana compliments him on his shiny things, which causes Tamatoa to break into this boastful song. It's not long, though, till the giant crab realizes something is afoot…
Jemaine Clement - Shiny (from Moana) (Official Video)