'Hercules': The Music Of Disney's Animated Greek Tale
Smart lyrics and a gospel-informed sound made the soundtrack into a Disney classic.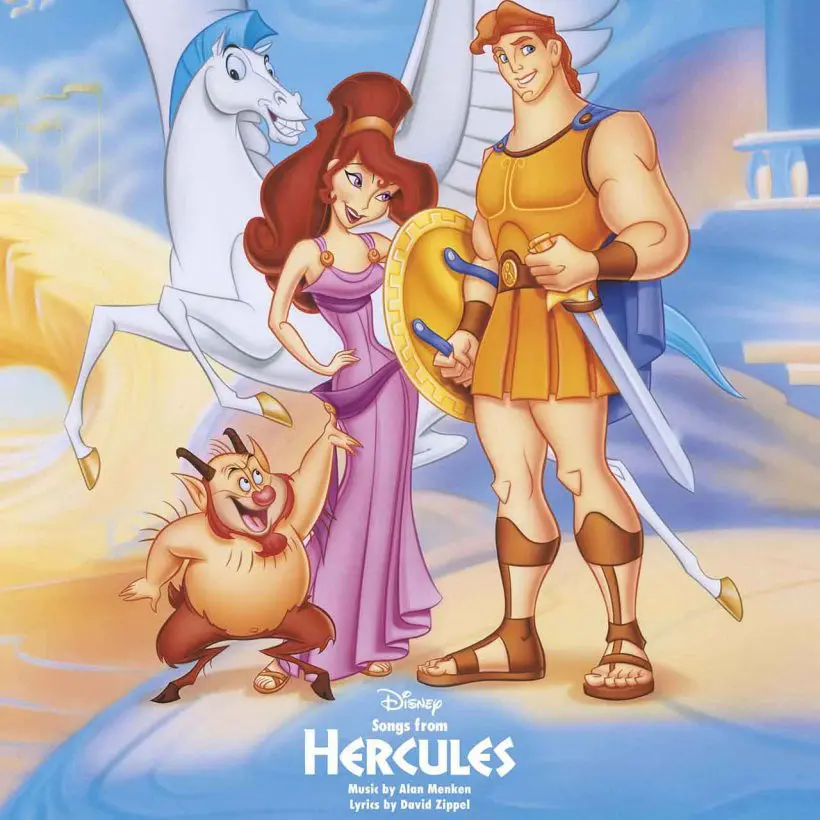 Despite being Disney's 35th full-length animated feature, Hercules was a notable first for the studio – it was their first film based on Greek mythology. Directed by Ron Clements and John Musker – the team behind The Little Mermaid and Aladdin – Hercules gave audiences a zany, irreverent comedic take on the coming-of-age story of the son of Zeus with dazzling animation and knock-out music.
The story follows Hercules as he discovers that he is no ordinary man, but the son of the Greek God of the sky and thunder and king of all gods and men. Hades, the lord of the underworld, orders his minions, Pain and Panic, to kidnap Zeus' son at birth, turn the child mortal and kill him. They are nearly successful – Hercules is made to drink a potion to render him human. But before he drinks the last drop, the deed is interrupted by a childless couple. Pain and Panic flee, leaving Hercules to be raised by the couple as a human.
Listen to the Hercules soundtrack on Spotify or Apple Music now.
As Hercules grows up, his immense strength means he's ostracized from the rest of society. Eventually, he is told by his adopted father how he was found and given a medallion bearing the symbol of the gods. Hercules journeys to the Temple of Zeus, where a huge statue of Zeus comes to life and tells the boy the truth about his birth. Zeus explains that Hercules can rejoin the Gods on Mount Olympus if he proves himself to be a true hero. The scene is set, and we follow Hercules as he discovers what it takes to be a hero, with a series of pitfalls, romantic interludes, and plenty of danger along the way.
Oscar®-winning composer Alan Menken was called upon to score the music for Hercules. This time around, Menken drew upon gospel music to bring the story to life and called upon lyricist David Zippel. Menken reflected on the experience in a 2015 Entertainment Weekly interview, "The directors, Ron Clements and John Musker, really wanted gospel because that's what you sing when you're singing about God – or in this case, the gods. I was reluctant because I wanted to do something very classic and Greek – a Candide approach. But it turned out to be so much fun. David Zippel did the lyrics, and we were such an interesting combination because he's like Cole Porter with his wit. 'He can tell you what's a Grecian urn.' Putting smart lyrics with gospel music really created a unique blend."
Menken and Zippel hit upon the idea of using a group of singers based on the Muses of Greek mythology to move the story along. "When you're doing a musical about Greece, it seemed like the Muses should be in there." Menken told Film Scouts, "We thought they would be a great storytelling device – our own version of a Greek chorus."
Hercules begins with "The Gospel Truth" a soul-stirring and sassy gospel number sung by the Muses that establishes the tone of the film while introducing the Muses and telling the story of how Zeus rose to power and brought peace to Mount Olympus.
The next song, "Go the Distance," is a power ballad sung by the teenage Hercules as he expresses his feelings about not fitting into the human world. The song is reprised throughout the film, signifying Hercules' quest. Menken told Film Scouts, "'Go the Distance' is an extremely important theme for the film, both musically and lyrically. It began as a heroic fanfare I was writing for the main title, and I suggested that we construct a song out of it… It is really very exhilarating and filled with emotion. David and I are particularly proud of this effort."
Hercules: Go The Distance | Sing-Along | Disney
"One Last Hope" sees the gospel and R&B temporarily set aside for a jaunty show tune sung by Danny DeVito in his role as Hercules' skeptical sidekick, a half-man, half-goat called Phil (short for Philocetes). The song is a key moment in the film – the point at which Hercules matures from a gawky adolescent into a muscle-bound adult.
Meanwhile, "Zero To Hero" finds the Muses return to sing of Hercules' new-found celebrity in a gospel rock'n'roll stormer. Menken said, "It's as close to rock and roll as I've gotten at Disney. It's a big production number and one of the best I've ever been involved with. It's just sensational the way the Muses are trading off lead vocals and then singing background."
"I Won't Say" is a 60s girl group-styled number sung by Hercules' unlikely romantic interest, Meg, a double-agent employed by Hercules' nemesis, Hades. Meg might be in denial, but it's becoming increasingly obvious she's falling for Hercules, "It's a love song with a sense of humor," reflected Zippel. "It's the classic love song of 'I'm not in love' and we know she really is."
I Won't Say (I'm in Love) (From ''Disney's Hercules'')
The upbeat gospel finale "A Star Is Born" marks Hercules' ascent to heroism, sung with true gospel fervor by the Muses. Menken noted, "It's an explosion of joy which is very much in the gospel response song tradition. It's unusual to introduce a new song at the very end of the film, but this one really works well and is a celebration of the fact that anyone can be a true hero if they make the effort."
Hercules may have been somewhat of a gamble for Disney, but it paid off. The film has delighted audiences worldwide since its release and the soundtrack has endured. At the time, "Go The Distance" was nominated for Best Original Song at both the Academy Awards and the Golden Globes and has become a Disney classic.
Listen to the Hercules soundtrack on Spotify or Apple Music now.