Wedding And Bed-In: John And Yoko Fight For Peace On Their Honeymoon
Following their wedding, John Lennon and Yoko Ono staged their famous bed-in at Amsterdam, where they staged a press conference and fought for peace.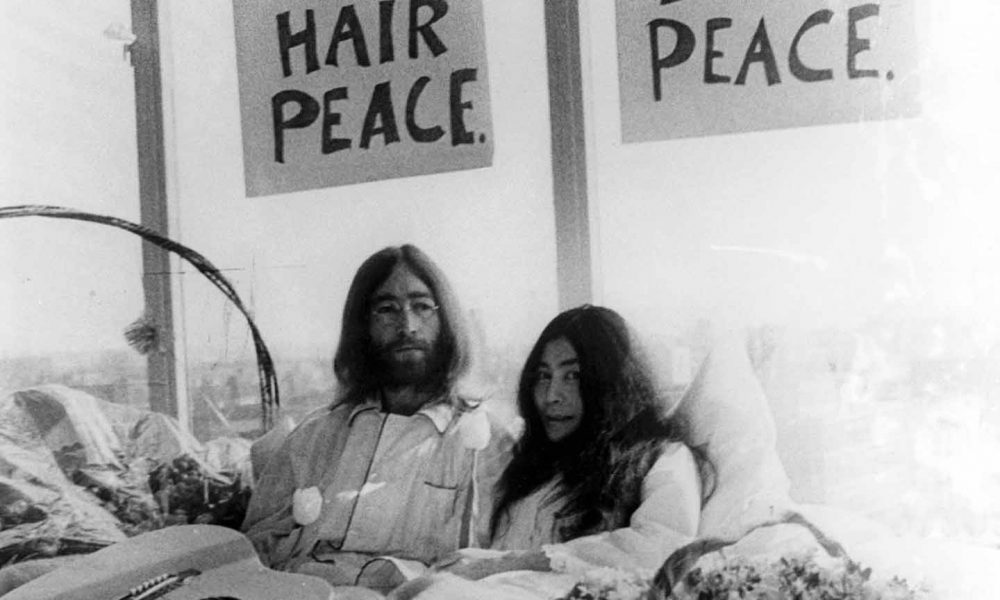 We all know the story behind John Lennon and Yoko Ono's wedding, which took place on March 20, 1969. He recounted it in the lyrics to "The Ballad Of John And Yoko," which was recorded at Abbey Road Studios with Paul McCartney, on April 14, 1969. Five days after their nuptials, on March 25, they were on a typically unique honeymoon, staging their famous bed-in at Amsterdam's Hilton.
Not that that was the plan. As the song recounted: "Finally made the plane into Paris/Honeymooning down by the Seine/Peter Brown called to say/You can make it OK/You can get married in Gibraltar near Spain."
Paul McCartney and Linda Eastman had been married on March 12, 1969, and, two days later, John and Yoko flew to Paris with the intention of marrying. A few days earlier, on their way to Poole, in Dorset, John and Yoko had gone via Southampton to enquire whether it would be possible for them to be married on a cross-channel ferry. According to John, "That was the romantic part: when we went to Southampton and then we couldn't get on because she wasn't English and she couldn't get the day visa to go across. And they said, 'Anyway, you can't get married. The Captain's not allowed to do it anymore.'"
Undeterred, John and Yoko decided they would get married in Paris, so they chartered an aircraft and flew to the French capital on March 16. Unfortunately, the authorities refused them permission, for the simple reason that they had not lived in France long enough.
Chartering another aircraft a few days later, they flew to Gibraltar. As John later said, "We were calling Peter Brown [who worked for Apple], and said, 'We want to get married. Where can we go?' And he called back and said, 'Gibraltar's the only place.' So – 'OK, let's go!' And we went there and it was beautiful. It's The Pillar Of Hercules, and also symbolically they called it The End Of The World at one period. There's some name beside Pillar Of Hercules – but they thought the world outside was a mystery from there, so it was like the gateway to the world. So we liked it in the symbolic sense, and the rock foundation of our relationship."
Their wedding day was March 20, 1969, and, within an hour of getting married, John and Yoko flew back to Paris, where they stayed at the Plaza Athéné.
GIVE PEACE A CHANCE. (Ultimate Mix, 2020) - Plastic Ono Band (official music video HD)
On March 25, John and Yoko were driven from Paris to Amsterdam, where they booked into the Hilton. In Room 702 (it's been renumbered 902 in recent times), they began their bed-in for peace. The newlyweds staged their bed-in for seven days, then left, on March 31, to fly to Vienna, where they held a press conference from inside a white bag. John and Yoko were the most famous couple on the planet, in an age when media coverage was much less global, and for the two weeks following their wedding, they seemed to be everywhere.
In a nice touch, on their second wedding anniversary, John's fourth solo single, "Power To The People," first entered the UK singles chart, eventually climbing to No.7. In America, the record came out on March 22, made the Hot 100 on April 3, and climbed to No.11 shortly afterward.
POWER TO THE PEOPLE. (Ultimate Mix, 2020) - John Lennon/Plastic Ono Band (official music video HD)
For the 30th anniversary of the couple's wedding, Gibraltar issued postage stamps of John and Yoko reminding the world of the most famous wedding ever to have been held on the famous rock.
Listen to the best of John Lennon on Apple Music and Spotify.