'Dystopia': How Megadeth Readied Themselves For The Apocalypse
'Dystopia' found Megadeth hitting the reset button and returning to their thrash metal roots. The result was an album that resonated with longtime fans.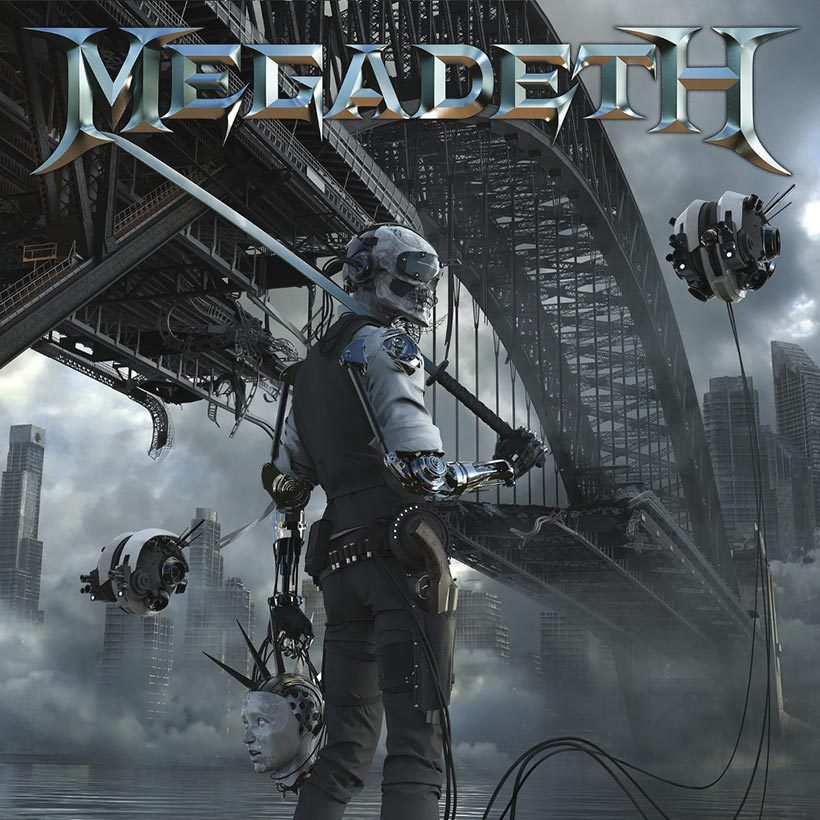 For nearly two decades, Megadeth frontman Dave Mustaine had been in pursuit of a more radio-friendly, music-for-the-masses standing in the metal community. The results came with varying degrees of success and fan acceptance, but for 2016's Dystopia, the LA thrashers seemed to hit the Reset button. Mustaine was joined by long-serving bass player and collaborator David Ellefson, while guitarist Chris Broderick and drummer Shawn Drover were replaced by Brazilian six-string virtuoso Kiko Loureiro, of Angra, and Lamb Of God's Chris Adler, respectively. The result was Megadeth's most ferocious album in years.
Listen to Dystopia on Apple Music and Spotify.
The classic Megadeth feel
Today, Megadeth have become such legendary figures in metal that every release feels like an event. Even after Th1rt3en and Super Collider challenged some fans' loyalty, the group's most dedicated followers couldn't help but hope for a return to form. Those who kept the faith had their patience rewarded with Dystopia, the band's 15th album and one of their most critically acclaimed releases since Countdown To Extinction and Youthanasia. The thrash was back, along with Mustaine's trademark social themes and politically-charged perspectives.
Dave Mustaine has a reputation as a control freak, going so far as telling lead guitarists how to play their solos. But, for the most part, Megadeth's best output comes from the main man operating with little outside influence. In fact, some of Dystopia's riffs and ideas had been in Mustaine's archives since the band's 90s line-up, when Mustaine and Ellefson were joined by guitarist Marty Friedman and drummer Nick Menza. So when talks fell apart for that incarnation to reunite, perhaps it felt like the right time to revisit the material again. It may also explain why so much of Dystopia has the classic Megadeth feel.
Megadeth - The Threat Is Real (Official Video)
Distinctive snarl and venom
Opener "The Threat Is Real" starts with the Middle Eastern vocals of Jordanian singer Farah Siraj before launching into a full-flight thrash attack, while Dystopia's title track chugs into life with echoes of "Hangar 18." The creeping intro of "Fatal Illusion" gives way to more furious thrash, proving that earlier flurries weren't red herrings. Meanwhile, the galloping "Death From Within" cements the idea that Dystopia is a genuinely great Megadeth album. The menacing "Bullet To The Brain" precedes the jagged "Post American World," followed by the spidery acoustic intro of "Poisonous Shadows," which builds into an ominous chug peppered with the ghostly vocals of Siraj.
The flamenco-style opening of instrumental "Conquer Or Die" shows that Mustaine was unafraid to pull Megadeth into ever more unexplored territory, yet it never strays too far from the old-school thrash feel of the likes of "Lying In State" or the band's commercial best, echoed on "The Emperor." Mustaine, too, seems to have grown into his voice over the years, finding a comfortable groove in his range without losing his distinctive snarl and venom.
Megadeth - Conquer Or Die (Official Video)
"Now that's my Megadeth"
Though Chris Adler was never meant to be a permanent member of the group, he nevertheless played an important role in Dystopia's gestation. Early Megadeth drummer Gar Samuelson was a huge influence on the sticksman, who was a big fan of the band as a teenager. As Mustaine said to Guitar World in June 2016, "One of my favorite sayings was something Chris said to me in the studio. We were playing one of the new songs and it was reminding him of some of the older Megadeth stuff that he loved growing up. And he said, 'Now that's my Megadeth.'"
It was a feeling that permeated Dystopia and further resonated among longtime fans following the album's release on January 22, 2016. There was life in the old 'Deth yet.