reDiscover Company Flow's 'Funcrusher Plus'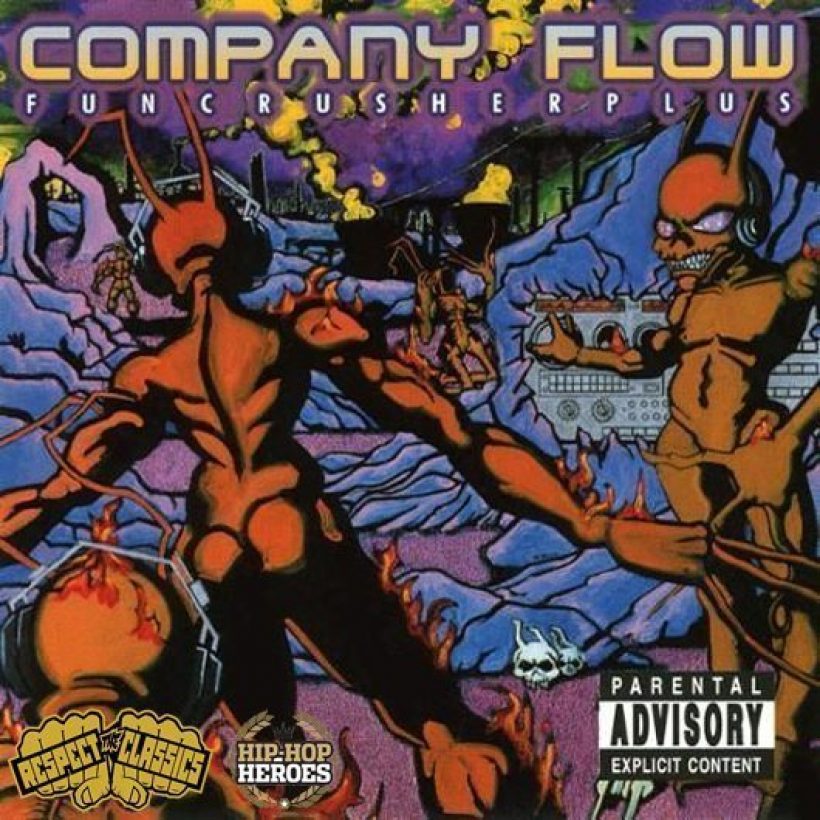 Brooklyn trio Company Flow only made one album proper, but its impact on the 90s underground hip-hop scene was stratospheric. Angry, defiantly independent and determined to push rap's envelope with their uncompromising approach to production and lyrical flow, the group helped lay the groundwork for the boldly experimental hip-hop music that was to follow.
Founded in 1992 by MC/producer El-P and DJ Mr Len, with MC Bigg Juss joining the following year, the group released two singles, 'Juvenile Techniques' and '8 Steps To Perfection', before the Funcrusher EP followed in 1996. That record's underground success sparked a label bidding war, but, fiercely independent from the outset, Company Flow demanded a contract written to their terms, which included having ownership of their masters and receiving 50 per cent of the profits. It was a deal that only the little-known fledgling label, Rawkus Records, would agree to.
Rawkus wouldn't regret it. Released in 1997, Funcrusher Plus expanded the EP's apocalyptic soundscapes into a fully fledged hip-hop masterwork whose dark lyrical themes varied between the fantastical, the streetwise and the deeply personal. Perfectly encapsulating the group's roughshod aesthetic, 'Legends' combines warped samples, rugged beats and El-P's astonishing stream-of-consciousness raps. On 'Last Good Sleep', he recalls in candid detail the night his violent stepdad nearly killed his mother. 'Help Wanted' features a cavalcade of dystopian sci-fi film snippets, while on 'Population Control', rugged, old-school hip-hop beats and an unsettling, avant-garde mélange of abrasive samples underpin El-P and Big Juss' savage battle rhymes.
Such was the success of the album that great things were expected of the group. But despite the trio's obvious musical chemistry, personality clashes resulted in them going their separate ways after releasing a follow-up instrumental album, Little Johnny From The Hospitul: Breaks And Instrumentals Vol 1. As El-P succinctly put it: "Co Flow came in, destroyed everything and then left."
In their wake, Rawkus (co-owned by a young James Murdoch, son of Rupert), gained instant street credibility, going on to become one of the defining indie labels of that decade, with a roster that included Mos Def, Talib Kweli and Pharoahe Monch. For their part, Mr Len and Big Juss released acclaimed solo works, while El-P has become a bastion of the hip-hop underground. In 1999, he founded his own highly influential label, Def Jux, which, besides releasing his own solo works, was home to a slew of venerated acts such as Cannibal Ox, Aesop Rock and RJD2. His typically uncompromising Run The Jewels project, a collaboration with Killer Mike, continues his fine run, with their hugely successful recent album, Run The Jewels 2, topping many critics' end-of-year lists.
Follow uDiscover's Hip-Hop Heroes playlist here, and explore our vast rage of hip-hop vinyl here:
Format:
UK English