'Check Shirt Wizard': Live Magic From Rory Gallagher
Recording during the 1977 tour for 'Calling Card,' 'Check Shirt Wizard' emerges from the archives to find Rory Gallagher in phenomenal form.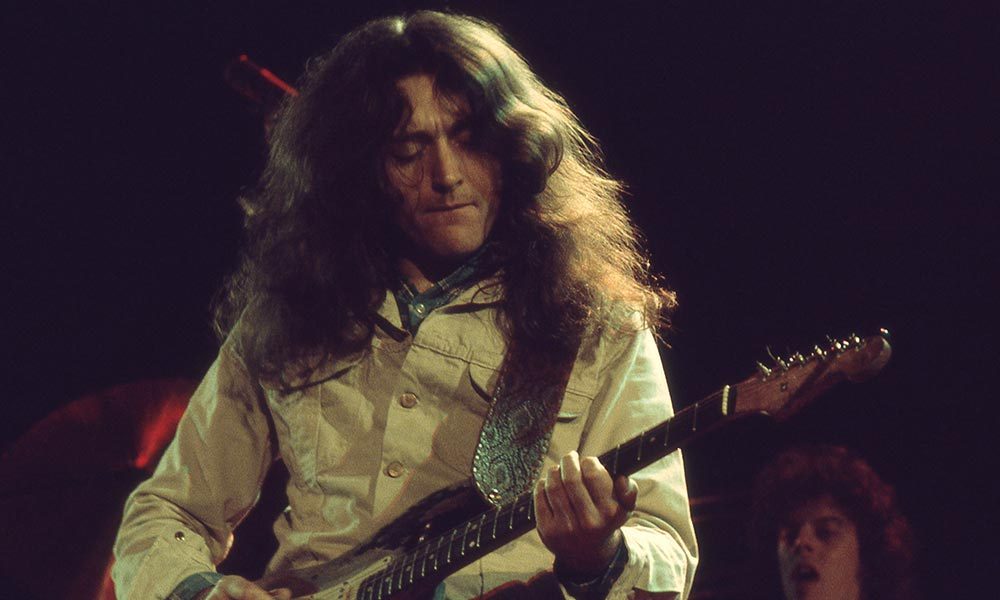 As his hefty back catalogue demonstrates, Rory Gallagher was no slouch in the studio. Yet, while his studio albums are rightly highly rated, it's live recordings such as Chess/UMC's Check Shirt Wizard: Live In '77, released on March 6, 2020, which show the much-missed Irishman excelling in the environment he always loved best.
In a sense, Check Shirt Wizard underscores what fans already know: previous Gallagher live albums, such as Live In Europe, Irish Tour '74 and Stage Struck, have all long since proven him a master on the stage. However, Check Shirt Wizard is still an extremely valuable addition to Gallagher's body of work. Not only does it cover a previously undocumented period in Gallagher's live career, but it bears out Melody Maker's contemporaneous assertion that "on record, [the concert] would surpass the classic Live In Europe album – and that's saying a lot!"
Listen to Check Shirt Wizard on Apple Music and Spotify.
"A very tightly knit group"
The concert Melody Maker writer Brian Harrigan was referring to was the first of two nights Gallagher played at London's Hammersmith Odeon in January 1977, in support of his then latest album, Calling Card. Along with tracks culled from shows in Brighton, Sheffield and Newcastle on that same month's 15-date UK trek, Check Shirt Wizard includes several choice selections from the Hammersmith gigs. Each makes one makes it abundantly clear that Gallagher and his team were on formidable form.
The tapes from all of these shows were captured on The Rolling Stones' and Jethro Tull's mobile studios, and, for Check Shirt Wizard, they've been mixed from the original multi-track tapes and mastered at Abbey Road Studios. Sonically, this offers listeners clarity and depth, but while that's a bonus in itself, the intensity of the performances seal the deal here.
Do You Read Me (Live From The Brighton Dome, 21st January 1977)
In January 1977, Gallagher's lieutenants were bassist Gerry McAvoy, drummer Rod De'Ath and keyboardist Lou Martin. They'd operated as a unit since February 1973's Blueprint and their boss rated them highly, informing Melody Maker that same year that "they're very important… musicians aren't cartridges you plug in." A mutual respect was reciprocated by the band, who, producer Roger Glover stated in the Calling Card sleevenotes, were "a very tightly knit group and all unswervingly loyal to Rory."
A phenomenal collection
Accordingly, the four musicians interact with an intuition that's almost supernatural throughout Check Shirt Wizard, which runs to 20 songs across either two CDs or six sides of vinyl, depending on your preference. Bearing in mind they were promoting Calling Card, the setlist inevitably takes in the bulk of that album's content, with the prowling rockers "Do You Read Me?," "Secret Agent" and "Moonchild" sounding terse and urgent, contrasting with the elegant neo-ballad "Edged In Blue" and the record's jazzy, fluid titular song, during which Gallagher drifts away from his quintessential blues/rock sound with confidence and verve.
When they're not plugging Calling Card, the band take a deep and satisfying dive into Gallagher's past, with Against The Grain's speedy "Souped-Up Ford" burning serious rubber and Gallagher drawing comparisons between the nomadic lifestyles of circus performers and rock stars ("You know I can't be found, but if you look around/Tomorrow I'll be gone by dawn") on Tattoo's reliably great "Tattoo'd Lady." The same album's "A Million Miles Away," meanwhile, is every bit as stormy and elemental as its nautical imagery ("That's where you'll see me, looking out on the deep blue sea"), while a jaw-dropping version of Blueprint's "Walk On Hot Coals" – on which Gallagher and Martin deftly trade solos and Rory quotes from The Beatles' "I Feel Fine" – even gives its famous Irish Tour '74 counterpart a run for its money.
Walk On Hot Coals (Live At The Hammersmith Odeon, 18th January 1977)
Elsewhere, Check Shirt Wizard's potent acoustic section showcases the enduring power of Rory Gallagher the folk troubadour. Sequenced to begin at the album's halfway mark, this five-song mini-set kicks off in style with a haunting version of Leadbelly's "Out On The Western Plain" and also takes in "Too Much Alcohol," Calling Card's laidback "Barley And Grape Rag" and a suitably intense version of Blind Boy Fuller's ominous "Pistol Slapper Blues" before Gallagher straps on his mandolin and provokes a mass singalong during the suitably rousing "Going To My Hometown."
Aided and abetted by the full band, the home strait is liberally laced with highlights. Gallagher had already put his inimitable stamp on Mississippi blues man William Harris' "Bullfrog Blues" on 1972's Live In Europe, but his troops are still having fun with the song here, with McAvoy and De'Ath both squeezing in solos as they stretch the performance towards the ten-minute mark. It's thrown into sharp relief by a lean, compact version of Deuce's "Used To Be," while a triumphant run-through of the infectious Calling Card boogie "Country Mile" brings down the curtain on a phenomenal collection that will find favor among the Rory Gallagher faithful for many years to come.
Check Shirt Wizard can be bought here.
Listen to the best of Rory Gallagher on Apple Music and Spotify.
Format:
UK English