Only three weeks after John Lennon had had two consecutive posthumous UK No. 1 singles, he was the writer and inspiration of another. Roxy Music's version of his song 'Jealous Guy' climbed to the top of the chart on 14 March, 1981.
Roxy's only UK No. 1 single came about because of their scheduled appearance, on the day after Lennon's murder in December 1980, on a German TV show. Understandably moved to perform one of his songs in tribute, they chose one of Bryan Ferry's favourites.
Lennon had first worked on 'Jealous Guy' in the era of The Beatles' self-titled but so-called 'White Album,' under the name 'Child of Nature.' But because Paul McCartney was writing 'Mother Nature's Son,' John's song was shelved until he revisited it under the new title on his Imagine album.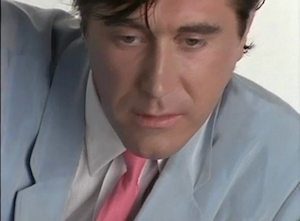 Roxy Music's performance of 'Jealous Guy' was so well received that the obvious next step was to record it, and quickly. This they did, releasing it on Polydor early in the new year of 1981, as public affection for Lennon led 'Imagine' itself to spend most of the month of January at No. 1.
In February, John and Yoko's latest single 'Woman' replaced it there, for a two-week stay. The sequence was interrupted by Joe Dolce Music Theatre's novelty release 'Shaddup You Face,' before the Roxy single became the success that Lennon's adoring fans deserved and demanded. Bryan Ferry went on to perform the song four years later at Live Aid, with a guitar solo by Pink Floyd's David Gilmour, as the world paid tribute to John Lennon all over again.
Listen to 'Jealous Guy' on the album More Than This — The Best of Bryan Ferry and Roxy Music on Spotify
Click here to explore our dedicated Roxy Music Artist Page