Verve – The Sound of America Singles Collection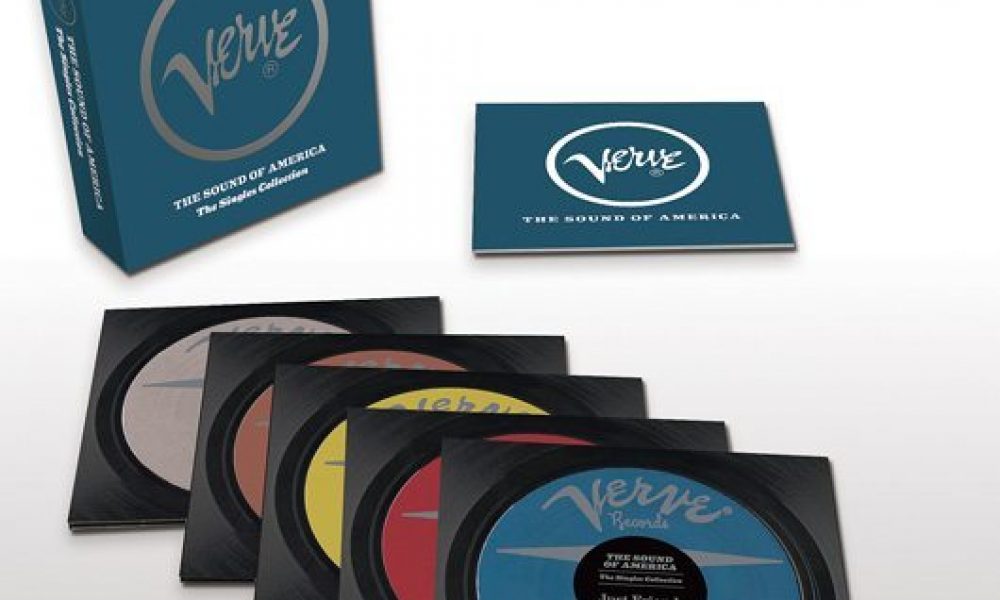 Jazz is not normally associated with hit singles or even singles. The album, the long-playing record and latterly the CD have been the preferred medium for jazz musicians to stretch out and produce some of their finest work.
Releasing singles back when impresario and entrepreneur Norman Granz started Clef Records in the late 1940s and later Norgran and Verve were all about gaining exposure through radio plays and on the jukeboxes that were keen to swallow up dimes in bars – or anywhere and everywhere that people gathered. By 1956 there were 750,000 jukeboxes in America; 1956 was the year that Verve Records was founded.
This collection of 100 single releases tells the story of Verve Records in a unique way. A story that includes some of the giants of jazz as well as some of the lesser-known stars and the changes that have taken place during the post-war years in the music that is – the Sound of America.
From the 1930s through 1940s the jukebox defined what young people listened to. Producer and later the head of Verve Records in the 1990s, Tommy LiPuma remembers the impact the jukebox had on him as a young man:
'In the 1950s the jukebox was the deal. As a saxophone player I was gigging, although still at school. I'd sit in with black musicians; the jukeboxes in "the hood" were outrageous. One day I'm sitting there making myself scarce, because I was under-age, and suddenly out of the jukebox comes this record. It was "Just Friends" by Charlie Parker, that first time I heard it I couldn't believe it.'
Charlie Parker recorded for Clef Records and 'Just Friends' is one of the 100 singles that helped define the Sound of America. It begins with Jazz at the Philharmonic, through Norman Granz developing a record label that worked with many of the musicians that played on the JATP tours, to when he finally wrestled Ella Fitzgerald away from her Decca recording contract that became the impetus for the founding of Verve Records.
In 1947, Norman Granz established the Clef label to handle the distribution of recordings from JATP. Clef then became an imprint of Mercury Records and one of Granz's first signings was Charlie Parker in November 1948 and one of his first projects with his new signing also involved the Cuban arranger and bandleader Machito. Following a string of 78-rpm single releases featuring JATP performances, including 'Perdido' that is included in this collection, Granz released a single with Flip Phillips on one side and Charlie Parker on the other. It was entitled 'No Noise' and has the distinction of being Granz and Clef's first studio release.
It was the JATP album releases that were gaining the big sales, many selling over 100,000 copies, but the promotional impact of the singles should not be underestimated. Slim Gaillard's 'Opera En Vout' was a JATP release as well as a single that was a hit on jukeboxes in many parts of America, it's not difficult to hear why with its infectious music and clever, almost rap-like delivery from Gaillard.
If Ella Fitzgerald is the voice of Verve then Oscar Peterson was the pianist. No one recorded more sides for the label as a soloist and as an accompanist than the Canadian, Peterson. His first record was appropriate, 'Debut' recorded in Match 1950 with bassist Ray Brown. 1951 saw new signings, including Johnny Hodges who had recently left Duke Ellington's orchestra to pursue a solo career. In June, Mercury was advertising 'Norman Granz's jazz hits', in this case, Johnny Hodges' "Castle Rock". Illinois Jacquet's 'Port of Rico', with Count Basie on organ, also became a hit on the R&B charts.
In March 1952 Granz put Billie Holiday into the studio for her first session for his label, she recorded eight sides, among them 'You Go To My Head'. This reworking of one of her earlier records is one of the pinnacles of her post-war career. The following year Clef became a stand-alone label, and it was announced that "The Norman Granz Jazz Line, which will comprise the Clef line, now consists of about 800 released masters."
Ella Fitzgerald was in so many ways the making of Verve Records. Norman Granz had been running Clef for over half a decade and had created the Norgran label to differentiate between the jazz he was recording. He could have placed Ella on Norgran, although Granz's perception that it was for 'the cooler crowd' may have prevented him from taking that option.
Two weeks into 1956, Granz announced that Ella, who had been with Decca for two decades, was going to record for Verve. Granz took a full-page advert in Billboard to announce the deal.
With rock 'n roll probably here to stay, Verve was opportunistic and recorded Anita O'Day doing the "Rock And Roll Waltz". It became the label's first single but failed to chart. The first song Ella ever recorded for Verve was "Stay There", which came out in the spring, coupled with "A Beautiful Friendship". The latter made the lower reaches of the charts, and in doing so was Ella's first hit for three years, justifying in part Granz's ambition.
Aside from Ella, Verve also recorded Fred Astaire, Bing Crosby, Woody Herman, and Louis Armstrong. Early in 1957, Granz announced that he had decided to consolidate Clef and Norgran under the Verve umbrella.
Among the more unusual sessions during the first half of 1957 was one in which Oscar Peterson, as well as playing the piano also sang on some of songs, including, 'I've Never Left Your Arms'. He was no Nat 'King' Cole but it is just another recording that makes this singles collection so interesting.
Recordings from this period included among the 100 singles include Teddy Wilson, Buddy Bregman, the producer of many of Ella's early Verve recordings as well as other singers, drum legend, Gene Krupa and another star drummer, Louie Bellson Mel Tormé and Dizzy Gillespie.
In 1959, Norman Granz moved to Lugano in Switzerland. and then sold his company to MGM in late 1960. Ironically, the 1960s became the most successful decade for Verve in terms of sales and particularly singles.
Before all this happened Ella recorded 'Mack the Knife' in concert in Berlin and this track was released as a single that not only became a hit but also won a Grammy. In a sign of what was to come, veteran trumpeter Roy Eldridge recorded a single simply called 'Bossa Nova'; it was to be the start of something big, despite not selling particularly well.
Verve's main attractions for MGM were Ella and some of the established jazz names, but it was also necessary to move the business along as the times were changing – a new creative force was needed. Early in 1961 MGM announced that Creed Taylor had been appointed the head of Verve Records.
Taylor signed both Cal Tjader and Kai Winding. Winding had worked with Taylor at Impulse! and the signing of Tjader was indicative of the way things were moving at Verve. Latin jazz was very much the coming thing. Another of Taylor's signings was the young arranger Gary McFarland, who had worked with Gerry Mulligan but in whom Taylor saw potential in his own right.
In the spring of 1961, the U.S. government helped improve the fortunes of Verve Records and helped to change the face of modern jazz. Guitarist Charlie Byrd was sent on a diplomatic tour of South America and upon his return, Byrd met Stan Getz at the Showboat Lounge in Washington, D.C. and later at his home played him some Bossa Nova records by João Gilberto and Antônio Carlos Jobim.
Byrd and Getz recorded the Jazz Samba album in April 1962, in mid-September it entered Billboard's pop album chart and by March the following year, it had made No. 1. It stayed on the album charts for seventy weeks and made Bossa Nova the coolest music on earth. 'Desafinado' from the album made No.15 on the singles chart.
In March 1963 Getz was back in the studio with Jobim, João Gilberto and his wife Astrud Gilberto – the result was Getz/Gilberto. This album did not come out until the following year when it climbed to No. 2 in the Billboard album chart; kept from the top spot by The Beatles. Taken from the album, 'The Girl From Ipanema' became a huge hit, won a Grammy as Record of the Year and is still today many people's go-to summer record.
In April 1952 it was announced in Billboard that Jimmy Smith was going to record a one-off single for Verve, although he was still signed to Blue Note. The single in question was the brilliant 'Walk On The Wild Side' with Oliver Nelson's Orchestra. In February 1963, Jimmy Smith signed to Verve on a long-term contract and almost immediately Taylor had him back in the studio with Oliver Nelson. They recorded 'Hobo Flats'; Smith went on to become Verve's most commercially successful artist of the decade.
Oscar Peterson left Verve in 1963, ironically a year after his most successful album, Night Train, that he recorded in December 1961; it includes 'Hymn To Freedom.' Verve's other major name pianist was Bill Evans. Taylor was anxious to get some crossover success so he recorded an album with Claus Ogerman called Bill Evans Plays The Theme From The V.I.P.'s And Other Great Songs. It included a number of popular movie themes that were released as singles including 'The Theme from The V.I.P.'s'.
By 1966, sales at Verve were at record levels with sixteen albums selling over 100,000 copies during the previous twelve months; among them Stan, Astrud Gilberto, Jimmy Smith and Cal Tjader. Tjader's Soul Sauce album spent over five months on the Billboard pop chart and sold over 100,000, helped in no small part by the success of the single of the same name.
Another artist who was making strong inroads commercially was Wes Montgomery, who was signed by Verve late in 1964. While he did not have success on the singles charts his 45s including, 'Goin' Out of My Head' and 'Bumpin' On Sunset' gained strong airplay and helped sell his albums.
Latin percussionist Willie Bobo who had been in Cal Tjader's band in the early 1960s was another with crossover appeal that helped his 1966 album Spanish Grease make the lower reaches of the Billboard charts, Bobo also has the distinction of recording the original version of 'Evil Ways', the song that Santana made their own following their appearance at Woodstock in 1969
In the spring of 1966, Verve had its first No. 1 on the Billboard pop charts, but it was not a jazz artist; blue-eyed soul duo The Righteous Brothers took "(You're My) Soul and Inspiration" to the top of the charts. Among the other pure pop acts the label signed were Susan Rafey, The Tymes, Wilson Pickett and The Chantels. Verve also made a foray into rock, signing, The Blues Project and more controversially Frank Zappa's group The Mothers of Invention and then in June 1966 The Velvet Underground and Nico went into the studio in New York City to begin recording their debut album.
Verve Records as a separate entity had been doomed once Creed Taylor left. However, it's importance as a spiritual home for jazz would once again become apparent as the music industry evolved and the need to preserve the sound of America was more culturally important than ever. Diana Krall was one of the first to reignite the Verve flame and her recording of 'The Look of Love' is here to represent the new, spawned from the heritage of some of America's greatest recordings of the last sixty years.
It's arguable that the singles released by Verve Records introduced more people to jazz than any other record label. These records showed people that jazz was not necessarily the 'way out' music that many people think it has to be. Verve offered listeners, a way into jazz. There are many people that have gone on to explore the entire jazz spectrum having heard a Stan Getz Latin inspired 45 or Jimmy Smith's soulful organ or Ella's jazz way with a song or Oscar Peterson's delicate and tasteful, but always swinging, piano playing.
Every record here has helped define the Sound of America.
Format:
UK English