Wallflower – The Stories Behind the Songs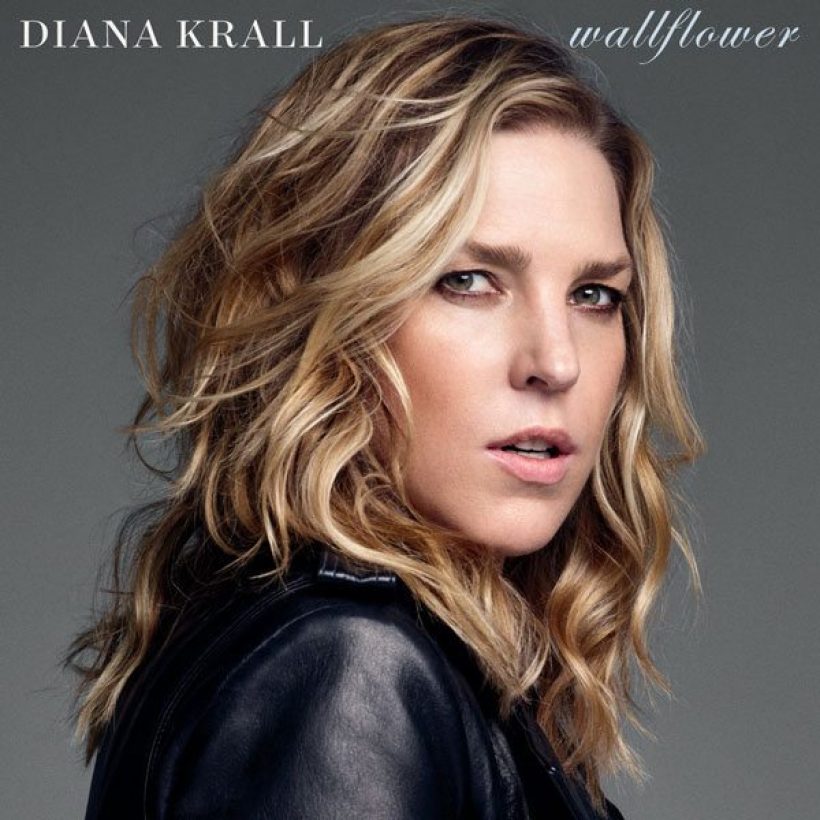 Albums of covers can so easily just be a collection of second-hand songs unless an artist can bring something new and different that imbues the material with freshness as well as something genuinely different. Diana Krall's new record, Wallflower, produced by David Foster, is an album of covers that re-imagines some of the best-loved songs of the past 50 years, songs from the likes of Elton John, the Beatles and the Eagles to Bob Dylan, Crowded House and 10 CC. As Diana has said, "It was a nice change for me to be in the vocal booth with pretty much only David's superb piano accompaniment and orchestrations." Best of all these songs sound not like covers at all, Diana adds so much to everyone, makes the songs her very own.
Diana Krall's unique artistry has not only made her one of the most recognizable artists of modern jazz but she has also transcended any one particular style of music. On the new album she brings her signature style to some of the greatest songs of our time, including The Eagles' 'Desperado,' The Mamas & The Papas' 'California Dreamin'', and Elton John's, 'Sorry Seems To Be The Hardest Word,' along with a new composition by Paul McCartney. As David Foster recently said, "What makes this album so special is the way Diana re-imagines each tune and the way she puts her heart and soul into every syllable."
We thought we would give you a look under the hood of the songs that Diana has re-imagined. These are the stories behind the songs on Wallflower…
California Dreamin'
It is one of the quintessential songs of the 1960s. Written by John and Michelle Phillips and originally recorded by The Mamas and The Papas in November 1965 and released a month later and debuted on the Billboard Hot 100 on 8 January 1966 to become the groups first hit before eventually making No.4 on the chart. It was written in 1963 while John and Michelle were living in New York City, at the time they were members of the folk band The New Journeymen; what few people know is that the first version of the song was recorded by Barry McGuire for his album, This Precious Time. When the Mamas and the Papas recorded their version they used the same backing track as McGuire.
Desperado
The title track of the Eagles 1973 album, their second, was written by Don Henley and Glen Frey and what many people are unaware of is that this quintessentially West Coast song was actually recorded in London at Island Records studio with producer and engineer, Glyn Johns. It is the closing track of side one of the original album but was never released as a single.
Superstar
For some, 'Superstar' is a Carpenters' song, many probably believe it was written by Richard Carpenter, but it was actually composed by Delaney and Bonnie Bramlett with Leon Russell's in 1969. The Carpenters' sophisticated rendition dates from 1971, while the original version by Delaney and Bonnie features Eric Clapton' s subtle guitar detail. The Bramlett's version was released as the b-side of their single 'Comin' Home,' which peaked at No. 84 in the US but reached No. 16 in the UK. At that time, the song was called 'Groupie (Superstar).' In 1970, when Joe Cocker embarked on his famous Mad Dogs & Englishmen tour, Leon Russell was his bandleader, and Rita Coolidge was given the vocal spotlight to interpret the song that by now was known simply as 'Superstar.' To complicate matters further Richard Carpenter wasn't aware of the Delaney & Bonnie or 'Mad Dogs' versions, but he was attracted to the song when he heard Bette Midler, before she had ever charted, performing it on the 'Tonight Show' on American television.
The Carpenters' 'Superstar' entered the Hot 100 at a confident No. 49, and took just six weeks to climb to No. 2, where it stayed for two weeks, parked behind Rod Stewart's 'Maggie May'/'Reason To Believe.'
Alone Again (Naturally)
Diana's duet with fellow Canadian Michael Bublé was written by Irish singer/songwriter Gilbert O'Sullivan and entered the Hot 100 in June 1972 going on to top the charts for a total of 6 weeks making it one of the most popular songs of the decade in America; it made No.3 in the UK. In 1991 O'Sullivan's song was at the centre of a lawsuit involving rapper, Biz Markie after he sampled O'Sullivan's song without permission. The court ruled that sampling without permission can qualify as copyright infringement, a ruling that changed hip hop, requiring that any future music sampling be preapproved by the original copyright owners.
Wallflower
Bob Dylan has been covered countless times throughout his long career and his songs have frequently become hits in the hands of others. This song dates from 1971 but Dylan did not release until over 20 years later as part of The Bootleg Series Volumes 1–3 (Rare & Unreleased) 1961–1991. Texan singer Doug Sahm, the former leader of the Sir Douglas Quintet covered it in 1972 on his album, Doug Sahm and Band. According to Diana, I love Dylan and always have. I got stuck on 'Wallflower,' listening over and over again. We started playing it on gigs more than a year ago. That's the one song I played all the piano on, me and [guitarist] Blake Mills sitting in a room, just playing. We didn't redo anything."
If I Take You Home Tonight
Not strictly a cover as this Paul McCartney song had not been released by the former Beatle. As Diana says. "The day after Hurricane Sandy we did a rough, but it didn't fit on [his 2012 LP Kisses on the Bottom]. Years later I found the sheet music and [drummer] Karriem Riggins said, 'You should do that.' I thought it was a tall order to do a new McCartney song. I asked Paul if he was OK if I should change the direction — I'm not one for changing gender in a song — but he thought it sounded really modern to keep it the way he wrote it."
I Can't Tell You Why
Written by Timothy B. Schmit, Don Henley and Glen Frey this song dates from the Eagles 1979 album, The Long Run. As a single it became a Billboard Top 10 hit in April 1980, reaching No.8 on the Hot 100.
Sorry Seems To Be The Hardest Word
Covering another singer/songwriter is a tough ask and when the singer/songwriter is Elton John it is even tougher. Elton's song comes from his 1976, Blue Moves album and is one of the most poignant ballads about break-up every written – Bernie Taupin's words are so poetic. It made No.11 on the UK chart and No.6 on the Hot 100. Yet again Diana Krall creates a mood that is totally different from the original, and one that is totally her own.
Operator (That's Not The Way He Feels)
Featuring Stephen Stills and Graham Nash on backing vocals this Jim Croce song has an interesting story behind it. According to Ingrid Croce, who was married to Jim from 1966 until his death in 1973, "Jim and I had gotten married in 1966, and we had been waiting for him to go in the service. He was a National Guard, which he had joined with the hope that he would not be sent over [to Vietnam], and he would be able to continue his education and his music career. He was standing there in the rain at a payphone. And he was listening to these stories of all these guys, the 'Dear John' stories, that were standing in line waiting their turn in the rain with these green rain jackets over their heads – I can just picture it, all of them in line waiting for their 3-minute phone call. I think that was the most important aspect of the song, because it was just so desperate. You know, 'I only have a dime' and 'You can keep the dime' because money was very scarce and very precious, and I think if you look at the words to the song there are so many aspects of our generation that are in it."
This was the second single from Croce's album, You Don't Mess Around with Jim and 'Operator' made No.17 on the Billboard chart in late 1972. A year later, and shortly after 'Bad Bad Leroy Brown had topped the Hot 100, Croce was killed in a plane crash.
I'm Not in Love
10 CC's song made No.2 on the Hot 100 in the summer of 1975 as well as topping the UK singles chart and is one of those songs that came about as a result of a happy accident. Written by Graham Gouldman and Eric Stewart of 10 CC the latter picks up the story to tell us that it was inspired by a chance remark from his wife.
"Gloria said to me one day, 'you've stopped saying I love you'. 'Yes, but if I keep saying it, it would no longer have any meaning'. While this was inconsequential banter between us the notion stuck in my mind and when I put the idea to my song-writing partner of a song which said 'I'm not in love' and then proceeded to give all the reasons why the singer was totally in love he thought it was great."
Originally Eric and Graham thought it would be a shuffle beat Latin tinged song like 'The Girl From Ipanema' but in the end it turned out very differently. The backing track for the song turned into something akin to the 'wall of sound' and when they added their studio secretary saying 'Big Boys don't cry, be quiet, big boys don't cry' in the middle of the song they knew they had something very special.
Feels Like Home
Randy Newman has been called the songwriter's songwriter, but that diminishes in some ways his popular appeal and the broad sweep of his talent as not just a writer of popular songs but also as a composer of film scores. His songs have been covered by Barbra Streisand, Three Dog Night, The Alan Price Set, and Joe Cocker among a long list of artists. 'Feels like Home', on which Diana is joined by Bryan Adams, is one that is comparatively recent, coming from Newman's 1995 musical, Randy Newman's Faust, on which it was performed by Bonnie Raitt.
Don't Dream It's Over
Crowded House's 1986 single made No.2 on the Hot 100, but could only manage a lowly No.27 in the UK. Their version is definitive, and yet, in Diana Krall's hands it takes on a whole new meaning and a whole new vibe – she re-defines the song, helped in no small way by David Foster's brilliant piano intro. Written by Neil Finn it comes from Crowded House's self-titled debut album.
iTunes Bonus Tracks
In My Life
Lennon and McCartney's 'In My Life' is a song that is largely written by John and began life as a nostalgic look back at Liverpool. Recorded in October 1965 it was released on the Beatles Rubber Soul album. John was very fond of the song, saying, "And it was, I think, my first real major piece of work. Up till then it had all been sort of glib and throwaway. And that was the first time I consciously put my literary part of myself into the lyric."
Yeh, Yeh
If any song says Soho and London in the swinging sixties it is 'Yeh Yeh'. Georgie Fame, who joins Diana on her version, originally recorded it as Georgie Fame and the Blue Flame's and it was UK No.1 in early 1965. Many people assume it was a written by the Hammond B-3 virtuoso, but it was originally an instrumental by Mongo Santamaria from his 1963 album Watermelon Man. Soon after, words were added by Jon Hendricks of Lambert, Henricks and Ross and shortly after that the British saxophone legend Tubby Hayes wrote the arrangement that Fame took to the top of the charts.
Listen on Spotify
Available on iTunes, Amazon and Google Play

Format:
UK English