"We're Part Of The 80s Fabric": Carol Decker And Ronnie Rogers Talk T'Pau
Carol Decker and Ronnie Rogers of T'Pau talk about career highs, overlooked songs, and the eclecticism at the heart of the band.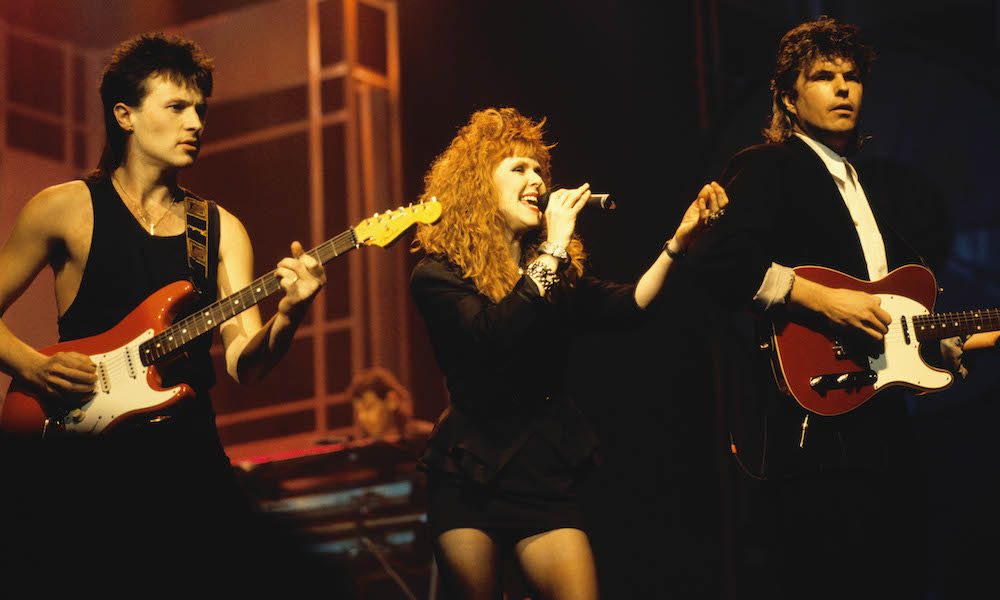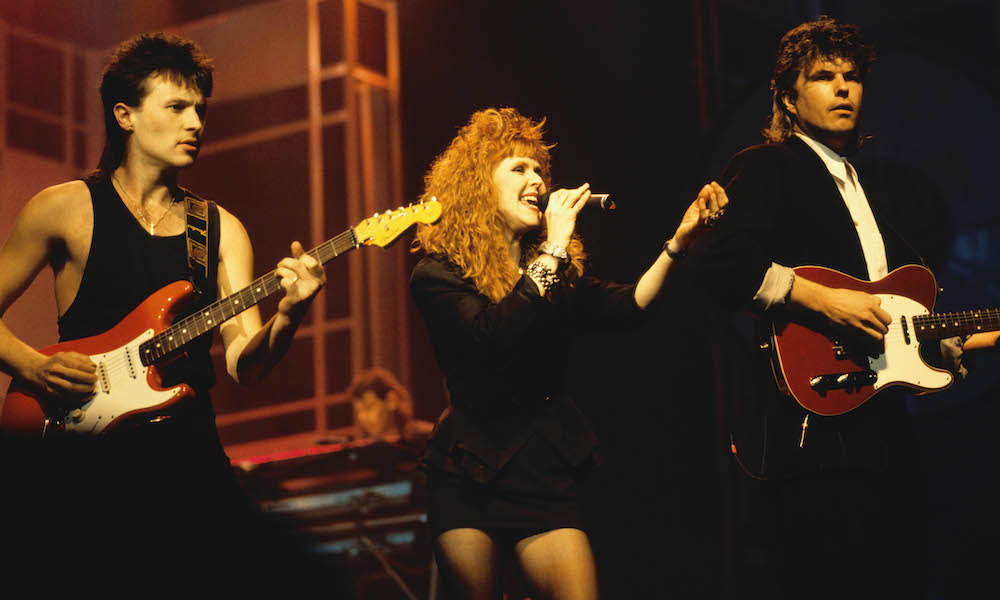 In November 1987, when T'Pau's "China In Your Hand" became the 600th single to peak at No.1 in Britain, it seemed the band's passport to world domination was stamped and little would stand in their way. In fact, the classic 80s power ballad was to mark a commercial peak, and the group's US career was already starting to unravel. "It's still a little poignant for me – even today – to discuss all the potential that was in front of us," says Carol Decker, who fronted T'Pau with her boyfriend, Ronnie Rogers. "By then, I felt so assured and assumed that people got us and we were going to be able to do what we thought was right. But, for some reason, the public didn't take to subsequent songs as much, even though we felt as strongly about them."
As the The Virgin Anthology attests, however, Decker and Rogers' assurance was well-founded. Traversing the group's career on Virgin Records, from their quadruple-platinum 1987 debut album, Bridge Of Spies, to 1991's Top 10 outing, The Promise, it reveals a group working at the peak of their powers. But as Decker herself recalls, it was never that simple for T'Pau.
Listen to The Virgin Anthology right now.
"There always seemed to be someone who gave us support"
After meeting guitarist Ronnie on the gigging circuit, the early 80s would see the pair battle to capitalize on a series of promising leads that withered into nothing. Speaking to uDiscover, Carol admits she was starting to get rattled by the relentless round of rejection. "The knock-backs from the labels were never constructive," she says. "They would just listen to the cassettes and send them back with a standard letter. Then, towards the end, it got even worse when we would get feedback with a multiple-choice table, and the responses ranged from 'Not quite what we are looking for,' to 'Don't give up your day job.' I imagine those punky little A&R guys thought it was funny, but it really wasn't."
The band found a mentor in David Massey, who managed Wang Chung – a group that scored big hits with "Dance Hall Days" and "Everybody Have Fun Tonight." He picked up on the hit potential of one of T'Pau's songs, "Valentine," and urged them to write more like that, but still declined to take them on himself. But Ronnie remained optimistic. "There always seemed to be someone who gave us enough support and encouragement to keep going," he says today. "He was right about 'Valentine'. We could tell there was something about it too, even as a four-track demo."
In 1986, the pair was invited to perform a three-song showcase at Nomis Rehearsal Studios, in front of Siren Records bosses, after the duo's new manager, Chris Cook, had secured a hearing. The short set was a make-or-break moment. "Ron and I had been together for five years writing by then," says Carol. "With each rejection, it was getting a bit much. I was 26 and my dad was suggesting I try the cruise ships. I was filled with abject horror at that idea, so was starting to panic."
A band was swiftly pulled together for the set, which ended with Carol and Ronnie being signed on the spot. "We put the band together around us," says Carol. "We came from bands and embraced that culture, but we were signed as a duo to the label. It started OK, but tensions started to build with the others as time went on."
Siren Records sent the newly formed six-piece stateside to a studio near Chicago to record their first album, Bridge Of Spies. "I was beside myself with joy when we flew out," recalls Carol. "We had this great producer, Roy Thomas Baker, who had worked with Queen and The Cars, and was used to working on a huge scale. The technology we had access to was incredible. Now you can create a record in your own bedroom, but it just wasn't like that back then."
"We're really eclectic writers"
The investment paid off with the 10-song set, which was given a deluxe edition reissue in 2015, proving to be a multi-platinum smash and containing the song Carol is most proud of: "Heart And Soul," which was picked as T'Pau's first single. It flopped on its first release in the UK, but in the US it started to receive radio play and began a hesitant ascent of the Billboard Hot 100. The song would peak at No.4 and, on the back of being picked for a jeans commercial, finally made the same position back home in September 1987. "Ronnie and I are really eclectic writers, which some people think is brilliant, but others – especially in America – struggled with," says Carol. "'Heart And Soul' did sound different to a lot of our material and its famous bass riff came from us playing about on this sequencer keyboard, which we had bought with a loan from my dad."
T'Pau - Heart And Soul (Official Video)
The band's first appearance on the classic BBC TV show Top Of The Pops would, Carol believes, lead to stateside promoters turning away from the group. "We flew back to London to appear on it and were never told we weren't going back to the States," she says. "We were treated like children by our management – we'd even left our stuff out there, expecting to return!" Ronnie doesn't know why they weren't involved in the decision, but believes it was just how new bands climbing up the ladder were treated back then. "It was a bad call. You just don't mess those sorts of people about," says Carol.
"China In Your Hand" was the band's second single. "We didn't think about it too much," says Ronnie. "It was a bit out on a limb from everything else too, but, picking a song on its merit, it was the obvious one to choose." Radio stations in the States now struggled to categorize the group, who refused to slot neatly into segregated playlist policies. It was a similar story elsewhere too, but the strength of the band's songs cut through in Europe, where programmers had less influence on the charts. "Valentine," the band's third hit single, finally lived up to its potential by making the UK No.9. The band was earning a strong reputation as a live act and was soon on tour with Nik Kershaw. In time, they would fill venues like London's Wembley Arena by themselves: the perfect platform to showcase Carol's powerful voice.
"We were in awe of everything"
But pressure to keep the momentum building forced the band back into the studio to complete the work for their second album, Rage. On its release in October 1988, there was a discernible cooling of the band's commercial fortunes, with lead single, "Secret Garden," failing to break the UK Top 10. Despite this, the 11-song collection went platinum, and features in its entirety on Disc Three of The Virgin Anthology. "Our management was clear that we had to keep the ball rolling," says Carol. "We didn't know any better then and were very in awe of everything, so we just agreed. I knew following up Bridge Of Spies was going to be hard, but I am proud of Rage and, certainly initially, wasn't particularly worried by it not doing as well. We both love 'Road To Our Dream', which was the second single from Rage we released."
"I just don't think the label got what we were," says Ronnie. "We were marketed as a pop band and so their approach was simply to milk everything until it all dried up. All the press was slanted towards a Smash Hits audience and, with hindsight, that didn't help. Everything was too rushed." Tensions were also mounting with the continued attention on Carol as the face of the band. "I'm not an über-cool person and was always up for that stuff," she says. "We appeared in the serious music press at first, but then they started to get increasingly snooty about T'Pau."
Ronnie recalls that one of their US singles was pitched to Keith Richards of The Rolling Stones for a solo contribution. The pair blocked the suggestion, which they now describe as a big mistake. "I didn't even present the idea to the band," says Carol. "I knew it would just cause a massive row." Though she and Ronnie were the songwriters, and the compositions for the first two albums were completed before the band had been signed, the pair admits that a lot of time was spent managing the situation. "Things started getting very difficult," says Carol.
This was in part why the band's third set, The Promise, was recorded with each member playing a greater part, and a new producer was hired. "But when we were making The Promise, we didn't realize how much had changed," says Carol. "I think it's a much better album than Rage, but the bubble had burst," adds Ronnie. "I would actually pick 'Only A Heartbeat' from The Promise as my favourite T'Pau song ever."
"We'd do it very differently today"
While lead single (and fan favorite) "Whenever You Need Me" performed solidly and secured the act a final Top Of The Pops appearance in May 1991, sales of The Promise, which the band wanted to title A New Decade, were modest, and T'Pau was dumped by Siren during a UK tour. "Our manager came backstage and told me I was a very lucky girl," recalls Carol. "He said I had just walked away from debts of £800,000. I just looked at him and asked if we had been dropped… He replied: 'Well, that's one way of looking at it'.
"I called that The Walkman Tour as members of the band had stopped talking to each other by then," she continues. "It was horrible as we were tied into touring a dying album with everyone hating each other." Ronnie believes if the band members had been better friends they might have been able to secure a new deal, but the fractures in the working structure proved too severe to fix. "T'Pau was a manufactured band in one sense," says Carol. "We built it around ourselves, with the right intentions, but we'd do it very differently today."
"It feels very different now"
After the split, Carol admits she lost her way and it would be almost a decade before she released a new T'Pau album, Red. But she and Ronnie had also split by then and the collection was essentially a solo project. In 2015, freshly reunited professionally with Ronnie, T'Pau released Pleasure And Pain, which received a strong critical response and solid sales, sparking a ferocious touring schedule that the band maintains to this day.
"It feels different now," says Carol. "You have to roll with the punches, and the big budgets are gone, but I mix those large retro shows with smaller sets and acoustic tours. I sometimes get frustrated that people focus so much on 'China In Your Hand' but it's great to be remembered in such a fickle business. It's part of the fabric of the 80s and you have to respect that."
As Carol admits, if being an eclectic songwriter is a sin, then she and Ronnie are guilty as charged. The Virgin Anthology showcases every T'Pau single, plus the expanded Rage and The Promise albums. Complemented by a disc of remixes, rarities and demos, it's a body of work that's hard to characterize, but proves that legacies are harder to shatter than fragile chart careers.
The 4CD box set The Virgin Anthology can be bought here.