"I Fell In Love With The Original Again": Max Richter On Recomposing Vivaldi's 'Four Seasons'
Having fallen in love with Vivaldi as a child, Max Richter recomposed 'The Four Seasons' – and fell in love with the original again.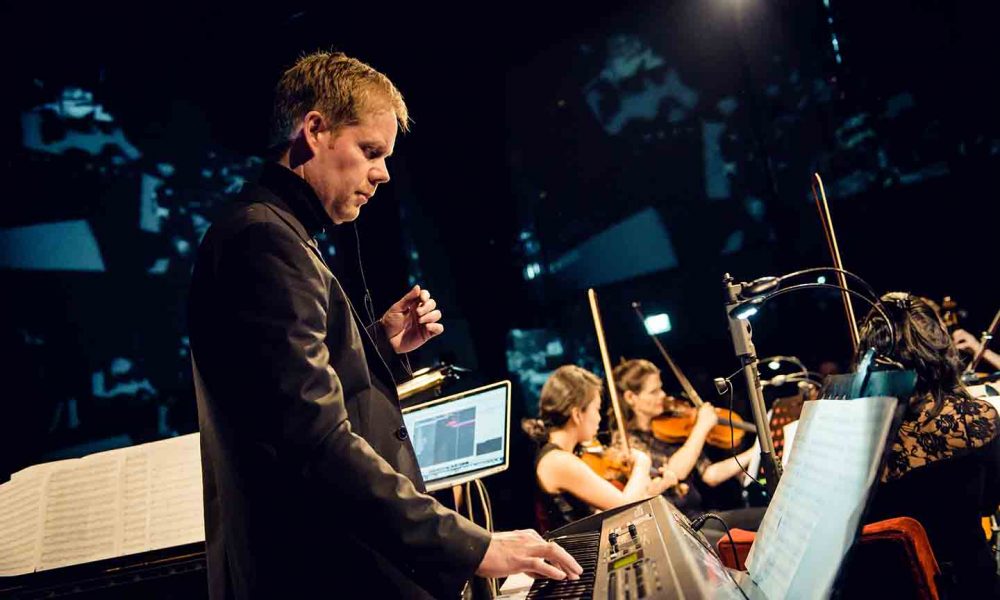 Recomposed By Max Richter: Vivaldi – The Four Seasons, originally released August 31, 2012, was a radical reinterpretation of Vivaldi's The Four Seasons. Like many composers, Richter was fascinated by Vivaldi's groundbreaking Four Seasons and his "recomposition" topped the classical chart in 22 countries. Vivaldi's revolutionary set of four violin concertos, The Four Seasons, are among the most popular pieces in the classical music repertoire. The violin concertos broke new ground with their programmatic depiction of the changing seasons and their technical innovations.
Listen to Recomposed By Max Richter: Vivaldi – The Four Seasons now.
Richter, in a 2019 interview, told us that he was fascinated by Vivaldi's 1725 composition for a simple reason: "The Four Seasons is an omnipresent piece of music and like no other part of our musical landscape." Richter was also aware that for many, including himself, it had long ago ceased to be something of beauty and had instead become an ever-present piece of muzak. The idea of recomposing and re-processing musical works was common practice in Vivaldi's time, and Richter wanted to reconnect with the piece and to re-start the conversation on Vivaldi's work. He sought to do so in an accessible style that mirrored Vivaldi's intentions with the piece, rather than to place a twentieth-century Modernist imprint on it. "I wanted to open up the score on a note-by-note level, and working with an existing recording was like digging a mineshaft through an incredibly rich seam, discovering diamonds and not being able to pull them out. That became frustrating. I wanted to get inside the score at the level of the notes and in essence re-write it, re-composing it in a literal way," Richter explained.
Max Richter - Recomposed: Vivaldi, The Four Seasons (Album trailer)
"I fell in love with the Vivaldi as a kid: six or seven perfect, bite-size chunks of beautiful tunes. For a child, it was a perfect introduction to a whole language. As I got older, I started to hear it everywhere, and I started to hate it. It stopped being a great piece of music and became an irritant. At the same time, intellectually, I knew it was a fantastic piece of music, and I thought about reclaiming it," said Richter. "If your daily commute went through the Alps, eventually you'd come to hate it, however beautiful the landscape. I suppose I was interested in finding a new route through the music. The one I had taken had begun to bore me, and I wanted to see the surroundings in a fresh way; I wanted to rediscover it. It does have a different texture than my other works. The colors are brighter, but that is because it's a collaboration with a brighter, sparkier composer."
Recomposed by Max Richter - Vivaldi - The Four Seasons, 1. Spring (Official Video)
"Some of the time, I'm taking the original and subverting it … "
"My starting point was the realization that Vivaldi's music was modular, it's made out of little patterns, in the way a lot of post-minimal and contemporary music is; in the way a lot of my music is. So it was quite easy to find a common musical thread between what I normally do and what Vivaldi's doing. Some of the time, I'm taking the original and subverting or recontextualizing it, and sometimes I've gone off on another trip. It's like taking a detour from your commute. You do it every day, and you don't really see the place that you're driving through. But you go on a detour, and you experience that space almost as though you've never been there before."
Although Richter said he discarded around three-quarters of Vivaldi's original material, the parts he does use are phased and looped, emphasizing his grounding in postmodern and minimalist music. "There are times I depart completely from the original, yes, but there are moments when it pokes through," noted Richter. "Vivaldi's music is made of regular patterns, and that connects with post-minimalism, which is one strand in the music that I write. That felt like a natural link, but even so, it was surprisingly difficult to navigate my way through it. At every point, I had to work out how much is Vivaldi and how much is me. It was difficult but also rewarding because the raw material is so fascinating."
Recomposed By Max Richter: Vivaldi – The Four Seasons, featuring violinist Daniel Hope and the Konzerthaus Kammerorchester Berlin symphony orchestra conducted by André de Ridder, topped the classical chart in 22 countries. "Max Richter's new version of Vivaldi's Four Seasons shows that the classical remix has finally come of age," observed The Telegraph, and ClassicFM.com noted, "It's almost impossible to come to Vivaldi's Four Seasons with completely fresh ears, but this mesmerizing album enables listeners to rediscover these amazing works, creating entirely new music with a minimalist Baroque twist."
As for Richter himself? "The original Four Seasons is a phenomenally innovative and creative piece of work," he said. "It's so dynamic, so full of amazing images. And it feels very contemporary. My aim was to fall in love with the original again – and I have."
We are re-publishing this feature today in celebration of the release anniversary. Listen to Recomposed By Max Richter: Vivaldi – The Four Seasons now.
Format:
UK English