Cecilia Bartoli Announces 'Unreleased' Album Featuring Concert Arias
Cecilia Bartoli's album 'Unreleased' features concert arias by the greatest classical composers for the leading sopranos of their day.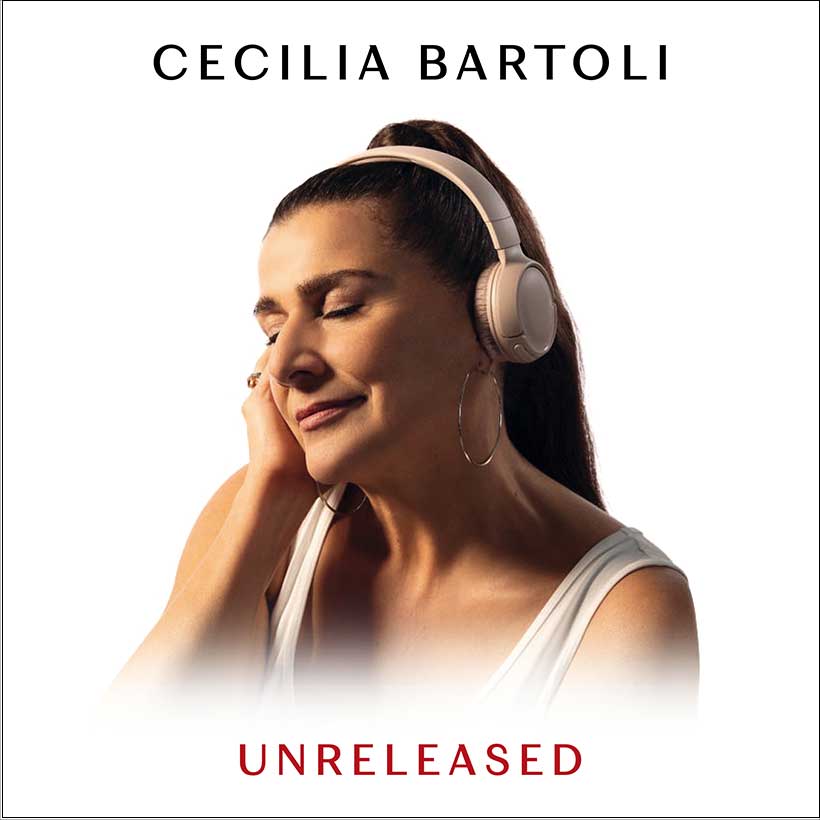 Cecilia Bartoli's album Unreleased, featuring virtuosic concert arias from Mozart, Beethoven, Haydn and Mysliveček, will be released on 19 November 2021. These notoriously demanding pieces were written by the greatest composers of the classical era for the leading sopranos of their day. The music was recorded in 2013 with the Kammerorchester Basel under Muhai Tang and violinist Maxim Vengerov is featured on the Mozart arias L'Amerò Sarò Costante and Ch'io Mi Scordi Di Te? The tracklist for Unreleased was finalized by Cecilia Bartoli during the pause to her performance schedule caused by the pandemic.
Beethoven: Ah Perfido!, Op. 65 - Aria "Per pietà, non dirmi addio"
"The recordings on this album are particularly precious to me"
"Unreleased is the result of many hours spent at home over a period of several months," explained Cecilia Bartoli. "While the restrictions imposed on us by the situation over the past year-and-a-half, our concern for our loved ones, and for the world in general have sometimes been difficult to bear, they have also offered us the opportunity to pause, breathe and reflect. During this time, I not only spent happy hours of leisure, but also enjoyed being able to attend to so many things that I had left unfinished, postponed or forgotten. At last, I had the chance to rummage through my sound archives in search of hidden gems. Among the numerous long-lost friends that came to light, the recordings on this album are particularly precious to me."
Cecilia Bartoli is the most successful living female classical singer
Cecilia Bartoli is the most successful living female classical singer and has sold over 12 million video and audio recordings. She has received numerous awards, including five Grammys and over a dozen Echos and Brit Awards, and has performed at the world's most prestigious concert halls, opera houses and festivals. In 2012 Cecilia Bartoli became the first female artistic director of the Salzburg Whitsun Festival and in January 2023 she will become the first female director of the Opéra de Monte-Carlo.
On Unreleased Cecilia Bartoli performs seven dramatic concert arias, shaped by the great sopranos they were written for, which are richly interconnected thanks to the personal respect, friendship and mutual influences shared between the four composers.
Beethoven's Ah! Perfido was written for the celebrated singer Josepha Duschek and may foreshadow some of the music for his only operatic heroine: Fidelio's Leonore.
Duschek also gave the premiere of Mozart's Bella Mia Fiamma and was the originally intended performer of Ah, Lo Previdi. Unreleased also features other Mozart arias originally written for great singers of the 18th century including L'Amerò Sarò Costante, which was first performed by the castrato Tommaso Consoli, and Ch'io Mi Scordi Di Te? conceived as a virtuoso concert piece for Nancy Storace, the first Susanna in Le Nozze di Figaro.
Cecilia Bartoli has also included Se Mai Senti from Czech composer Josef Mysliveček's opera La Clemenza di Tito, composed for Pietro Benedetti (who also premiered early Mozart operas), and her first studio recording of Haydn's Scena di Berenice.
Cecilia Bartoli said, "I hope that you will derive as much joy and pleasure from these rediscovered treasures as I did while delving into my archives – losing myself for hours in the music and the memories it evoked. Perhaps it is a habit that we should all acquire!"
Unreleased will be released on 19 November 2021 and can be pre-ordered here.
Do you want to be the first to hear the latest news from the classical world? Follow uDiscover Classical on Facebook and Twitter.
---
Format:
UK English