'Richard Bonynge Complete Ballet Recordings': Box Set Out Now
The complete ballet recordings of legendary conductor Richard Bonynge are featured in this 'highly recommended' 45-CD box set.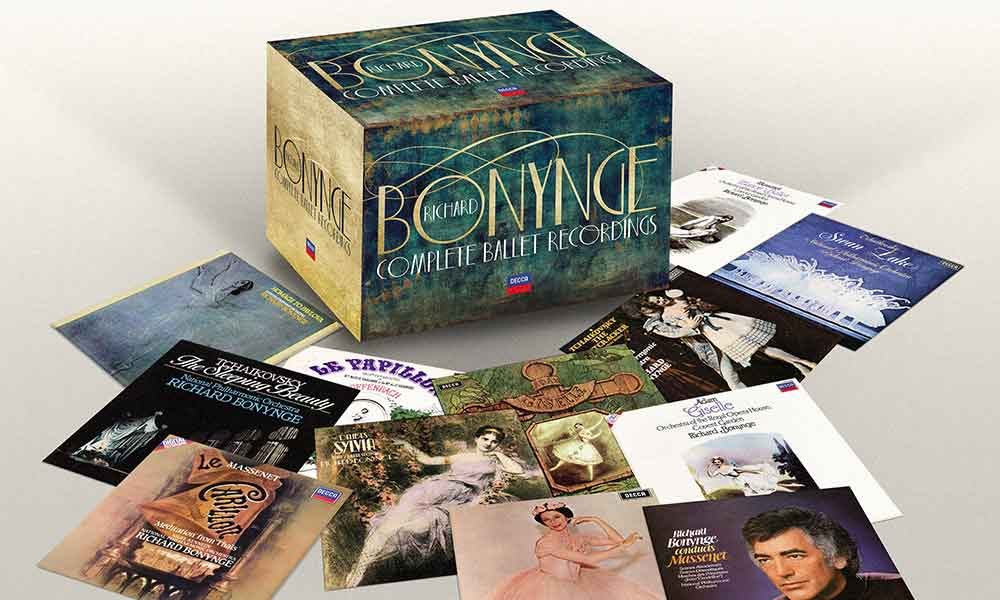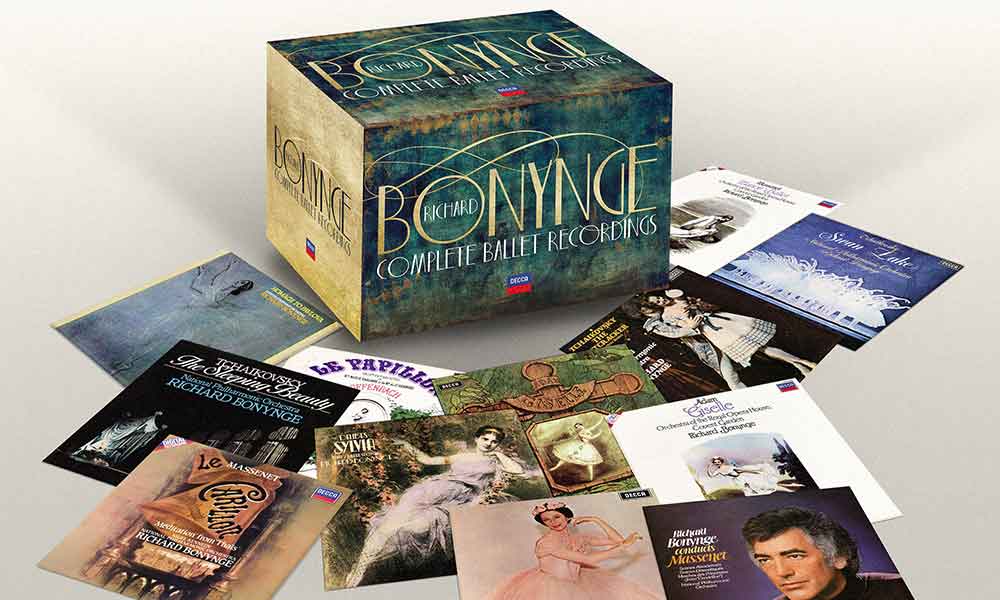 Richard Bonynge Complete Ballet Recordings, a "highly recommended" (Gramophone) 45-CD limited edition box set celebrating the conductor's 90th birthday and his incredible ballet legacy on Decca, is out now. This "wonderful set" (Gramophone), compiled by Cyrus Meher-Homji, a friend of Richard Bonynge, is THE encyclopedia of the ballet and a splendid tribute to the legendary conductor. Richard Bonynge reflected, "It's been wonderful being able to be part of the ballet world. I have enjoyed it so much."
Richard Bonynge on the World of Ballet
The most complete ballet collection by a single conductor ever
Richard Bonynge has firmly entered the pantheon of conductor legends. His discography on Decca reflects the eclecticism of his music interests. In the operatic world especially, many of his recordings remain benchmarks of recorded music. His achievements in the world of ballet are equally noteworthy and no other conductor can boast such an oeuvre in the genre. Richard Bonynge Complete Ballet Recordings is the most complete ballet collection by a single conductor ever. He has been one of the most active revivers of ballet of all time, collaborating with the leading prima ballerinas including Dame Alice Markova, and often making the one and only recording of many ballet masterpieces that had wrongfully been neglected.
"I've always thought it was important to revive works"
Richard Bonynge Complete Ballet Recordings features familiar scores by Tchaikovsky and Delibes alongside works he revived throughout his career by composers including Adam, Massenet, Minkus, Burgmüller, Auber and Offenbach. Richard Bonynge explained, "I've always thought it was important to revive works that have been forgotten especially when they were very, very famous in their own days."
Rare ballet music and dance sequences from the world of opera are also included. Richard Bonynge noted, "There's so much wonderful ballet music in all the operas." All of Bonynge's 'ballet recital' records are featured, including the 'Méditation' from Thaïs, with young Nigel Kennedy as solo violinist, and the Art of the Prima Ballerina anthology dedicated to his friend Dame Alice Markova, one of the reigning prima ballerinas of the 20th century. Richard Bonynge recalled she told him, "You have to know the ballets very well so that when you conduct them you have to dance them yourself in your mind, and that is the most important thing." Also included in this collection are recordings of cello concertos by composers otherwise known for their ballet scores (Massenet, Auber, Popper), and Overtures and Entr'actes, as well as 'opera-ballets' from Faust, Il Trovatore, Alcina and La Favorita.
"A wonderful set … Highly recommended"
"This is a wonderful set …that asks us to reconsider Bonynge's achievement afresh, and to re-examine aspects of his scholarship and artistry that many have neglected in favour of his opera recordings. Highly recommended" – Gramophone
"Fans of the conductor, and ballet, are in for a treat. A 45-disc collection, beautifully packaged and featuring original sleeve artwork …Decca has pulled out all the stops, creating a veritable encyclopaedia of ballet recordings." – BBC Music Magazine
The Recordings
CD1 Adam: Le Diable à Quatre; Leoni: The Prayer & the Sword
CD2-3 Adam: Giselle
CD4-5 Adam: Giselle
CD6-7 Adam: Le Corsaire
CD8 Auber: Marco Spada
CD9 Auber: Gustave III – Overture & Ballet Music; Cello Concerto
CD10 Burgmüller: La Péri
CD11 Chopin: Les Sylphides; Thomas: Hamlet – ballet music; Verdi: Trovatore ballet music
CD12-13 Delibes: Coppélia + Favourite Overtures of the 18th Century
CD14-15 Delibes: Coppélia + French Opera Overtures
CD16-17 Delibes: Sylvia
CD18 Massenet: Scènes Alsaciennes et Dramatiques; Cendrillon Marche; Fantasy for Cello & Orchestra
CD19 Massenet: Cigale; Valse tres lente; Le Cid
CD20-21 Massenet: Manon
CD22 Massenet: Thais Meditation; Berlioz: Les Troyens Ballet music; Weber: L'invitation a la Valse; Lecocq: La Fille de de Madame Angot; Donizetti: La Favorita – ballet music
CD23 Messager: Les Deux pigeons
CD24-25 Minkus/Delibes: La Source; Drigo: La Flûte Magique
CD26-27 Minkus-Lanchbery: La Bayadère; Gounod: Faust Ballet Music
CD28 Offenbach: Le Papillon; Popper: Cello Concerto
CD29-30 J Strauss II: Aschenbrodel; Ritter Pasman; Le Beau Danube; Bal de Vienne; Overture Die Fledermaus
CD31-32 Tchaikovsky: The Nutcracker; Handel: Alcina Ballet Act 2; Rossini/Respighi: La Boutique fantasque; Britten: Soirées musicales suite; Matinées musicales
CD33-34 Tchaikovsky: Swan Lake
CD35-37 Tchaikovsky: The Sleeping Beauty
CD38-39 Art of the Prima Ballerina
CD40-41 Homage to Pavlova
CD42 Pas de Deux; Meyerbeer: Les Patineur
CD43 Ballet Music & Entr'actes from French Opera
CD44-45 Ballet Gala
Richard Bonynge Complete Ballet Recordings can be bought here.
Do you want to be the first to hear the latest news from the classical world? Follow uDiscover Classical on Facebook and Twitter.
---
Format:
UK English