Big Beat Manifesto: Sparks Announce 5LP Box Set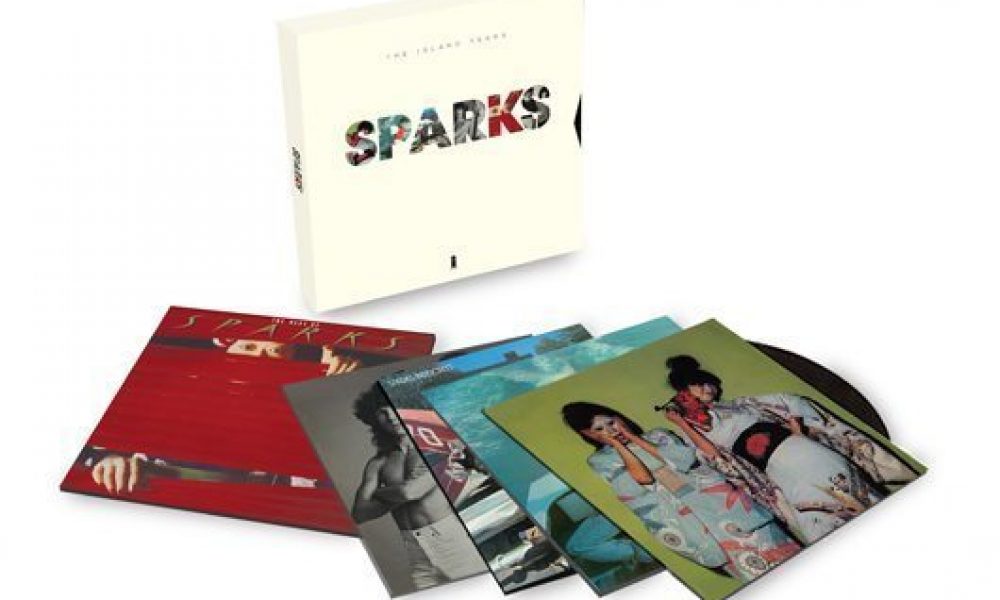 Art-rock legends Sparks have announced the release of a 5LP box set, The Island Years, for 27 November. Collecting their four Island albums, 1974's Kimono My House and Propaganda, 1975's Indiscreet, and the following year's Big Beat, along with with a bonus LP, The Rest Of Sparks (which includes all the band's B-sides from the period), it features some of the most risk-taking pop of the 70s – a maelstrom of ideas that laid the groundwork for Sparks' continued artistic growth.
Consistently cited by Morrissey as one of his most treasured albums, Kimono My House brought Ron and Russell Mael into the nation's homes thanks to the inclusion of its No.2 hit single, 'This Town Ain't Big Enough For The Both Of Us'. Establishing Sparks as one of the wittiest, most inventive groups to emerge from the glam rock era, it remains their highest-charting single – and gave the Maels the perfect opportunity to start wrong-footing their fanbase with a string of gloriously diverse albums. Issued a scant six years after the release of Kimono, Propaganda ramped up the speed – and the variety – of ideas they were throwing at their audience, with songs about catching colds nestling alongside wry excursions in rapid-fire wordplay such as 'Something For The Girl With Everything'.
Released a year later, Indiscreet was anything but. Entering the Top 20 in the UK, it saw the group refine their skills, fashioning addictive pop hooks out of the mayhem and further attracting a group of devoted fans that revelled in it all. Its follow-up, 1976's Big Beat, was a trademark left-turn from the band, as they hired a new cadre of session musicians that gave Sparks' ideas a rockier attack, including a re-working of their pre-Island song, 'I Like Girls'.
Sparks' wilful experimentation has attracted a fiercely loyal group of fans, and the Maels' stature only continues to grow. Earlier this year, they teamed up with indie hotshots Franz Ferdinand to form the FFS supergroup; The Island Years box set reveals what all the fuss is about. Pressed on 180g vinyl, as Sparks themselves say: "The original Island vinyl LPs are back and more robust than ever… Life is good again." Make your life better and pre-order it here:
Format:
UK English