Bob Marley's 'Exodus' Set To Move The Masses Again With 40th-Anniversary Reissue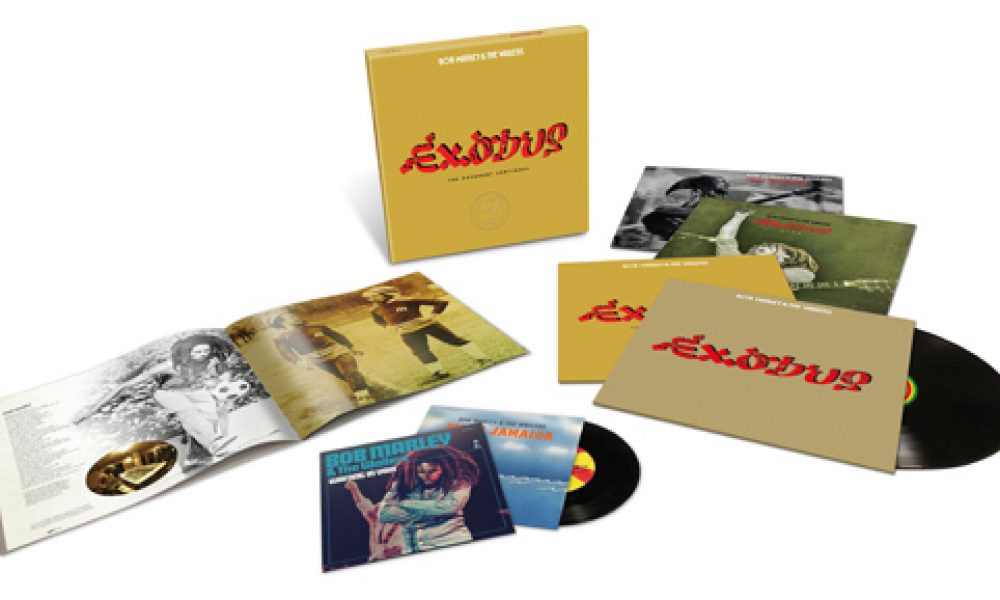 On 2 June, almost exactly 40 years to the day since Bob Marley And The Wailers released Exodus, the iconic album will be given a suite of celebratory reissues. Alongside 2CD, 3CD and limited 180g gold vinyl editions (the latter exclusive only through uDiscover and bobmarley.com), a super deluxe reissue due later in the month will consist of an expanded 3LP version of the album boasting an extra 12" and a pair of bonus 7" singles.
Alongside the original mix of Exodus, the super deluxe reissue will include a special Exodus 40: The Movement Continues "reinstatement" of the album, plus an Exodus Live disc recorded at London's Rainbow Theatre across 1 to 4 June 1977, an expanded version of the Punky Reggae Party EP, and new single pairings of 'Waiting In Vain'/'Roots' and 'Smile Jamaica (Part One)'/'Smile Jamaica (Part Two)'.
Overseen by Bob's own son Ziggy, the Movement Continues mix recontextualises the original album for a modern audience, using unheard instrumentation and vocals taken from the recording sessions – including a stunning new version of 'One Love' pieced together from ten lead Bob Marley vocal outtakes, and an R&B-tinged backing for 'Turn Your Lights Down Low', newly recorded by a cast of musicians handpicked by Ziggy.
One Love [Lyric Video] - EXODUS 40 (2017)
Released on 3 June 1977, Exodus was recorded in London, where Bob was holed up following an assassination attempt on his life just six months earlier in Jamaica. An immediate classic once hailed by Time magazine as the "best album of the 20th Century", Exodus was noted for its eclectic, laidback music, and a lyrical focus on change, as filtered through Marley's explorations of politics, sex and religion.
As this reissue shows, time has not diminished the album's potency. Forty years on from its original release, Exodus still has the power to move.
The Exodus 40: The Movement Continues super deluxe reissue will be released in June. Scroll down to read the full tracklisting and order the box set here.
The full Exodus 40: The Movement Continues super deluxe box set tracklist is:
LP1: Bob Marley & The Wailers' Exodus (Original Version)
Side One:
'Natural Mystic'
'So Much Things to Say'
'Guiltiness'
'The Heathen'
'Exodus'
Side Two:
'Jamming'
'Waiting In Vain'
'Turn Your Lights Down Low'
'Three Little Birds'
'One Love'/'People Get Ready'
LP2: Ziggy Marley's Exodus 40: The Movement Continues
Side One:
'Natural Mystic'
'So Much Things to Say'
'Guiltiness'
'The Heathen'
'Exodus'
Side Two:
'Jamming'
'Waiting In Vain'
'Turn Your Lights Down Low'
'Three Little Birds'
'One Love'/'People Get Ready'
LP3: Exodus Live, recorded at Rainbow Theatre, London, 1 to 4 June 1977
Side One:
'Natural Mystic'
'So Much Things to Say'
'Guiltiness'
'The Heathen'
'Positive Vibration'
'Jamming'
'Exodus'
12": Punky Reggae Party
Side One:
'Punky Reggae Party'
'Punky Reggae Party Dub'
Side Two:
'Keep On Moving' [previously unreleased extended mix]
Bonus 7"s
'Waiting In Vain'/'Roots'
'Smile Jamaica (Part One)'/'Smile Jamaica (Part Two)'
Format:
UK English