Frank Zappa & The Mothers Of Invention's 'Absolutely Free' Celebrates 50th With Newly Expanded 2 LP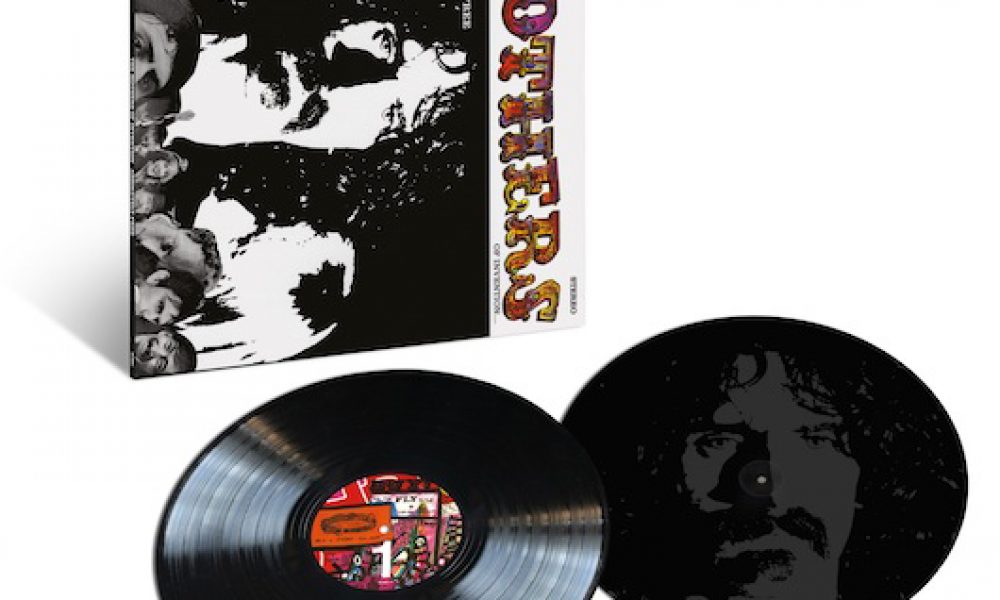 As we approach the 50th anniversary of the Summer of Love, it's hard to believe what a great breadth of amazing music was created in the span of just one year. One of the most revolutionary releases of that year was Frank Zappa & The Mothers of Invention's anarchic and brilliantly complex sophomore album, Absolutely Free, released on 26 May 1967. Even 50 years later, the album is more relevant than ever and now will be available as an expanded vinyl-exclusive edition on 29 September and available for pre-order now.
The reissue will include the original record mastered by Bernie Grundman cut directly from the original analogue master tapes and a second disc with 20 minutes of unreleased bonus material that includes 'Why Don'tcha Do Me Right?'/'Big Leg Emma' single as well as vintage remixes and radio ads from the famous Vault on Side One, while Side Two features a laser etching of Zappa's face.
The real highlight of the reissue though is a reproduction of the extremely rare, impossible to find "Libretto" booklet that contained 18 pages worth of the album's lyrics and a forward by Frank Zappa that was only offered by mail order when originally released.
For an artist whose catalogue as wildly diverse and prolific as Zappa's, Absolutely Free is one of his most experimental and boundary-pushing endeavours. The follow-up to the Mothers of Invention's landmark debut album, Freak Out!, the band expanded their sound and line-up with addition of vocalist Ray Collins, Jim Fielder on guitar, Roy Estrada on bass, Don Preston on keyboards, Bunk Gardner on woodwinds, and drummers Jim Black and Billy Mundi.
Zappa was always one to wear his influences on his sleeve and each album represented his voracious taste and intellectual leanings at the time. Absolutely Free is not only display of complex musical composition but also showed Zappa's dry sense of humour and political satire on songs like 'Brown Shoes Don't Make It'. Never to be constrained to one genre, Always Free sonically skips around from psychedelic pop to prog rock, free jazz to garage rock and even some doo-wop in between.
As Zappa wrote in the "libretto", "The music of the MOTHERS speaks of the feelings of what might be described as THE VAST MINORITY. The feelings of the people on the fringe of everything . . . the ones who don't care if they're IN or OUT … don't care if they're HIP, HEP, SWINGIN' or ZORCH. This is the audience the MOTHERS want to reach … those few have the power within themselves to cause or motivate social change but have never used it for one reason or another. If you are reading this and understand it (even if you have short hair and watch TV 18 hours a day), it is time that you realized WHO and WHAT YOU ARE. It is time you realized what the words to our songs mean."
Frank Zappa and The Mother's Of Invention's Absolutely Free is available on double 180-gram LP vinyl on 29 September 2017 and you can pre-order it here. Dive into his vast back catalogue on the Frank Zappa Artist Page and scroll down for tracklisting details.
Absolutely Free
LP1 – Side 1
1. Plastic People
2. The Duke Of Prunes
3. Amnesia Vivace
4. The Duke Regains His Chops
5. Call Any Vegetable
6. Invocation And Ritual Dance Of The Young Pumpkin
7. Soft-Sell Conclusion
LP1 – Side 2
1. America Drinks
2. Status Back Baby
3. Uncle Bernie's Farm
4. Son Of Suzy Creamcheese
5. Brown Shoes Don't Make It
6. America Drinks & Goes Home
LP2 – Side 1
1. Absolutely Free Radio Ad #1
2. Why Don'tcha Do Me Right
3. Big Leg Emma
4. Absolutely Free Radio Ad #2
5. "Glutton For Punishment…"
6. America Drinks – 1969 Re-Mix
7. Brown Shoes Don't Make It – 1969 Re-Mix
8. America Drinks & Goes Home #2 – 1969 Re-Mix
LP2 – Side 2
Laser Etching
Format:
UK English