Glen Campbell To Say 'Adiós' With Farewell Album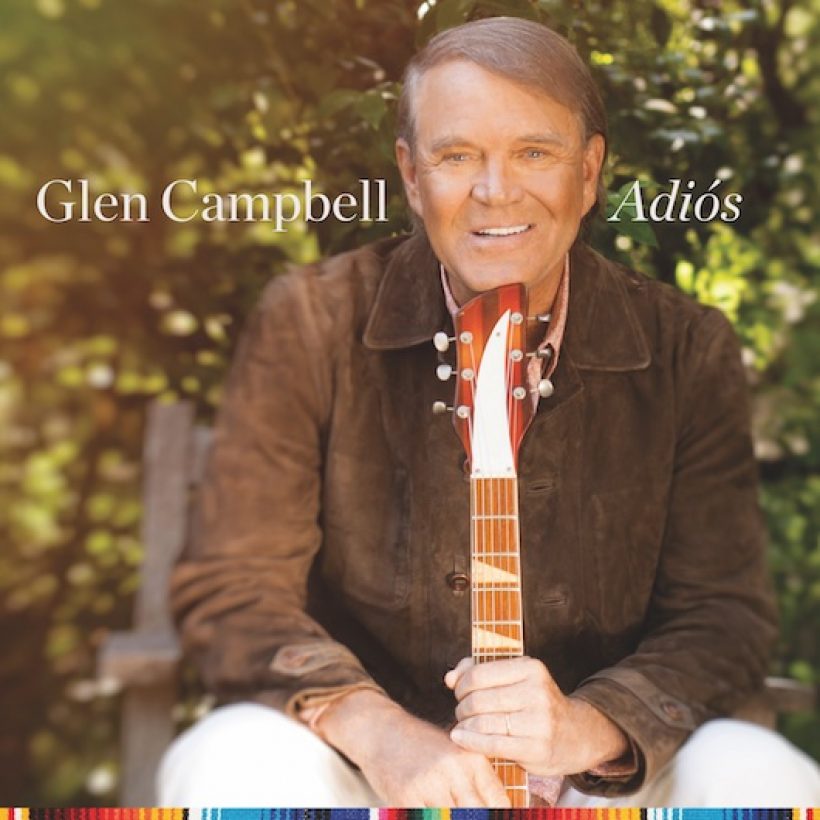 Glen Campbell will release his final studio album Adiós on UMe on 9 June. The singer-guitarist, whose unique career has brought him worldwide acclaim and 50 million album sales across more than 50 years, recorded its 12 songs at Station West in Nashville after the Goodbye Tour of 2012, following his diagnosis with Alzheimer's disease.
Adiós will be available on CD, vinyl and digitally and can be pre-ordered here. The album features Glen's distinctive interpretations of many songs he loved but had never recorded before, such as the lead track 'Everybody's Talkin", written by Fred Neil and made famous by Harry Nilsson. The track, with Glen's daughter Ashley Campbell on banjo, and its video are being premiered by people.com today (14 April).
Also on the album are versions of Bob Dylan's 'Don't Think Twice, It's Alright', Willie Nelson's 'Funny (How Time Slips Away),' on which Nelson himself features, and Roger Miller's 'Am I All Alone (Or Is It Only Me).' The latter song has a spoken introduction by Miller and harmonies by Vince Gill.
Adiós also has four songs written by Campbell's longtime collaborator Jimmy Webb: 'Just Like Always,' 'It Won't Bring Her Back,' a new version of 'Postcard From Paris' and the closing title track. The revisited 'Postcard' has Glen's sons Cal and Shannon and daughter Ashley poignantly singing the line "I wish you were here."
Carl Jackson, Glen's banjo player since the early 1970s and family friend, helmed the album's production and play guitar. He laid down some basic tracks and vocals for Campbell to study and practice, and encouraged his comrade at every stage. Jackson's own composition 'Arkansas Farmboy' is also in the track listing. The singer's progressing dementia meant that he struggled with the sessions at times, but his happiness at being in the studio was plain for all to see.
Glen Campbell - Adiós (Audio)
Kim Campbell, Glen's wife of 34 years, writes in the sleeve notes for the set: "A new Glen Campbell album coming out in 2017 might seem a bit odd since he hasn't performed since 2012, and even more odd – if not absolutely amazing – when you consider that he has Alzheimer's disease." Glen, who lives in Nashville  in the final stages of the disease, surrounded by family and friends, turns 81 on 22 April.
"Glen's abilities to play, sing and remember songs began to rapidly decline after his diagnosis in 2011," she continues. "A feeling of urgency grew to get him into the studio one last time to capture what magic was left. It was now or never.
"What you're hearing when listening to Adiós is the beautiful and loving culmination of friends and family doing their very best for the man who inspired, raised, and entertained them for decades – giving him the chance to say one last goodbye to his fans, and put one last amazing collection of songs onto the record store shelves."
Glen Campbell's Adios is due for release on 9 June 2017. Scroll down to read the full tracklisting and pre-order the album here. Explore our dedicate Glen Campbell Artist Page. 
Tracklist
1. Everybody's Talkin' (written by Fred Neil and features Ashley Campbell on banjo)
2. Just Like Always (written by Jimmy Webb)
3. Funny (How Time Slips Away) (feat. Willie Nelson)
4. Arkansas Farmboy (written by Carl Jackson)
5. Am I All Alone (Or Is It Only Me)(intro by Roger Miller)
6. Am I All Alone (Or Is It Only Me)(written by Roger Miller and features Vince Gill on harmonies)
7. It Won't Bring Her Back (written by Jimmy Webb)
8. Don't Think Twice, It's All Right (Bob Dylan cover)
9. She Thinks I Still Care (written by Dickey Lee)
10. Postcard From Paris (written by Jimmy Webb)
11. A Thing Called Love (written by Jerry Reed and features vocals by Ashley Campbell)
12. Adiós (written by Jimmy Webb)
Format:
UK English