Megadeth's 'Dystopia' Arrives On Picture Disc Vinyl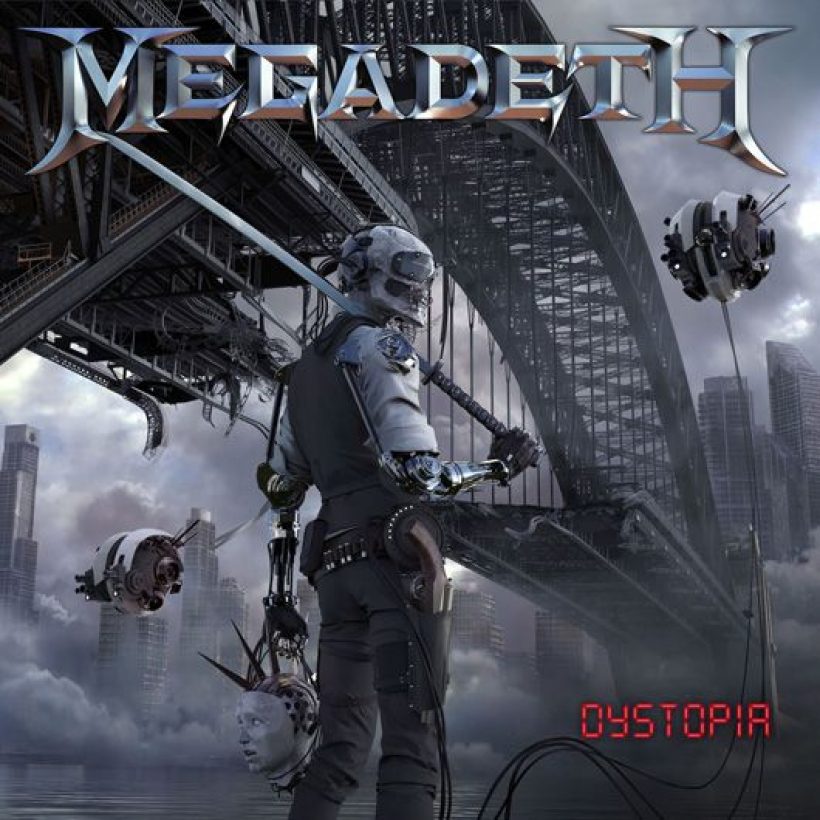 Peace sold… but no one bought it. However, since it's release on 22 January, Megadeth's stunning new album, Dystopia, has given the group their highest ever chart positions in their remarkable 30-year career, including debuting at No.3 on the Billboard Hot 100, hitting the top spot on the Hard Music and Top Rock charts, and entering the Top 10 across the globe.
Now Dystopia is going to be released as a limited edition vinyl picture disc boasting the album's striking artwork. Released on 8 April it features Megadeth's long-time mascot, Vic Rattlehead, dropped into a nightmarish future that evokes the themes that frontman Dave Mustaine explores in his lyrics, while also conjuring the pummeling sound of Megadeth firing on all cylinders.
For this album, the metal legends appear in a line-up that once again places the band at the forefront of metal music. After almost single-handedly inventing the thrash subgenre in 1985 with Killing Is My Business… And Business Is Good!, Dystopia once again sees Megadeth point to the future, as the likes of virtuoso ex-Angra guitarist Kiko Loureiro and Lamb Of God drummer Chris Adler join founding members Dave Mustaine and bassist David Ellefson for a collaboration that pushed everyone to new creative heights. As Mustaine told uDiscover in February, "When Kiko and Chris came into the picture it was a breath of fresh air, because they are, without a doubt, two of the most talented musicians that I have ever played with. To have musicians of that caliber playing at the same time is a formidable force." He added: "To be honest, I think that my guitar playing has improved because of Kiko pushing me."
Relocating to Nashville for the first time since 2004's The System Has Failed, and with Lamb Of God and Avenged Sevenfold producer Josh Wilbur at the mixing desk, Mustaine and co built upon their history as one of the US West Coast's most prestigious metal acts, creating an album that not only revitalises Megadeth's trademark sound but offers a unique vision of the world courtesy of Mustaine, one of heavy metal's most insightful songwriters. With songs such as 'The Threat Is Real', 'Post American World' and 'Dystopia' itself, Megadeth have fashioned a vital statement on the world they find themselves in over 30 years after their formation in 1982.
"There's an excitement right now that I haven't felt for a really long time," Mustaine has said of the album, and 'Fatal Illusion', the first single release taken from Dystopia, ably bore out that claim. Stuffed full of Mustaine's trademark riffs fired off with precision speed, the song was immediately hailed as a true return to form, setting the scene for one of the essential album releases of 2016.
Business is good once again for Mustaine and co. Watch the video to second single 'The Threat Is Real' below, and pre-order the limited-edition vinyl picture disc here:
Megadeth - The Threat Is Real (Official Video)
Format:
UK English