More Ageless Beauty From Sonic Youth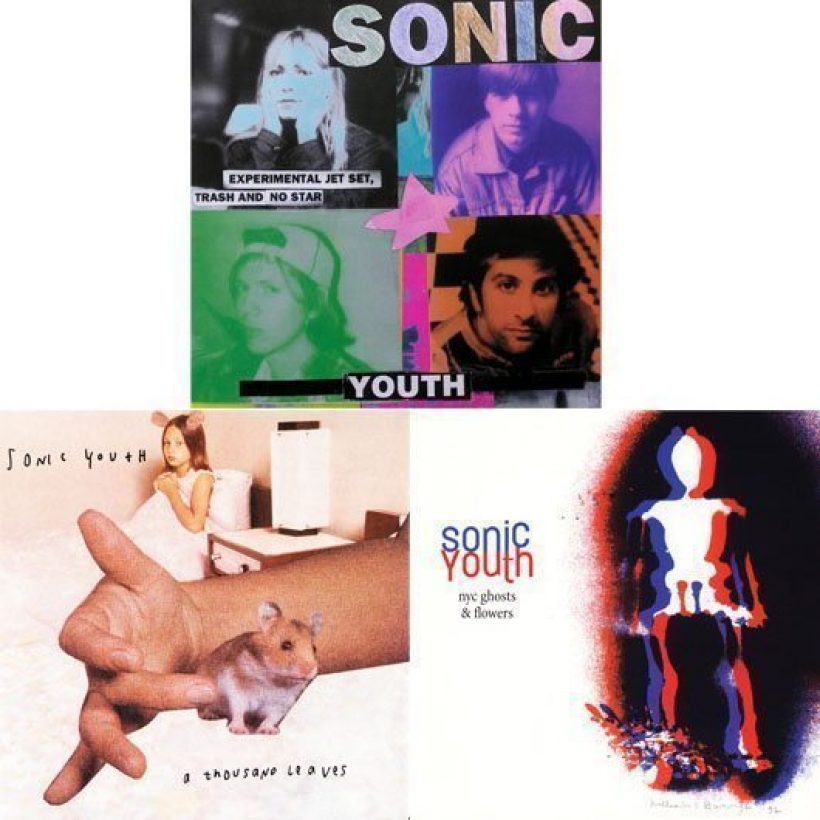 The long-awaited third instalment of Sonic Youth's Geffen-era vinyl reissues will surface on 14 October, completing a series that has sought to bring some of the band's most important work back onto wax. Remastered from the original stereo master tapes, the 180g vinyl pressings will include a download card for MP3 versions, while the albums will also be made available as high-definition audio downloads.
Experimental Jet Set, Trash And No Star, A Thousand Leaves and NYC Ghosts & Flowers cover three distinct but key points in the band's career. Originally released in 1994, Experimental Jet Trash… was, as its title suggests, a typically uncompromising set which, helped by the inclusion of single 'Bull In The Heather', hit No.34 in the US (peaking higher than its predecessor, Dirty) and entered the Top 10 in the UK. The album, Sonic Youth's eighth, was praised by Rolling Stone for being "more ambitious and weirder" then Dirty, while the band's long-time supporter, Village Voice critic Robert Christgau, marvelled at a band "thinking and feeling things neither you nor they have ever thought or felt before", adding, "If they can't quite put those things into words, that's what unexpected noises are for."
Four years later, the group had further retreated into their own world, recording for the first time at their own Echo Canyon studio in New York. Taking the time to experiment with lengthy improvisations, they recorded A Thousand Leaves across 1997 and '98, creating a more mature, considered work that would become their final album of the 90s – and one which Robert Christgau would later hail as one of the Top 10 of the decade.
As the 00s dawned, it brought with it a new sound – partly because Sonic Youth's instruments had been stolen while on tour in the summer of 1999. Undaunted, they dug out equipment that they hadn't used in years and, essentially forced to start over again, set about creating another stylistic about-turn. The results were, as Salon.com noted at the time, "gloomy" and "unaccommodating", with a "tenacity that's hard to shake", while the Chicago Tribune concluded: "No rock band makes the avant-garde sound quite this tactile and sensual."
In dropping in on three different points in the band's career, these albums reveal how Sonic Youth's unerring creative drive kept them at the forefront of experimental music throughout their tenure together. Alongside the other six Geffen-era reissues released in the past year, they provide a remarkable overview of one of the most important bands in history.
Experimental Jet Set, Trash And No Star, A Thousand Leaves and NYC Ghosts & Flowers will be reissued on 14 October. View the full range of Sonic Youth vinyl reissues here:
Format:
UK English