Second Status Quo Vinyl Singles Box Lands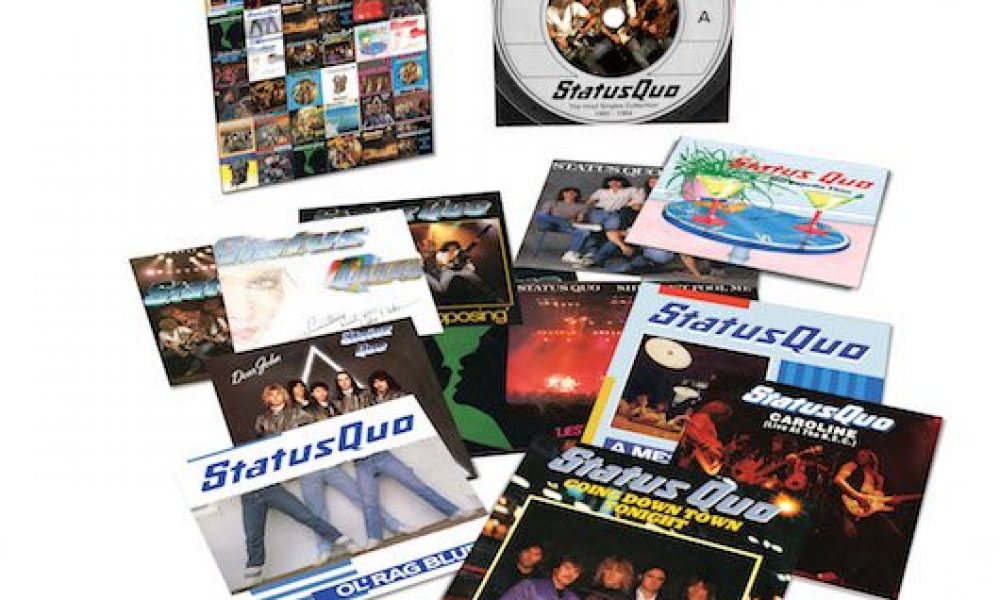 British rock heroes and chart fixtures Status Quo have released The Vinyl Singles Collection 1980-1984. The second in a series of five limited edition singles boxes, it follows the recent release of the first volume, covering 1971-1979. Each set is planned to cover a decade, with their '80s period spread across two boxes. All of the music is also available via a digital download code included in the box.
The Vinyl Singles Collection 1980-1984 covers all of Quo's singles releases in the first half of the decade, a prolific period which embraced a dozen UK chart appearances and no fewer than seven top ten hits: 'What You're Proposing', 'Something 'Bout You Baby I Like', 'Rock 'n' Roll,' 'Dear John,' 'Ol' Rag Blues', 'Marguerita Time' and 'The Wanderer.'
Mastered from original tapes, the singles will be presented in their original sleeves (picture and house bags). The limited edition release offers 12 seven-inch black heavyweight vinyl records housed in a rigid lift-off lid box. The box set will also offer a booklet with quotes and chart history on each single, and a selection of rare foreign covers and memorabilia.
Purchase The Vinyl Singles Collection 1980-1984 here.
Single 1
'What You're Proposing'
'A B Blues'
Single 2
'Lies'
'Don't Drive My Car'
Single 3
'Something 'Bout You Baby I Like'
'Enough Is Enough'
Single 4
'Rock N' Roll'
'Hold You Back'
'Backwater'
Single 5
'Dear John'
'I Want The World To Know'
Single 6
'She Don't Fool Me'
'Never Too Late'
Single 7
'Jealousy'
'Calling The Shots'
Single 8
'Caroline' (Live At The N.E.C.)
'Dirty Water (Live at the N.E.C.)
Single 9
'Ol' Rag Blues'
'Stay The Night'
Single 10
'A Mess Of Blues'
'Big Man'
Single 11
'Marguerita Time'
'Resurrection'
Single 12
'Going Down Town Tonight'
'Too Close To The Ground'
Format:
UK English