Stones Mono Box A (Beggars) Banquet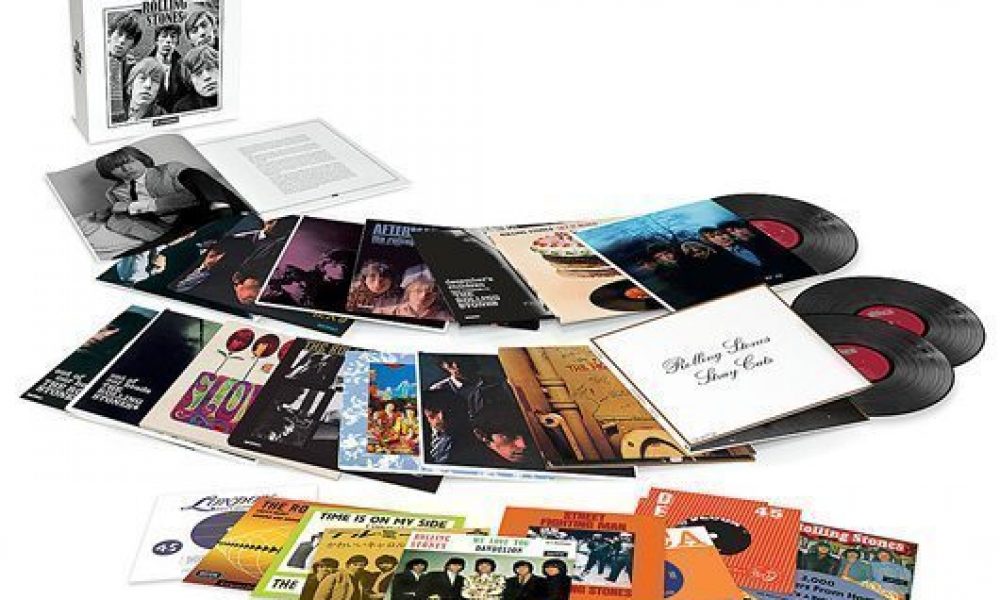 This year, for the first time ever, all mono studio recordings released by The Rolling Stones in the 1960s will be available in one unique historic collection. On 30 September ABKCO Records will make available world wide the vinyl and CD box sets of The Rolling Stones in Mono. The collection will contain a total of 186 tracks, 56 of which have never before been heard in mono since the advent of the digital age.
The Rolling Stones' arrival on radios around the world in 1963/64 was a seismic shift in popular music. It was those wonderful 7" vinyl 45s that created the fervour for the band, which is why, to celebrate The Rolling Stones In Mono box set, a series of limited edition 7"s are also being produced with unique reproductions of some of the bands classic and rarest singles.
In nine countries around the world these unique 7"s, limited to 1,000, will be individually available only in local stores.
Among the singles to be offered is a reissue of the historic, 'Street Fighting Man'/'No Expectations' single, originally withdrawn shortly after release in 1968 that will be re-pressed for the US. For the UK there's the withdrawn Decca single, 'Poison Ivy'/'Fortune Teller', dating from 1963. Other releases include the German receive the 1967 single, '2,000 Light Years From Home'/'She's A Rainbow', and a Japanese version of 'Tell Me (You're Coming Back)'/'Carol'. These will all be in reproductions of their original sleeves, six of which are pictures sleeves.
A very limited quantity of all nine of the ultra-rare 7"s will be available through uDiscover Music when you purchase the CD or LP box sets, the only place to collect them all.
Immersing themselves in classic Delta blues and recordings by the old Chess legends – Muddy Waters, Chuck Berry, and Howlin' Wolf – The Rolling Stones re-wrote the blues rulebook from London, super-charging the music and carrying it back across the Atlantic to be performed with an intensity never seen before. In a few short years, they went from being "England's Newest Hit Makers" to "The Greatest Rock'n'roll Band In The World".
Their game-changing first decade – during which they released classic albums such as Out Of Our Heads, Aftermath, Beggars Banquet and Let It Bleed – set the pace for every blues- rock band that followed. Now into their sixth decade together, it's fair to say that, if The Stones haven't done it, it isn't worth doing…
Chronicling this landmark early period in their career, The Rolling Stones In Mono, that will be released on 30 September, is a 15CD/16LP box set that brings together their first 14 classic albums – some in both US and UK editions – all newly remastered (and on 180g vinyl, for fans of the black stuff), along with a 24-track collection, Stray Cats, which mops up related oddities and singles. The box set includes a deluxe 48 page colour book that features rare photos by renowned photographer Terry O'Neill. The 16 LPs or 15 CDs are housed in the original full colour album jackets that fit along with the book into a one piece specially crafted box.
Taken together, the albums cover a remarkable five-year period during which the group recorded reputation-building classics, among them '(I Can't Get No) Satisfaction', 'Paint It, Black', 'Jumpin' Jack Flash' and 'Street Fighting Man'.
The full list of albums included in The Rolling Stones In Mono is:
The Rolling Stones (UK version)
12×5
The Rolling Stones No.2
The Rolling Stones, Now!
Out Of Our Heads (US version)
Out Of Our Heads (UK version)
December's Children (And Everybody's)
Aftermath (UK version)
Aftermath (US version)
Between The Buttons (UK version)
Flowers
Their Satanic Majesties Request
Beggars Banquet
Let It Bleed
Stray Cats
The full list of reissued 45s is:
Germany Exclusive
'2,000 Light Years From Home'/'She's A Rainbow'
UK Exclusive
'Poison Ivy'/'Fortune Teller'
Australia Exclusive
'Fortune Teller'/'Sad Day'
US Exclusive
'Street Fighting Man'/'No Expectations'
France Exclusive
'We Love You'/'Dandelion'
Japan Exclusive
'Tell Me (You're Coming Back)'/'Carol'
Norway Exclusive
'Time Is On My Side'/'Congratulations'
Holland Exclusive
'Empty Heart'/'Around And Around'
Canada Exclusive
'Not Fade Away'/'Wanna Be Your Man'
Format:
UK English