Vinyl Box Set Digs Deep Into Purple's Past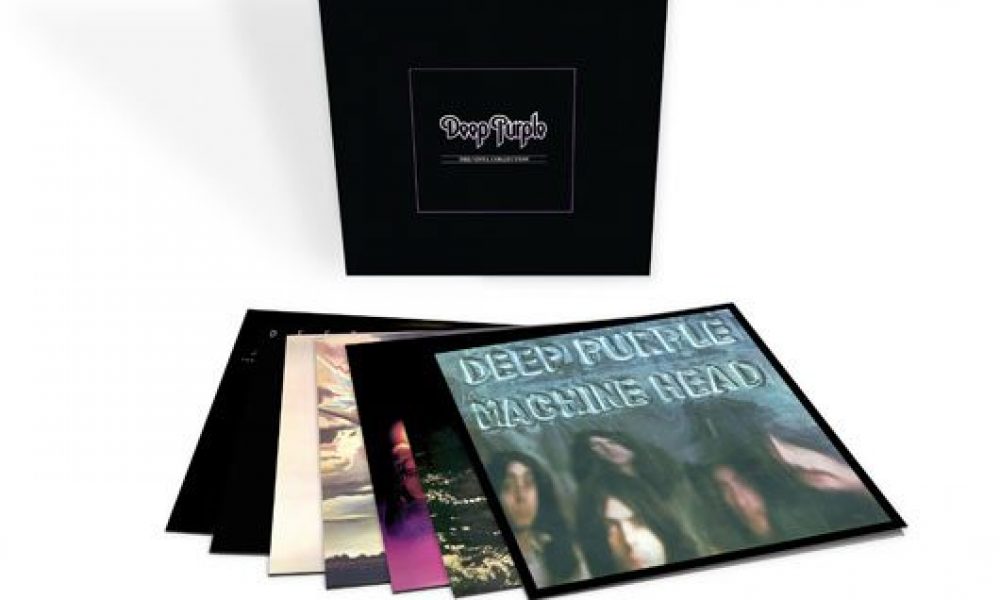 When Deep Purple entered the 70s, they had developed from the psych- and prog-tinged outfit that recorded the likes of 1968's Shades Of Deep Purple and The Book Of Taliesyn, to become one of the era's defining heavy metal groups. From 1972's Machine Head onwards, Deep Purple weathered personnel changes (rotating through Marks II, III and IV of the line-up – and back to Mark II again) over a 13-year period that saw them produce seven studio albums, plus the storming Live In Japan and Made In Europe concert recordings, continually redefining both their sound and what it meant to be a hard rock outfit during the 70s and 80s. The 7LP The Vinyl Collection box set brings these game-changing studio outings together on 180g vinyl (with first-time remasters for the 1984's Perfect Strangers and '87's The House Of Blue Light), giving Purple's finest moments the lavish box set treatment they deserve.
Singer Ian Gillan, guitarist Ritchie Blackmore, bassist Roger Glover, keyboardist Jon Lord and drummer Ian Paice saw out the end of the Mark II years with Machine Head and 1973's Who Do We Think We Are: UK No.1 and No.4 albums, respectively, and early high-water marks for the developing heavy metal genre. The group unveiled their Mark III line-up on 1974's Burn, as future Whitesnake frontman David Coverdale had replaced Gillan, and Glenn Hughes took over bass duties from Glover. Developing the blues influences that had crept into Who Do We Think We Are, Burn even incorporated soul and funk inflections, paving the way for Purple's second album of the year, the UK No.6 entry Stormbringer.
That record's 1975 follow-up, Come Taste The Band, saw Purple further hone their funky hard-rock sound, thanks in part to the flair of new recruit Tommy Bolin, who had replaced founding member Ritchie Blackmore to form Purple's Mark IV line-up. Bolin's tragically early death, in December 1976, aged just 25, ensured that there would be no further Mark IV studio recordings – but, by that point, Deep Purple had disbanded, and would not enter the studio again for eight years.
When they did reconvene, however, it was as the Mark II line-up, with Gillan, Blackmore, Glover, Lord and Paice turning out the unapologetically hard-rocking Perfect Strangers in 1984. Taking the group back into the UK Top 10, the album peaked at No.5 and set the stage for the reformed Mark II's follow-up, The House Of Blue Light: the penultimate Purple album recorded by that particular configuration.
Few bands have weathered such changes yet remained as vital a force on the rock landscape as Deep Purple – not to mention seen so many virtuosic musicians pass through its ranks. Not only does The Vinyl Collection trace the band's development during this remarkable 13-year time frame, but, in doing so, it also traces the evolution of hard rock across the same period. As such, it's a vital collection – not only for Purple fans, but for hard rock collectors all over.
Visit our dedicated Deep Purple page here, and purchase The Vinyl Collection here:
Format:
UK English