10cc's Graham Gouldman Returns To Live Action With 'Heart Full Of Songs'
Gouldman and his band played songs from throughout his stellar career to a packed and delighted audience in south London.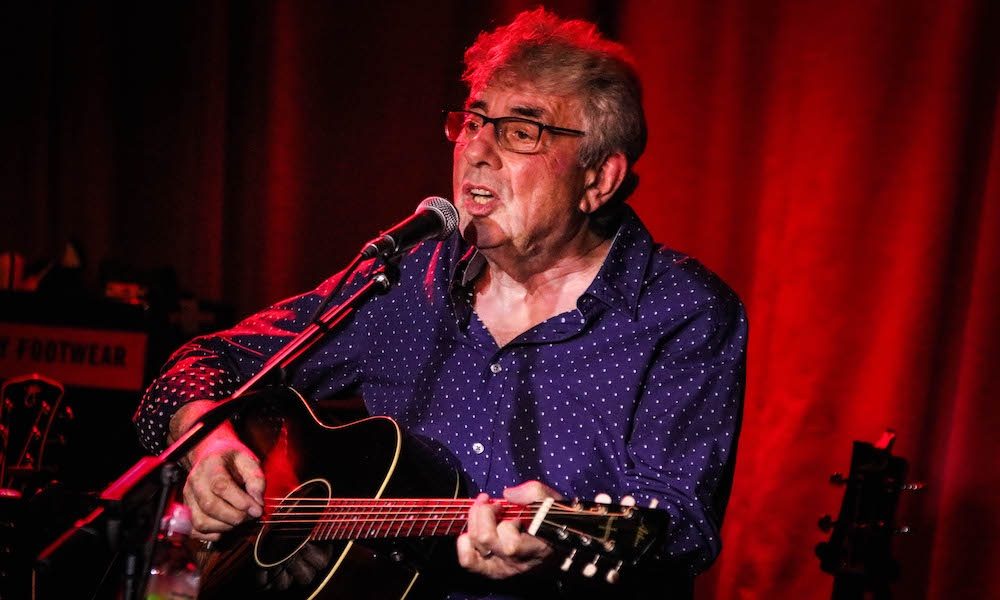 10cc's Graham Gouldman returned to the stage last night (July 31) after an enforced gap of some 16 months. He brought his Heart Full Of Songs band and show to the Sound Lounge venue in Sutton, south London, playing music from throughout his stellar career as a songwriter and performer to a packed and delighted house.
The concert not only represented Gouldman's resumption of live work, but a rare opportunity for admirers to see him in an intimate club setting, for a 100-strong audience. The venue recently hosted a similarly-sized show by Squeeze's Chris Difford, with bandmate Melvin Duffy, just before their departure for the US to tour with Daryl Hall and John Oates. The Sound Lounge has just become the first grassroots music venue to be awarded official CarbonNeutral® certified status, for its efforts to reduce its environmental impact.
The four-piece band's set was preceded by an informal Q&A session with venue patron and uDiscover Music contributor Paul Sexton, in which Gouldman talked extensively about his life and times in music. It opened with the artist's thoughts on being asked, in 2018, to join Ringo Starr's All-Starr Band, which he described in terms of wonder at being on stage with Starr, since The Beatles did so much to make him want to pursue a life in music. The experience inspired "Standing Next To Me," the opening track on Gouldman's 2020 album Modesty Forbids.
The conversation also touched on his huge initial songwriting success, while still a teenager, with such major hits as the Yardbirds' "For Your Love" and the Hollies' "Bus Stop." He reflected on the four-way creative democracy with Eric Stewart, Lol Creme, and former Mockingbirds bandmate Kevin Godley that fuelled the remarkable inventiveness of 10cc.
Gouldman also talked about the later creation of another perfectly-matched partnership, with American singer and writer Andrew Gold in the hit 1980s duo Wax. The pair had been planning to make another record under that name until Gold's sudden and premature death in 2011, at the age of 59.
After the interval, Gouldman returned to the stage with his bandmates for the 80-minute, hits-and-anecdotes Heart Full Of Songs, a title inspired by another of his early successes as a writer with the Yardbirds, "Heart Full Of Soul." He began on solo acoustic guitar with "Pamela, Pamela," the hit he wrote for Wayne Fontana, before being joined by his bandmates for a set that embraced a richly varied career of more than 55 years.
10cc, acoustically speaking
Other 1960s compositions for hit bands of the era included versions of "Bus Stop" and "Look Through Any Window," recorded by the Hollies, and the Herman's Hermits hit "No Milk Today." Songs from the 10cc catalog nimbly adapted for this acoustic setting included "Good Morning Judge," "The Things We Do For Love," and, of course, "I'm Not In Love."
Gouldman spoke with great affection about his much-missed "brother" Gold, performing their UK and European hit of 1987, "Bridge To Your Heart" as well as "Daylight," the song he wrote about his late friend for the 2012 solo album Love and Work. The evening closed with a celebratory "Dreadlock Holiday."
Heart Full Of Songs continues with a show in Amsterdam on September 2, then plays in the UK from late September through October, including another London date at Union Chapel on October 8. Gouldman also plays extensively with the latter-day version of 10cc in Europe in October and November, with a UK tour booked for September 2022.
Buy or stream the 4-CD box set Before, During, After: The Story Of 10cc.