12LP 'Vinyl Collection' Celebrates Carpenters' Legacy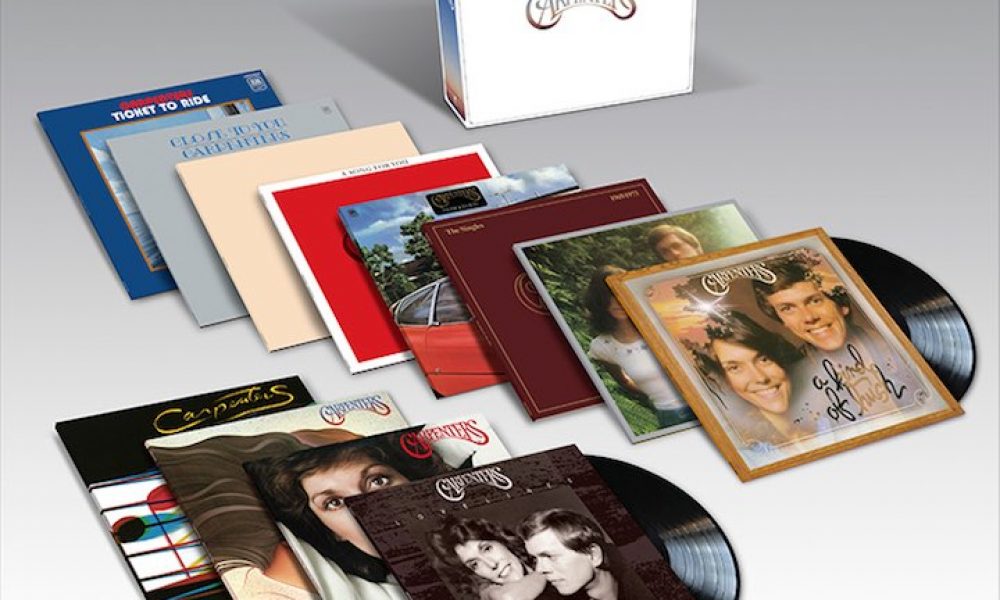 The cherished recording catalogue of one of the best-loved melodic pop acts in history is celebrated with A&M/UMe's release of Carpenters Vinyl Collection, a new 12LP vinyl box set by Carpenters.
The set includes 12 albums on high-quality, 180g black vinyl, housed in a stylish slipcase and with the original packaging and related artwork painstakingly restored. The discs have been mastered for vinyl by Ron McMaster at Capitol Studios in Los Angeles. Each Carpenters album will also be released separately.
The collection features all of the duo's original studio albums with the exception of their two Christmas records. It also includes their famous and massively successful compilation The Singles 1969-1973, which went seven-times platinum  in the US alone, as well as platinum in the UK and other countries.
The new collection affords a fresh opportunity to admire the unfailingly stylish harmony pop of siblings Richard and Karen Carpenter, who have career record sales estimated at 100 million copies. The three-time Grammy winners have two recordings in the Grammy Hall Of Fame, '(They Long To Be) Close To You' and 'We've Only Just Begun'.
The US singles chart record of the Carpenters shows a tally of three pop No.1s and five No.2 hits among their 12 Top 10 singles. They also logged a remarkable 15 No.1s on Billboard's Adult Contemporary chart, from 'Close To You', in 1970, to 1978's 'Touch Me When We're Dancing'.   
Order Carpenters Vinyl Collection here.
The albums in the box set are:
1. Ticket To Ride (1969)
2. Close To You (1970)
3. Carpenters (1971)
4. A Song For You (1972)
5. Now & Then (1973)
6. Horizon (1975)
7. A Kind Of Hush (1976)
8. Passage (1977)
9. Made In America (1981)
10. Voice Of The Heart (1983)
11. Lovelines (1989)
12. The Singles 1969-1973 (1973)
Format:
UK English