2 Chainz Shares Psychedelic 'Grey Area' Video
The elaborate visual elements have cemented the cinematic vision 2 Chainz had for his latest album.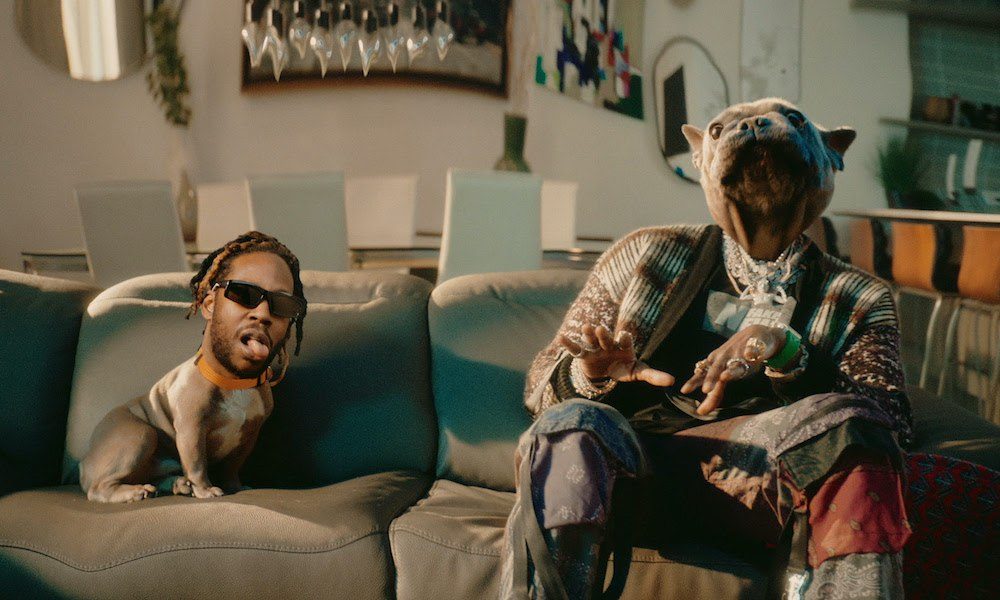 2 Chainz has shared the music video for his So Help Me God track "Grey Area" and it's a wildly psychedelic ride.
Directed by Tity Tarantino and Motion Family, the "Grey Area" visual opens with the multi-platinum selling rapper snagging a few magic mushrooms to throw into his smoothie, but when he leaves the remaining psychedelics unattended, his dog Trappy S. Goyard ingests a few as well. The remainder of the video is a trippy adventure in which 2 Chainz and Trappy swap bodies and have a run-in with a postman who ditches his packages for a dance break to the track.
2 Chainz - Grey Area (Official Music Video)
By the end, both 2 Chainz and Trappy have returned to their natural state of being. Of course, as the disclaimer that concludes the video reads, Trappy was not fed any actual psilocybin mushrooms in the making of the "Grey Area" visual. But 2 Chainz did share the smoothie recipe for anyone interested in trying it out themselves (the mushrooms are optional):
The "Grey Area" Smoothie Recipe:
1 Cup Spinach
1 Cup Apple Juice
1 Whole Banana
1/2 Green Apple
2 Eggs
1 Cup Ice
Pinch of some "magical mushrooms" to get you to your "Grey Area"
"Grey Area" is the latest track from 2 Chainz's latest album So Help Me God to receive the music video treatment, following "Southside HOV," "Toni," "Quarantine Thick" and more.
So Help Me God was released on November 13 via Def Jam Recordings. The rapper's sixth studio album, it was the highly anticipated follow up to his 2019 album Rap Or Go To The League. Speaking of the project with Complex, 2 Chainz said: "So Help Me God is definitely a movie. It's a thriller. And I can't wait until you guys grab your popcorn and check it out."
The elaborate visual elements that have been released alongside the singles from So Help Me God have aided in the cinematic vision the rapper had for the album. In addition to putting on a trippy show with his dog in the "Grey Area" video, he's also delivered a Soul Train-inspired performance that paid homage to Hall & Oates ("Can't Go For That") and threw a quarantine slumber party with rising rapper Mulatto ("Quarantine Thick").
So Help Me God can be bought here.